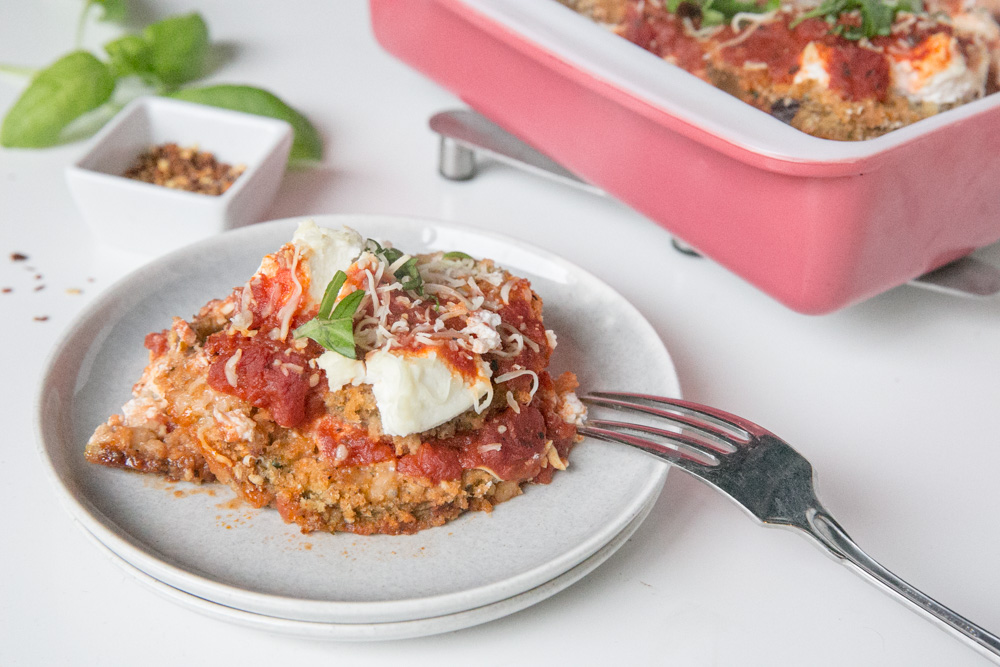 Are you an eggplant lover or an eggplant hater? People seem to fall firmly into one camp or the other. Growing up in an Italian family, eggplant was a staple on our dinner table. That purple beauty was most commonly served in the form of eggplant parmesan.
Fun fact, when my son was a little boy he called eggplant 'the punching bag fruit'. I still think that this is the cutest thing ever. The punching bag fruit. When buying eggplants at the market you want to look for ones that have smooth purple, shiny flesh and that feels heavy for its size.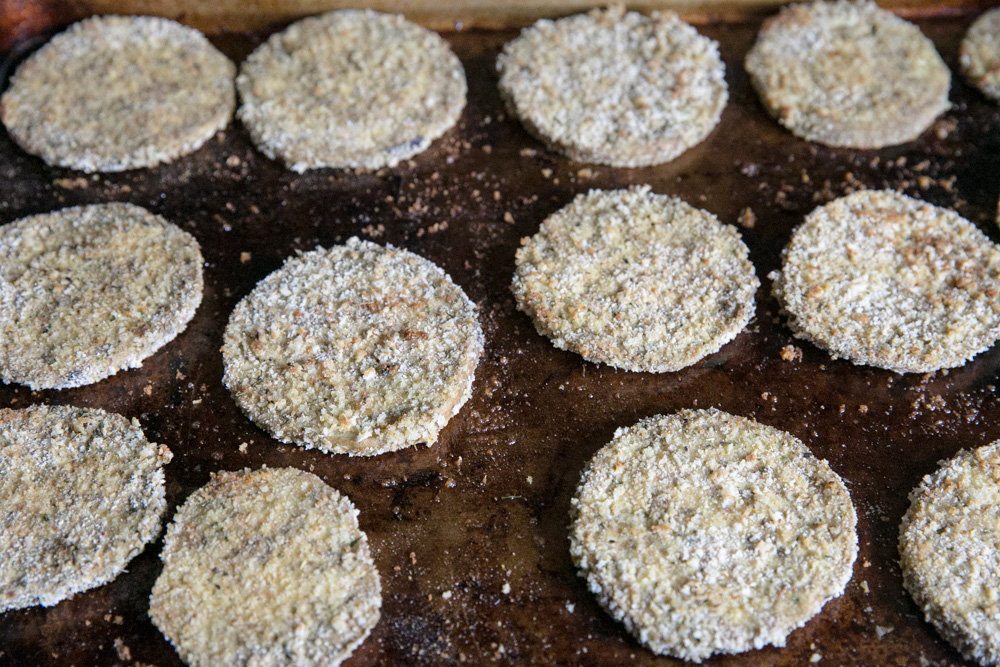 If you are feeling unsure of how to buy and prepare eggplant you can check out this video. For eggplant parmesan, I don't typically salt the slices of eggplant but I do if the eggplant will be used in a dish that isn't covered in sauce and cheese.
There are as many variations of eggplant parmesan as there are Gambino families. Some family recipes call for slicing the eggplant thick, some thin, some peel the eggplant, and others don't. Then there is the fry their eggplants slices devotees versus the eggplant slice bakers. Personally, I like my eggplant peeled, thinly sliced, coated in panko, parmesan, and baked.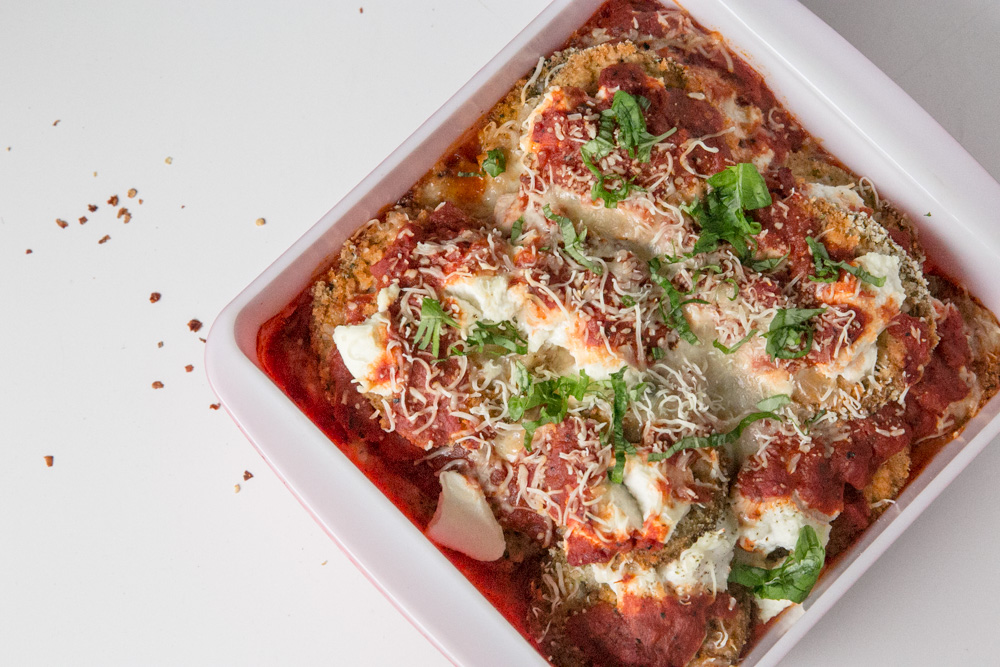 The process of making eggplant parmesan isn't that much different than making lasagna. Instead of layering noodles, you layer slices of eggplant with marinara and seasoned ricotta cheese. This recipes calls for two eggplants and will fill a 9 x 13 pan but you can also just use one eggplant and bake it in a 9 x 9 or small round casserole.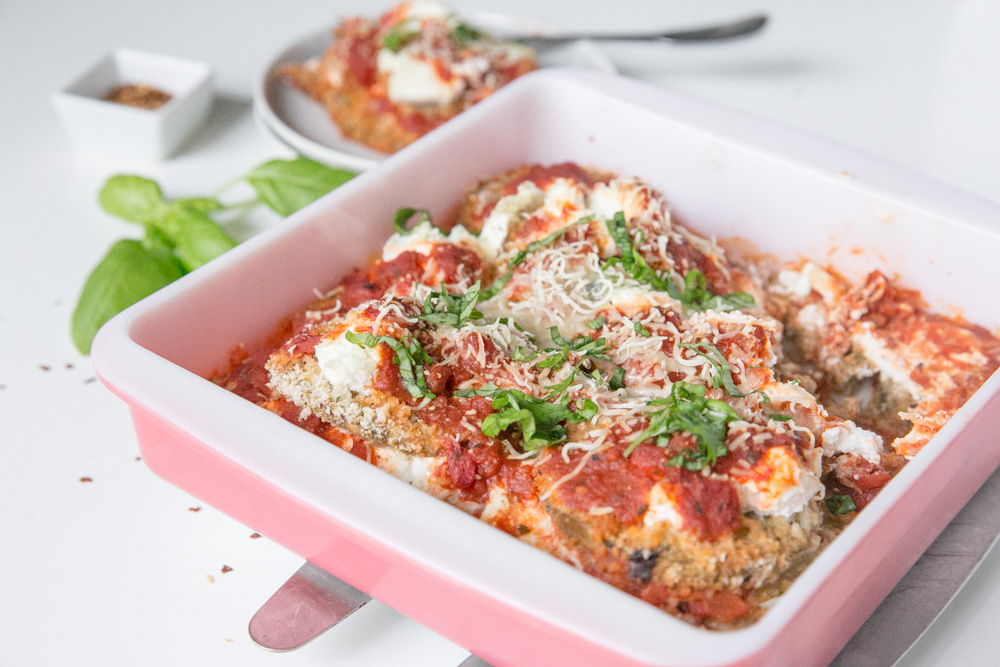 This may sound weird to anyone who didn't grow up in an Italian family but leftover eggplant parmesan makes a divine filling for a sandwich. But, the bread must be a crusty loaf of Italian bread or a baguette if you don't have good Italian bread in your part of the world.
How to Make Eggplant Parmesan
Preheat oven to 375 degrees.

In a small bowl, combine eggs and water. In another small bowl combine bread crumbs, panko, Parmesan cheese, and Italian seasoning.

Line two baking sheets with parchment paper or cooking spray.

Dip a slice of eggplant into the egg mixture and then coat both sides in bread crumbs mixture. Place on prepared baking sheet. Spray breaded eggplant slices with cooking spray. Bake eggplant for 10 minutes. Flip eggplant slices and bake for 10 more minutes or until golden brown.

Leave oven on if you plan to cook the eggplant Parmesan immediately.

While eggplant cooks, spray a 9 x 13 pan with cooking spray. Then add ½ cup marinara to the bottom of the pan spreading the sauce into a thin layer.

In a medium bowl, add ricotta and mozzarella cheese and stir to combine. Add Italian seasoning, salt and pepper.

Start placing cooked eggplant slices into a single layer on the bottom of the 9 x 13 pan. Then dollop tablespoons of ricotta cheese mixture on each slice of eggplant. Top with ½ cup of marinara.

Repeat the layers of eggplant, ricotta cheese, mixture and sauce.

Sprinkle ½ cup of Parmesan over the top layer of sauce. Bake the eggplant Parmesan for 30 minutes. Check to see if the sauce is bubbling around the edges. If so, remove from the oven. If not, cook for 5-10 more minutes until bubbling.

Garnish with basil before serving.
Other Italian recipes you might enjoy: