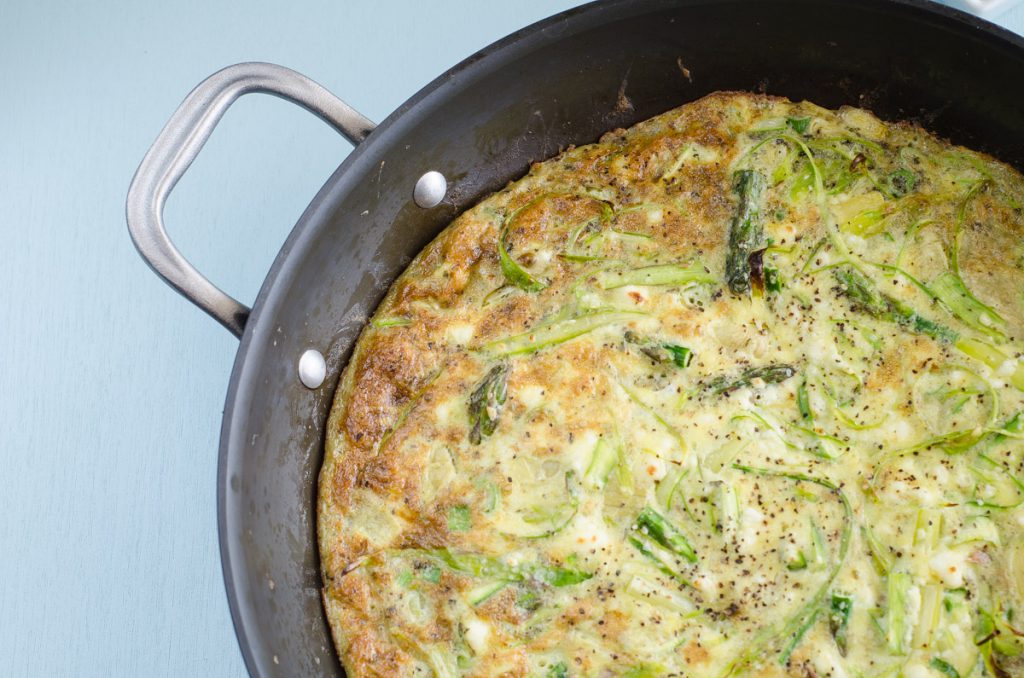 The only thing that could make this dish more spring-like is if I stuck a tulip on the top of it. I would not do that because it would be silly. Instead, I took some of my favorite spring flavors and combined them into a beautiful asparagus and artichoke frittata.
Springtime is always associated with eggs (think Easter) and those tender spears of asparagus. For this recipe, I recommend selecting asparagus that is at least as thick as a pencil. You do not want to be trying to peel those skinny little stalks into ribbons. Unlike most preparations of asparagus, you don't want to snap off the tough ends. You will use them as a handle and hold onto them as you are peeling the stalks into attractive ribbons.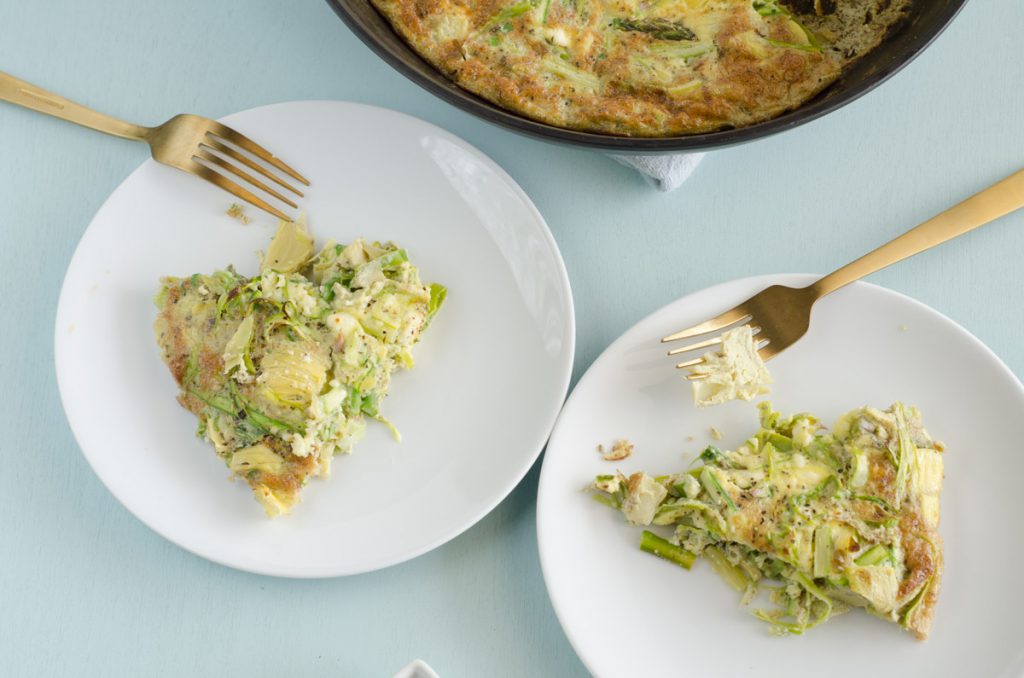 I used canned artichoke hearts that were quartered. You will want to drain  and rinse them and then gave them a rough chop. I selected feta cheese mainly because I had some in the fridge. You could also substitute Parmesan or goat cheese if you prefer.
Frittatas are equally as welcome on the table for brunch served with roasted potatoes and fresh fruits, as they are on the dinner table with a salad and crusty bread. They also travel well as leftovers for lunch the next day. Alternatively, frittatas are perfect if you are having vegetarian friends or family over (ahem, Mom) and don't know what to make.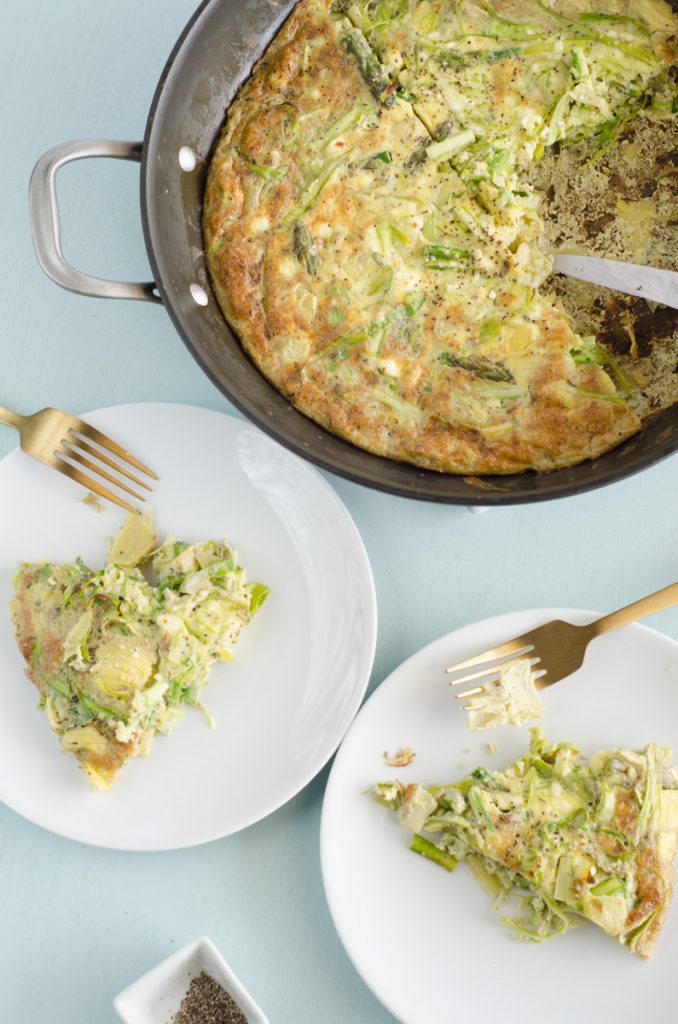 Here is another idea; wouldn't this be lovely as part of Mother's Day brunch spread? Add some fresh fruit and mimosas and you have a brunch fit for a queen. Wouldn't the asparagus and artichoke frittata also be perfect for book club? Most book clubs that I have been involved in could more accurately be categorized as wine clubs but the frittata would be great for that too!  I would recommend a Sauvignon Blanc to accompany this frittata because of the strong flavors of the asparagus and artichoke.
How to Make Asparagus and Artichoke Frittata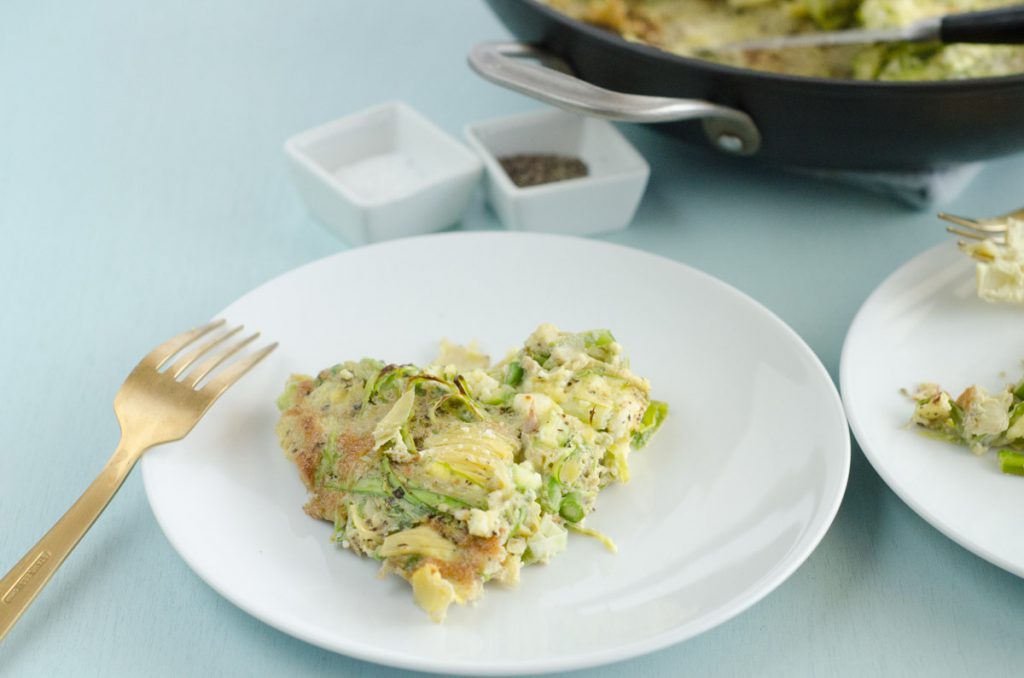 Prepare the asparagus: Do not snap off the tough ends of your asparagus. Lay a single stalk on its side on a cutting board. Cut off the flowers and set aside. Next, hold onto the tough end, use a vegetable peeler to peel ribbons away from the tough end (and your hand) right through the soft tip. Rotate the stalk when it is hard to continue peeling ribbons. Cut any remaining piece of the peeled stalk into one-inch pieces. Discard the tough ends once you are done peeling.

Beat your eggs with the milk, plus Italian seasoning, salt and pepper until combined. Stir in artichokes and scallions. Add asparagus ribbons and gently stir.

Heat your skillet over medium heat and add 2 tablespoons olive oil. Pour in egg mixture, swirl the pan so that the ingredients are evening distributed in the pan. Sprinkle the feta over the egg mixture. Lower the heat to medium-low and cook for about 5 minutes, until the edges are set and brown but it is still runny on top. Transfer skillet to the broiler and cook for another 2 to 3 minutes, until eggs are set on top.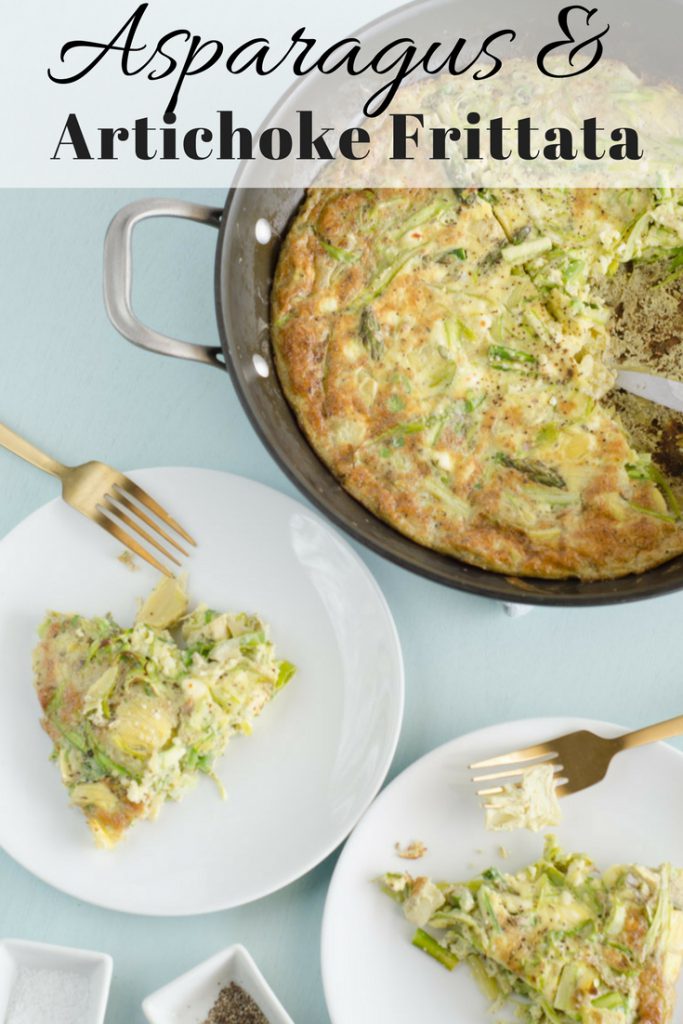 Wait! There's More
If you like frittatas, you may also be interested in these recipes: