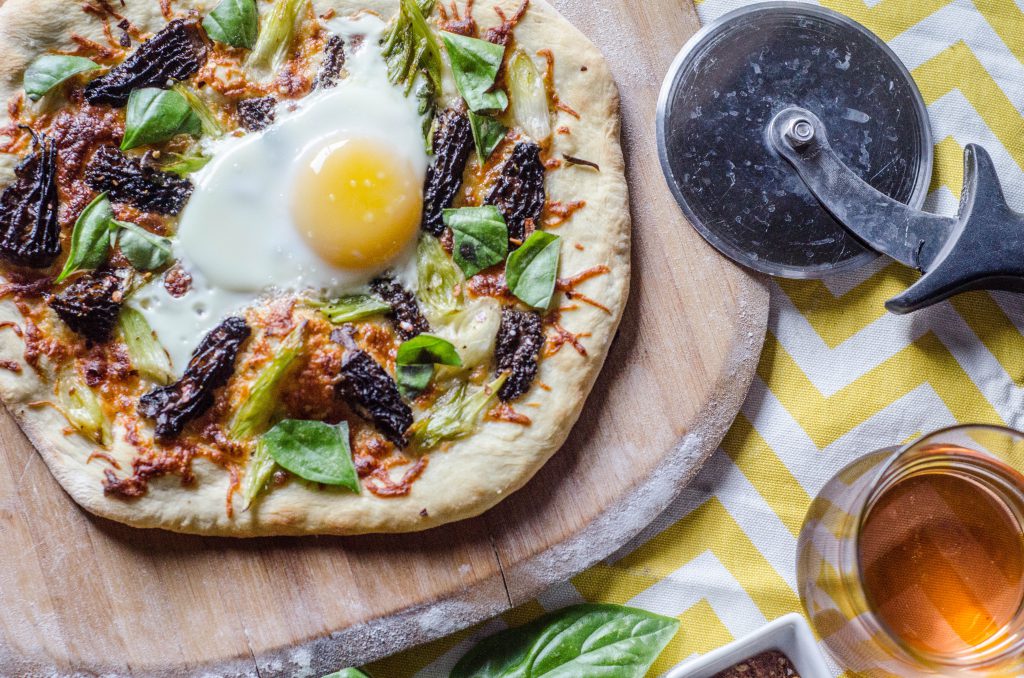 A few of my favorite signs of spring are the incredible vegetables that pop up early to remind us of the rich bounty of produce that is heading our way. This list includes asparagus (yes!), peas (nothing like 'em), greens of all varieties, and for those fortunate to live near cool, damp forests, morel mushrooms.
For those of us who live in the high desert, the morel mushroom is a bit of unicorn, amazing to behold but rarely seen in person. But, this year, through a unicorn trick of her own, my friend Rachael, who lives in Missoula, Montana had a banner year foraging the forests and brought home sixteen pounds (!) of these woodsy gems.
That alone is amazing but she generously shared her haul with me. Isn't that incredible? I was beside myself when she sent them to me. I have eaten morel mushrooms in restaurants before but I'd never worked with them before.  So, once I opened up the package, I rolled up my sleeves and got to work researching how to store and looking for inspiration on how to prepare them.
How Morel Mushrooms Grow
<In your best Elmer Fudd voice> 'Be very, very quiet, I am hunting morel mushrooms…'
Typically, Friday nights are not the most productive nights in my kitchen. I am usually tired and likely to be in the mood to put my feet up and enjoy a glass of wine. But, the allure of these mushrooms was just too great. I decided that pizza would be the perfect vehicle for these meaty mushrooms. If you can't find morels you can substitute any other mushrooms in their place.
Turns out that they are easy to work with so if you happen to spot some at your local farmers' market, grab them. I cut the stem ends off, split them down the middle vertically and gave them a good rinse. They are pretty dirty because they were plucked from the dirt in the forest. Hey-o! Keep in mind, you don't want to rinse or wash them until you are ready to use them.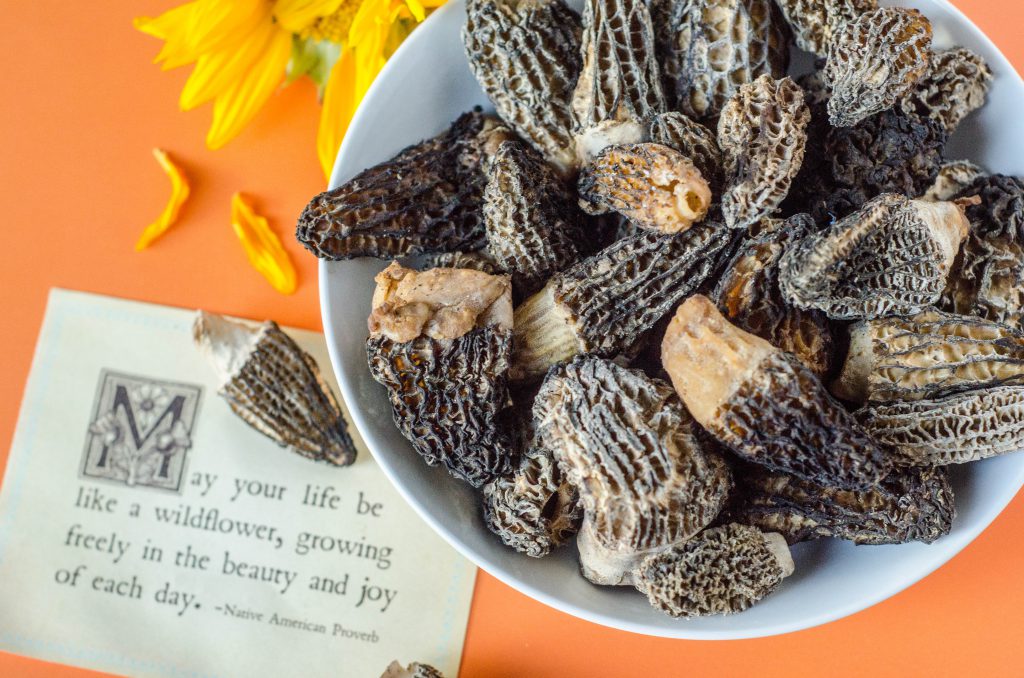 How to Make Morel Mushroom and Green Onion Pizza
I sautéed the mushrooms for a few minutes in a little butter and olive oil with pieces of green onions (red or yellow onions would work too). Then, I removed the veggies from heat and rolled out the pizza dough. Note: you can make your own dough from scratch if you are feeling inspired but I like to keep a few packages of Trader Joe's pizza dough in the freezer at all times.
Roll out the dough into a thin circle and drizzle a little olive oil over the top. Spread the oil around the dough evenly. I also like to sprinkle some salt, pepper, and crushed red pepper flakes over the dough. Then, top with shredded mozzarella, the sautéed morel mushrooms and green onions.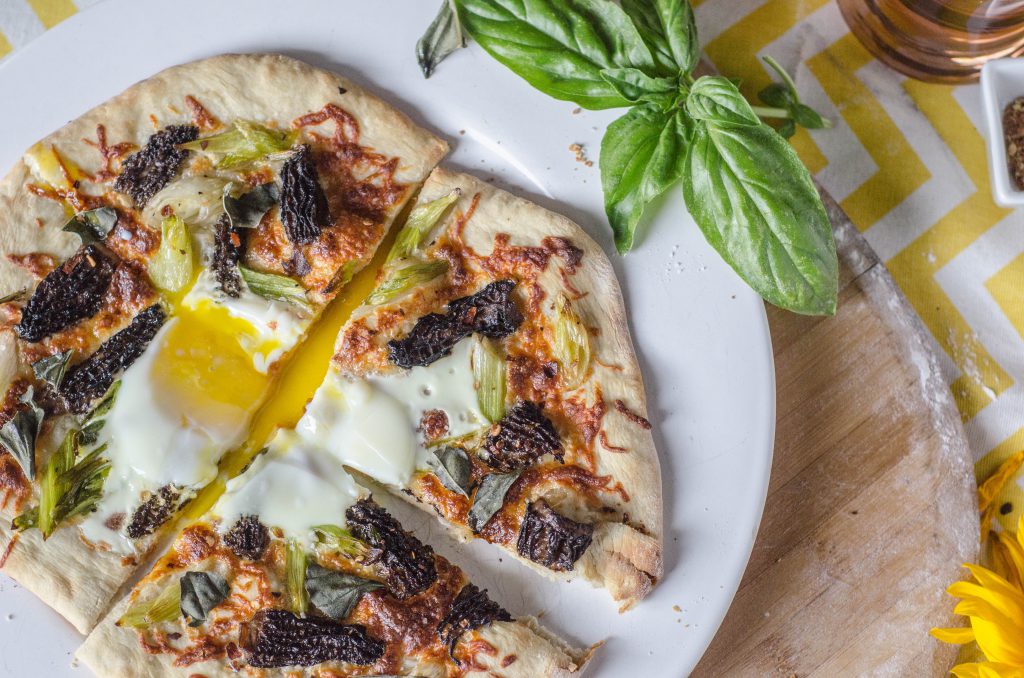 Pop the pizza in the oven for 15 minutes. Take the pizza out of the oven and carefully crack a raw egg into the center of the pizza. I cracked the egg into a small ramekin first to make the process easier (and in case I needed to pick out any egg shell fragments). Cook five more minutes. Take pizza out of the oven and sprinkle with Parmesan cheese and chopped basil. When you cut into the pizza, the egg yolk breaks and becomes a rich, creamy sauce for the pizza.
The pizza was delicious and special thanks to Rachael for her generosity. I had a ball playing with the mushrooms.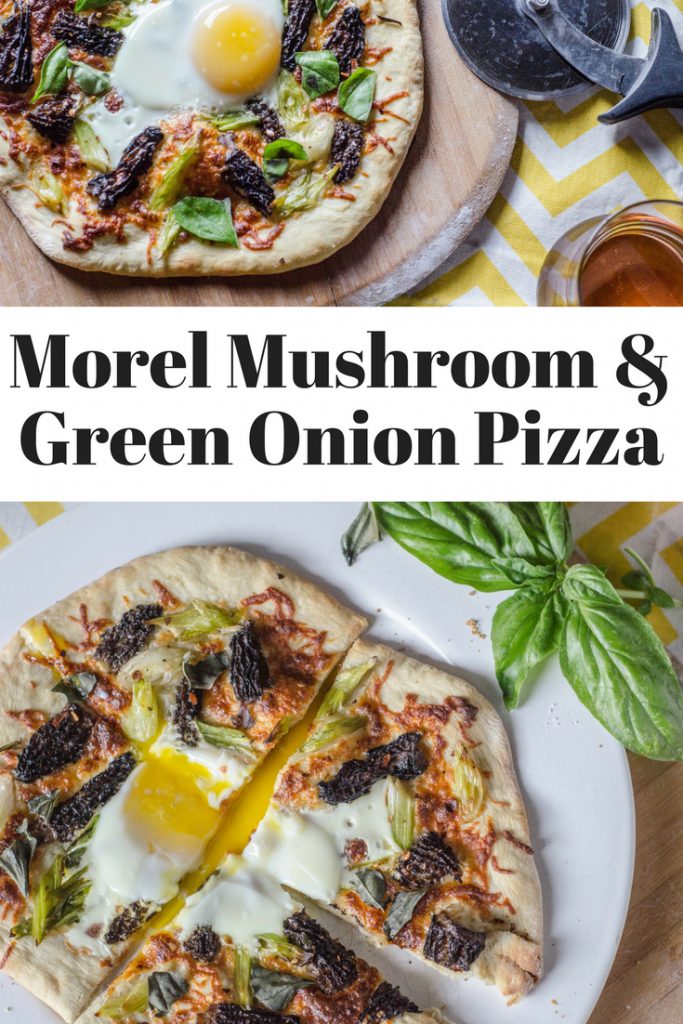 Place pizza stone in oven and preheat to 500°.

Melt butter in a small skillet over medium-high; cook green onions and morels until soft, about 2 minutes, and set aside.

Divide dough into 2 balls. On a lightly floured surface and working with one ball of dough at a time, roll dough into an 8" circle about ¾" thick.

Place onto a parchment paper-lined baking sheet or pizza peel.

Divide oil between dough, top with cheese, green onions, morels, and crushed red pepper.

Bake 15 minutes, rotating pans halfway through; remove from oven and top each with an egg.

Cook 5 minutes more, or until egg is lightly set.

Finish with black pepper and Parmesan and serve immediately.

Repeat with the other half of the dough. Alternatively, bake one large pizza.
If you can't find morel mushrooms you can substitute any other meaty mushrooms like cremini, portabello, or button mushrooms in their place. If you don't have a pizza stone, you can bake the pizza on a baking sheet.