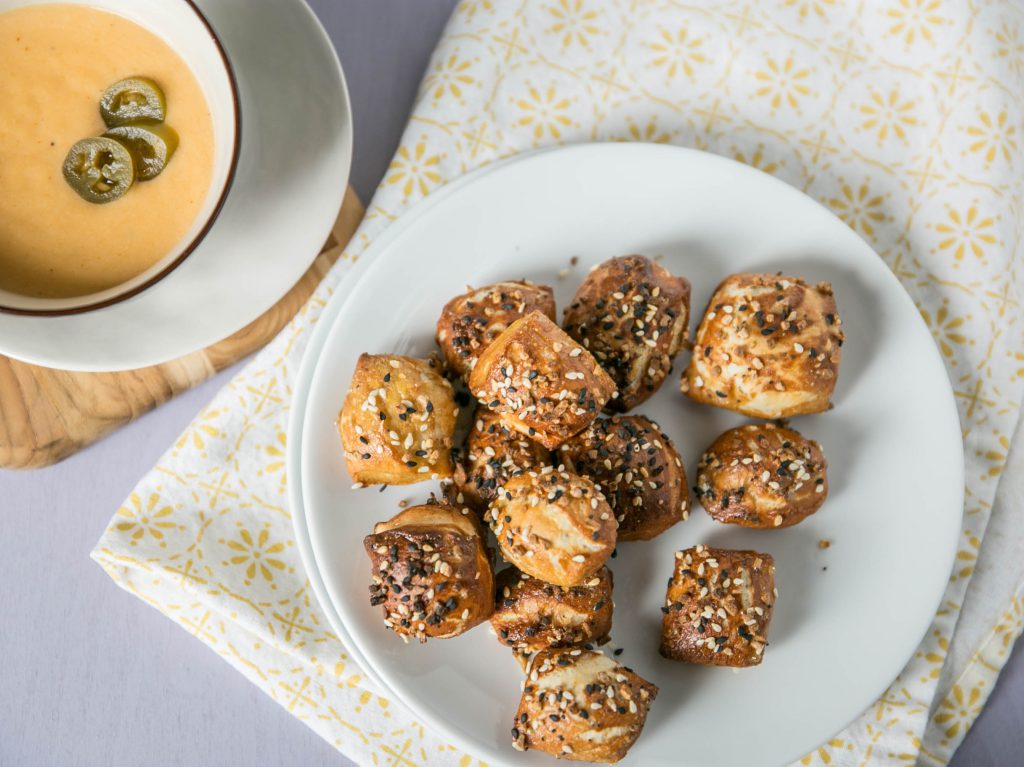 I don't often make bagels at home but I do make pretzel bites which are small mouthfuls of soft pretzel deliciousness. Perhaps it's because I am indecisive or that I cannot commit to just one bagel topping but everything bagels have always been my flavor of choice.
If you aren't familiar with everything bagels, they are topped with a combination of ­­­poppy seeds, sesame seeds, dried garlic, dried onion, and coarse salt. You can make your own everything seasoning mix or stop by Trader Joe's and pick up their 'Everything but the Bagel' seasoning mix.
Until I discovered the Trader Joe's seasoning I typically topped by pretzel bites with coarse salt. But, now when I make them I sprinkle them liberally with everything seasoning mix. If you don't have a Trader Joe's near you, then here is a quick video that shows how to make your own everything seasoning mix at home.
The pretzel-making process may sound daunting but it really isn't that bad. Once you set up an assembly line the process isn't really that bad. I use my stand mixer to make the dough and just knead with my hands a few times at the end before letting the dough rest in an oiled bowl. Then, section the dough and roll each section into a long rope and cut into bite-sized pieces. A quick dunk into a pot of boiling water with baking soda and those babies are ready for the oven.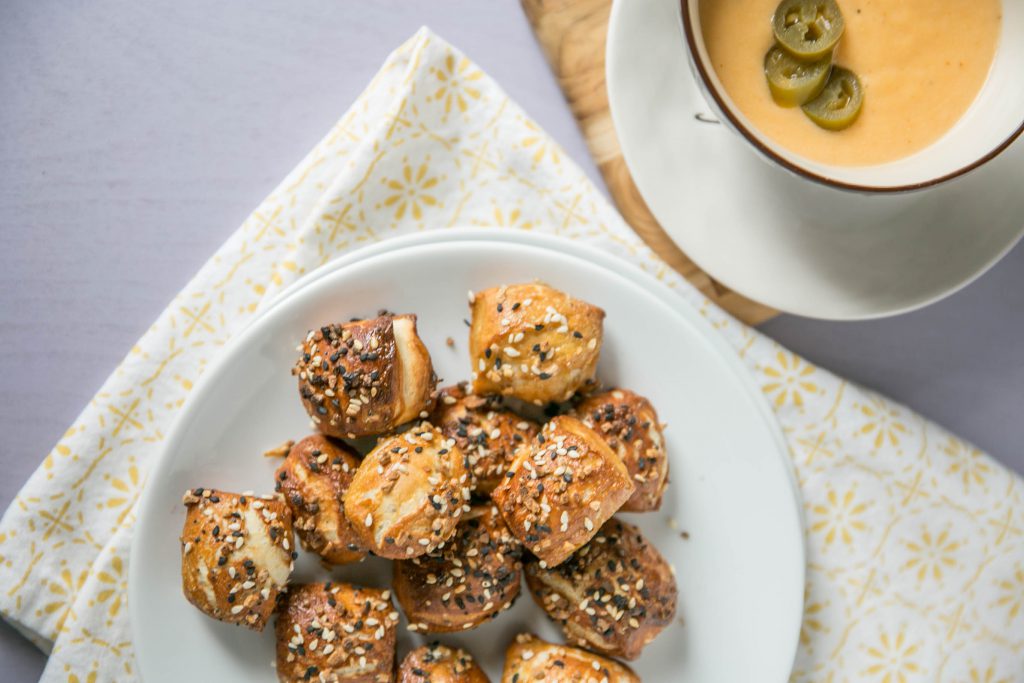 Unless you live in New York City, it isn't always easy to grab a good soft pretzel as you are wandering around town. That is why I started playing around with making them myself. Everything pretzel bites are a game time staple during football season.
There is something super satisfying about popping one of these pretzels hot from the oven into your mouth with only a quick detour into a pile of mustard or cheese sauce. But, be warned these everything pretzels are pretty addictive. Even if you think you have made enough you may find that they disappear as quickly as you can churn them out.
How to Make Everything Pretzel Bites
In the bowl of a stand mixture fitted with a dough hook, combine warm water, sugar, yeast and melted butter. Let mixture sit for five minutes.

With the mixer running on low, add salt and flour one cup at a time until combined. Slowly increase the mixer speed to medium and continue mixing until the dough is smooth and begins to pull away from the sides of the bowl.

Once the dough is smooth and elastic, remove from bowl and place on a flat floured surface and knead ball a few times by hand.

Place dough in an oiled bowl and flip once so that the entire thing is coated with oil. Cover with plastic wrap or a clean dish towel and let dough rise for an hour or until roughly doubled in size.

Preheat oven to 425 degrees.

In a large saucepan, bring 3 quarts of water to a boil and slowly add baking soda.

After dough has risen, remove from bowl and place on flat floured surface. Divide the dough into eight pieces. Roll each piece into a long rope.

Cut the dough into 1-ince pieces and boil the pretzel bites in the baking soda/water solution for 30 seconds. Boil about a dozen pretzel bites at a time. Remove with a slotted spoon and place on a baking sheet covered with parchment paper or coated with cooking spray.

Brush the tops of the pretzel bites with egg wash and sprinkle with everything bagel seasoning.

Bake for 15-18 minutes or until golden brown.

Serve pretzel bites with mustard or cheese sauce.
Other finger foods you may be interested in are: