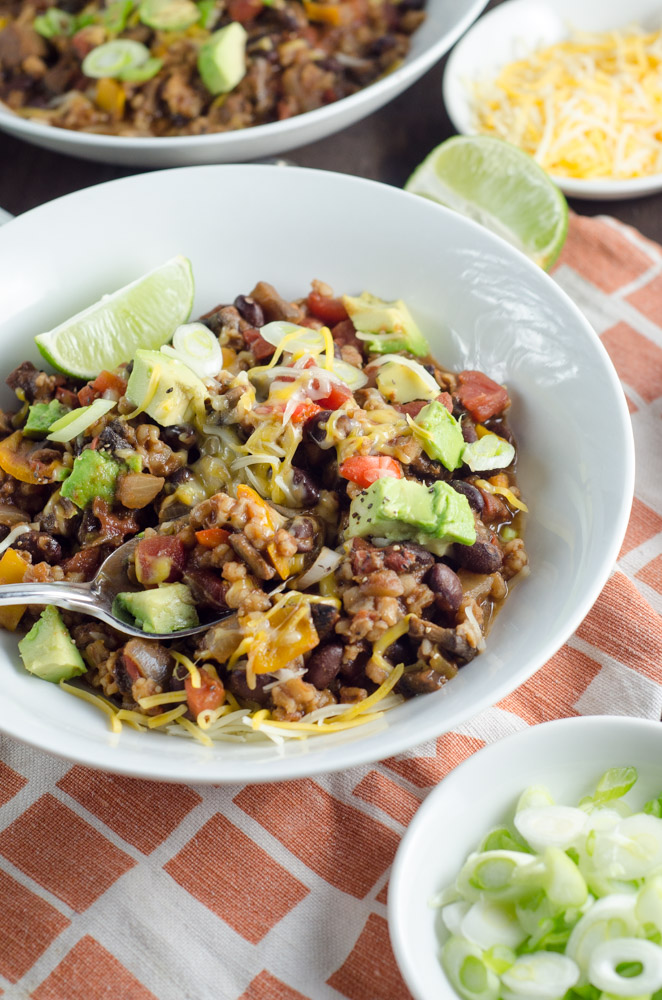 Are you ready for football to be over for the season? I know that I am.  Honestly, this year I couldn't care less about either team that is playing in the Super Bowl. The only thing I am excited about is hanging out with friends and eating delicious food.
After Thanksgiving, the Super Bowl is the next big event in the Olympics of food.
You want to bring a dish to the party that will be delicious and Instagram-worthy. You may want it to have some sort of nutritional value. I always prefer homemade food, cooked from scratch, because I am weird like that. I want my food to be made from ingredients from the Earth rather than chemicals in a factory.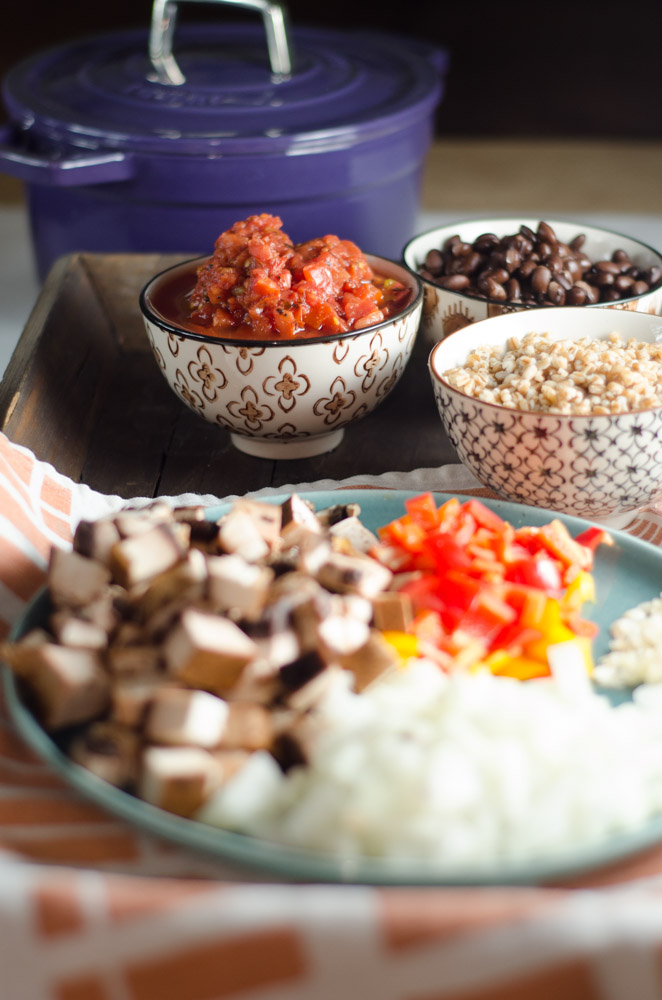 My daughter often laments when she visits my house that my kitchen is full of ingredients rather than food. I take this as a compliment, although, I know it is not intended as such.
Super Bowl Appetizer Ideas
So, for weeks I have been trying to decide what to bring to the Super Bowl party that we will be attending this weekend. I can't decide between snack food such as a dip with chips and veggies like this Roasted Carrot Hummus or Guacamole with Clementines or bringing something more substantial.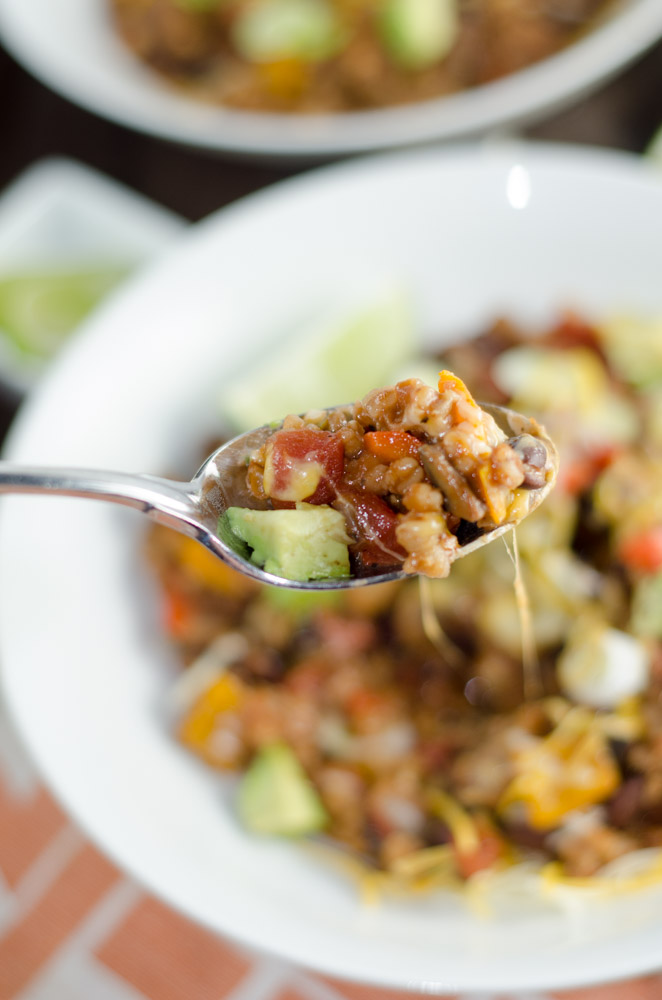 Some of the people attending the party are meat and potatoes people and a few are vegetarians. So, I want to bring something that will appeal to everyone.
Keeping that in mind, in addition to the dip recipes listed above, I have a really delicious chili recipe to share with you. The Super Bowl and a pot of chili go together like wine and cheese. Am I right? Chili is a perfect party food. It can be made ahead of time and then kept warm in a slow cooker so it is ready to eat at half-time.
Blow-Your-Mind Black Bean Chili
This Blow-Your-Mind Black Bean chili is sure to please your football loving friends. I am so in love with this chili recipe! It is full of black beans and wheat berries (more on these in a minute) which makes it a super satisfying.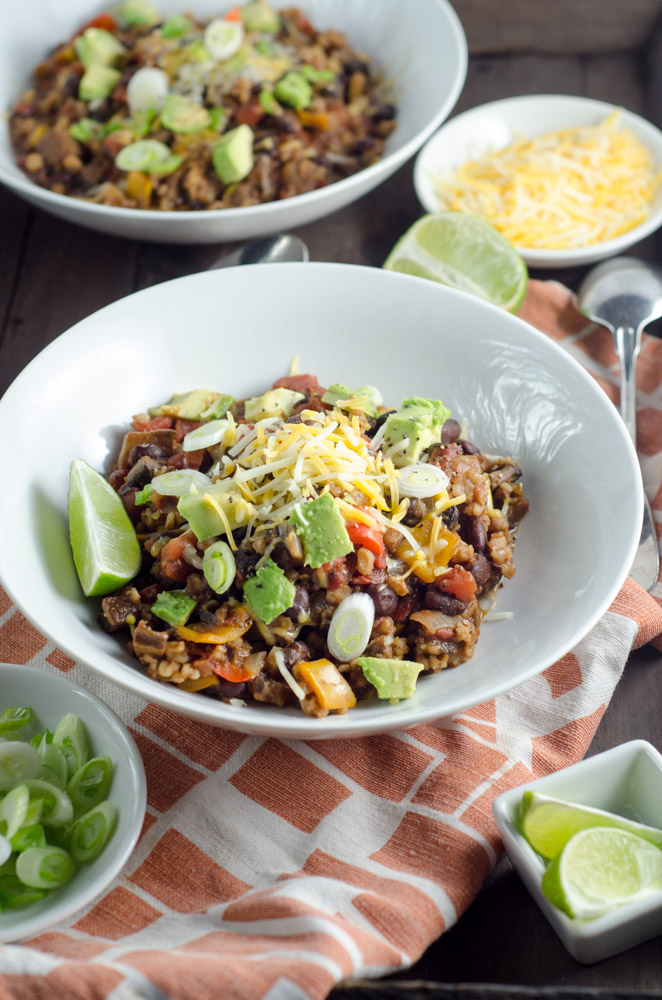 The addition of mushrooms also lends meaty texture to the chili which may keep the carnivores at the table from grumbling. The smoky flavor comes from chipotle chili powder. If you like extra heat and smoke, you could add a chopped up chili pepper and some of the sauce from a can of chipotle chilies in adobo sauce. The chili is meatless which is perfect if you have vegetarians coming to party and hearty enough that the carnivores may not miss the meat.
If you aren't familiar with wheat berries, I encourage you to give them a try. You boil the whole grains in liquid, usually water or broth, until cooked through. The process is similar to cooking rice. They have a chewy texture and a nutty flavor. You can find wheat berries in the bulk section of many super markets or packaged in the grocery aisle with other whole grains. Wheat berries are sometimes referred to as hard red winter wheat.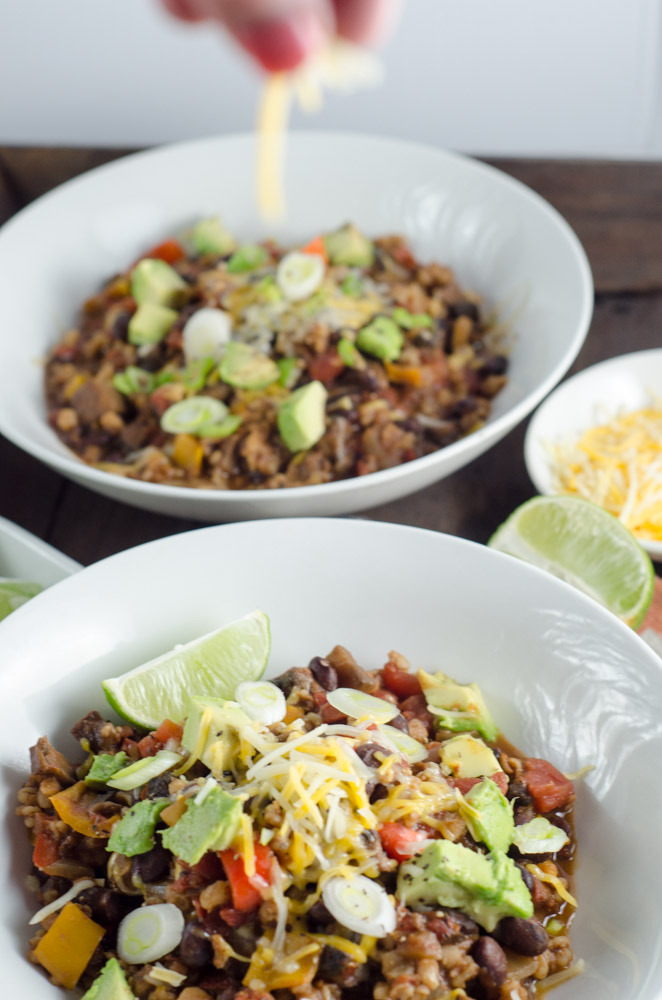 Plus, suggest having a selection of toppings available so that guests can customize their chili bowls just the way they like them. Some of my favorite chili toppings are:
Avocado
Green onions
Lime wedges
Grated cheese
Crushed tortilla chips
Sour cream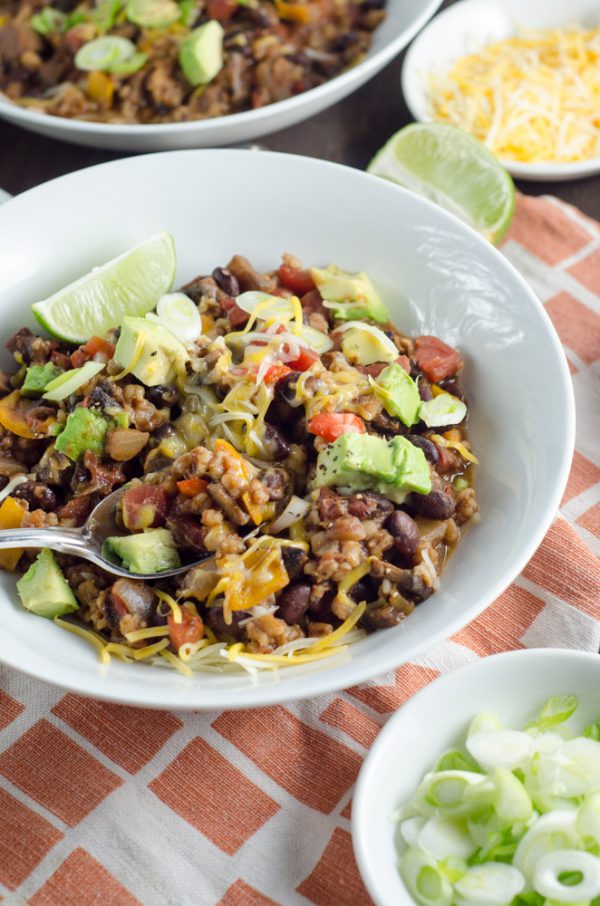 | | |
| --- | --- |
| | |
Heat oil over medium heat in Dutch oven.

Add onions and red pepper. Sauté until softened, about 5 minutes.

Add garlic and mushrooms, stirring regularly for another five minutes taking care to not let garlic burn.

Add chipotle chili powder, salt, and pepper. Stir for 30-60 seconds.

Add black beans, tomatoes, broth, brown sugar, and wheat berries. Let simmer for 30 minutes.

Garnish with chopped avocado, green onions, grated cheese, crushed tortilla chips, sour cream, and lime wedges.
Wheat berries can often be found in bulk bins of your grocery store or in the aisle of packaged whole grains. Wheat berries are also referred to as hard red winter wheat. They possess a chewy texture and a nutty flavor.