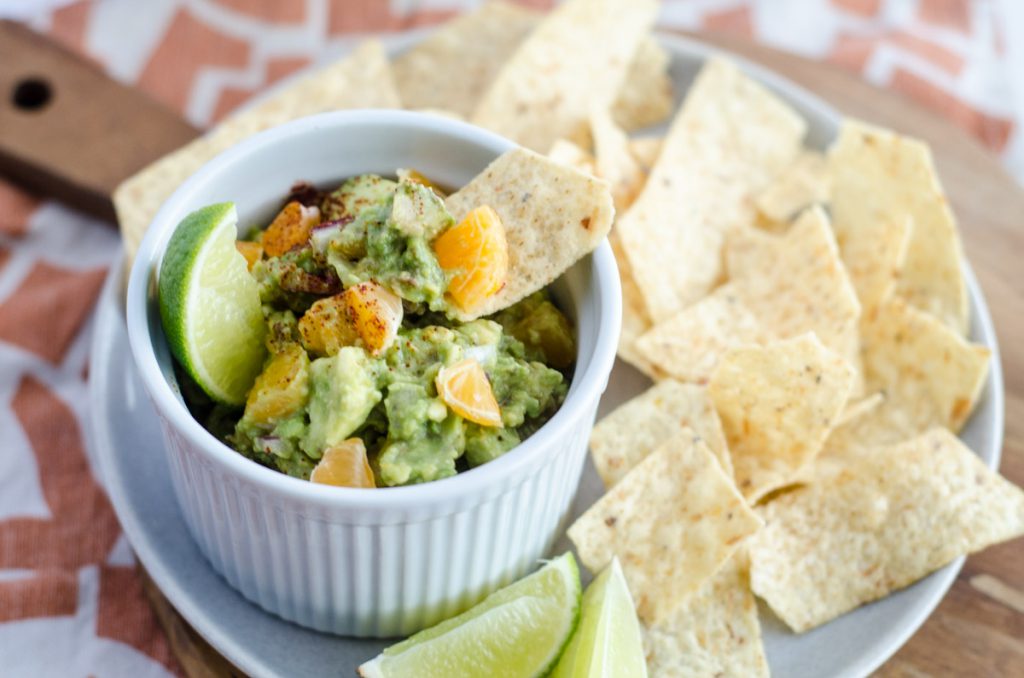 Clementines, Mandarins, Cuties, Halos, whatever you call these delicious little gems, they are easily found at grocery stores this time of year. I nearly always have a bag of them in my fridge during the winter months. They travel well, are super sweet, and let's face it; seasonal fresh fruit is scarce this time of year in the Northern Hemisphere. But, this small citrus fruit shines when it is cold outside.
So, why not add a little oomph to your guacamole with chopped up segments of clementines? That is exactly what I did here.  I took a handful of those easy to peel clementines and cut each segment into thirds. I wanted the pieces to be substantial enough that you get a burst of sweetness in a bite but not so big that you would have worry about keeping it balanced on a chip.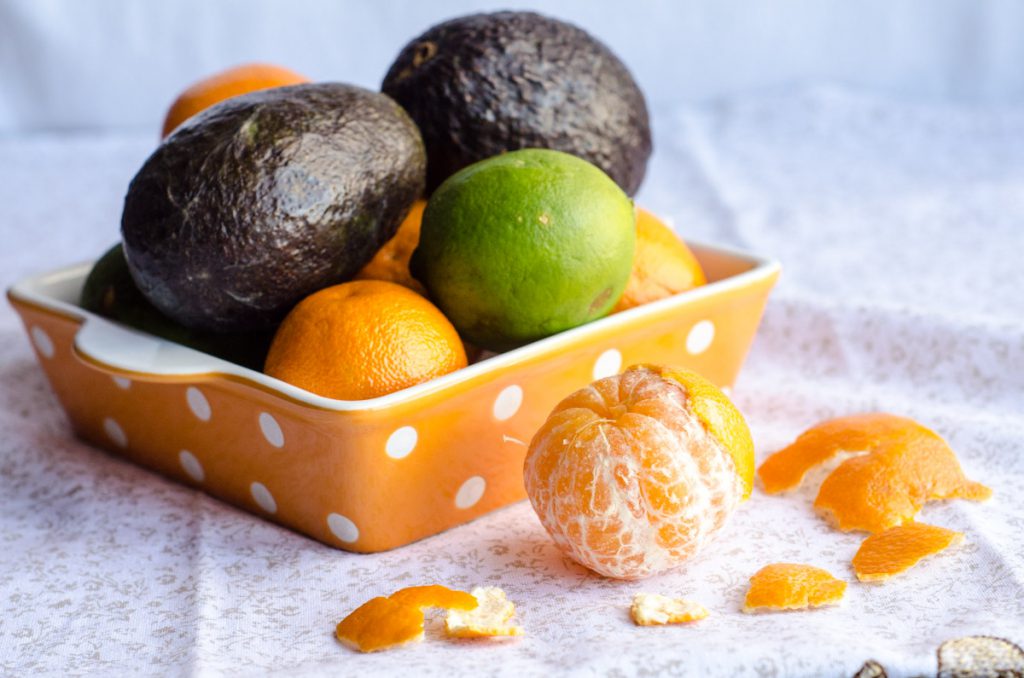 Everyone loves guacamole. I mean, if you don't love guacamole then you confuse me. We can still be friends and everything, but I don't understand how anyone can resist dipping a chip into a bowl of fresh creamy guacamole. Actually, if you don't like guacamole, let me know, I will invite you over to my place. More guacamole for me!
A local restaurant here in Salt Lake City called Taqueria 27 offers a 'guacamole of the day' (G.O.D.).  They offer up some wild combinations.
Recent G.O.Ds include:
red apple, Anaheim pepper, and pickled red onion
grilled onions and jalapenos, lime and queso fresco
blueberry, gorgonzola, habanero, and balsamic
I don't love all of them but I do appreciate the chef's commitment to using interesting ingredients.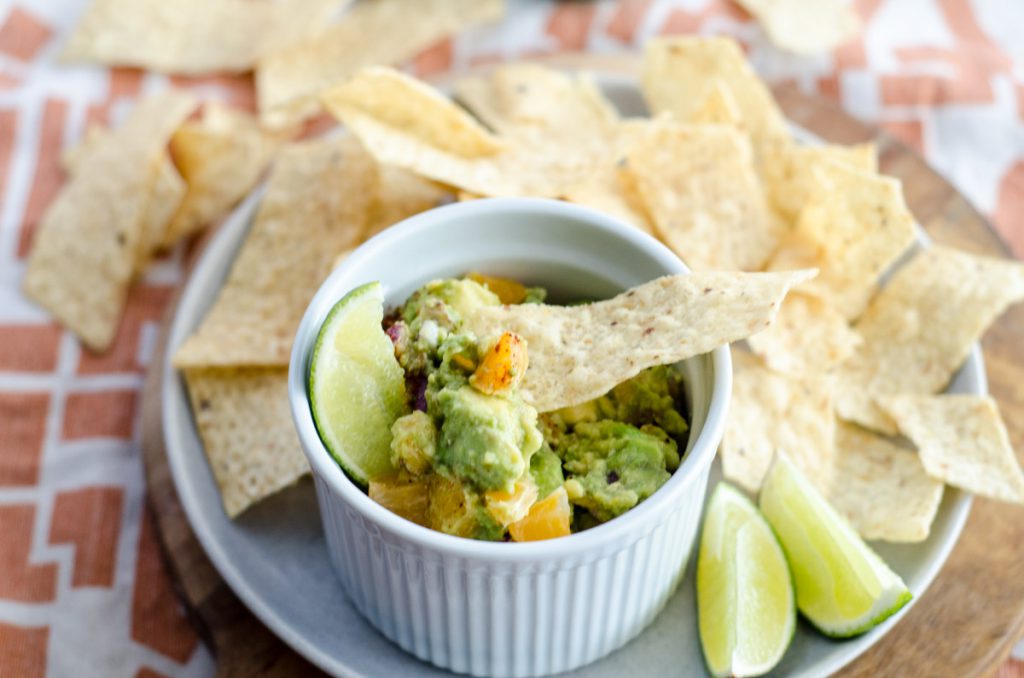 That is what inspired me to add clementines to a batch of guacamole last weekend to snack on while the NFL playoffs were on. Plus, the Superbowl is coming up in a few weeks which always feature the best game-snacking opportunities of the year. I believe I once heard that the statistic that more avocados are sold Superbowl weekend than any other time of the year.
This recipe doesn't stray too far from a traditional guacamole recipe other than I bumped up the heat a little to complement the sweet from the clementines.  I love the sweet and spicy combination with the traditional creaminess of the avocados and acidity of the lime. Recommended!
Do you have a favorite non-traditional ingredient that you like to add to your guacamole? If so, I would love to hear about it in the comments.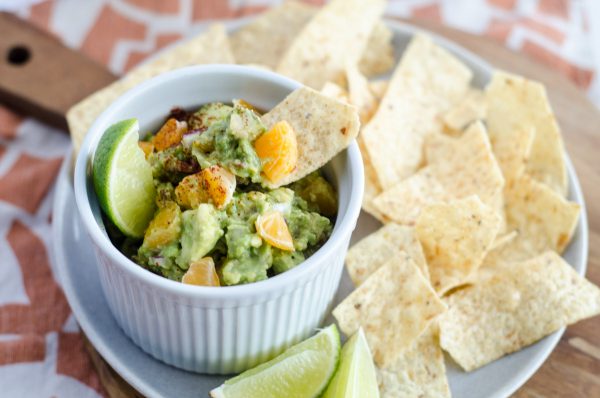 | | |
| --- | --- |
| | |
Place avocado in a bowl and using a fork smash until the desired consistency is reached. I like guacamole to be a bit chunky.

Add lime juice, salt, pepper, pepper, chili in adobo to the avocado. Stir until combined. Taste to make sure the seasoning tastes good.

Stir in the red onion and jalapeno.

Then, add almost all of the chopped clementines reserving a few to garnish on top.

Gently stir the clementines into the guacamole.

Sprinkle with reserved clementines and chipotle chili powder.
A few other ideas for your Superbowl party: