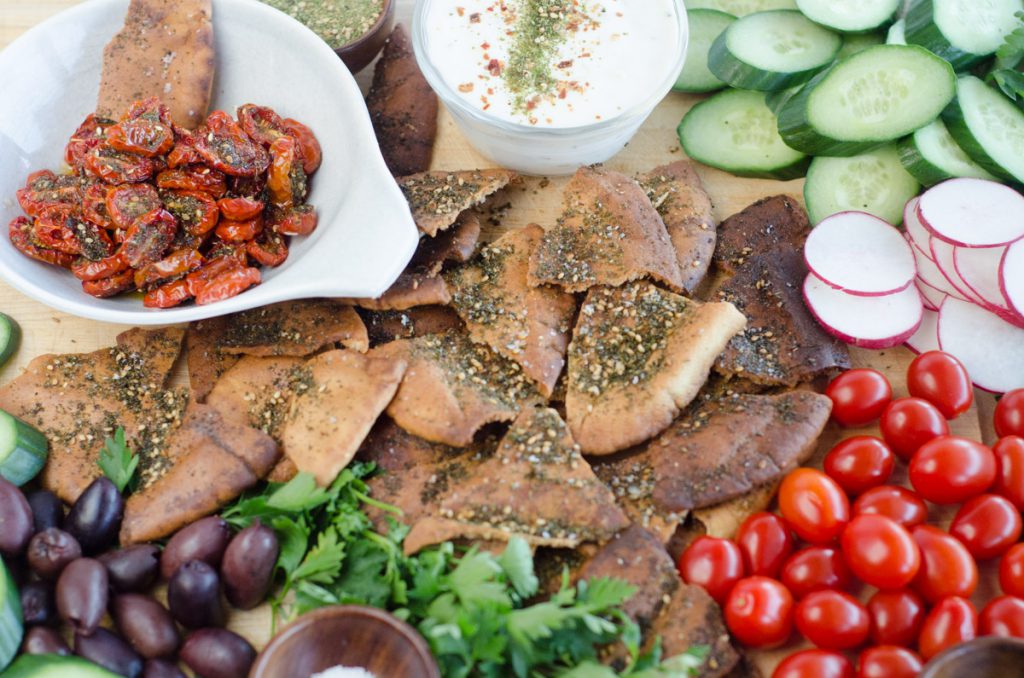 Za'atar. Doesn't it just sound exotic? Do not be put off by this unfamiliar Middle Eastern spice mixture. Za'atar is combination of dried herbs like oregano, basil, thyme, and savory, mixed with sesame seeds, sumac, and salt. It is delicious and works perfectly on these za'atar roasted tomatoes!
I used za'atar to season the roasted tomatoes and on the pita chips that I baked for this post. Za'atar is available at Middle Eastern markets or on Amazon. If you are ambitious, you can make your own.
I love the flavors of Middle Eastern food. That love can be traced back to trip to Las Vegas many years ago.  I had a remarkable meal at Neyla, a fabulous Middle Eastern restaurant that sadly is now closed. That night at Neyla, we enjoyed mezze as our meal.  Mezze is an assortment of small plates, think tapas, but with Middle Eastern flavors.
That first experience with Middle Eastern food started a life-long love affair for me. I sought out Middle Eastern restaurants to try in Salt Lake City and in other cities when I traveled. For the record, when in Salt Lake City, I recommend visiting Mazza for an incredible Lebanese feast.
In addition to trying meals at Middle Eastern restaurants, I also began trying to make Middle Eastern foods at home. Back before you could Google a recipe, cookbooks were the main source for exploring the recipes of a new cuisine.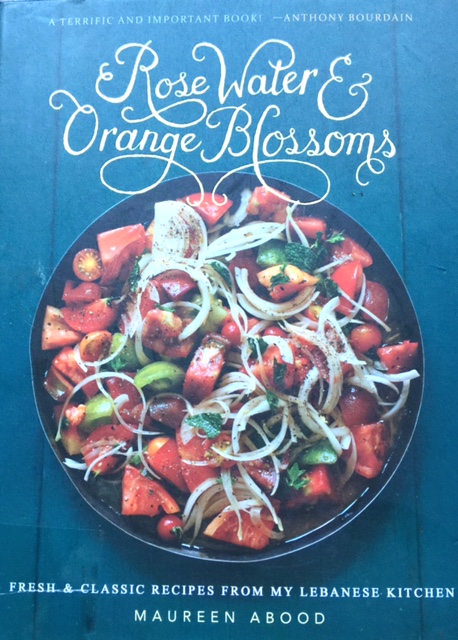 I was inspired to write this post after recently reading the fabulous cookbook Rose Water and Orange Blossoms by Maureen Abood. The mezze section of the cookbook is filled with traditional Lebanese small plate recipes, including a write-up on how to peel chickpeas for super smooth hummus.
As an aside, I actually read this article from Serious Eats on making the smoothest hummus ever and I decided to try it.  The kicker is that the article said that peeling the chickpeas is the essential step that makes the hummus so smooth. So yes, I PEELED the chickpeas, all the while muttering to myself, 'why the hell am I peeling the chickpeas'? I will be damned if that hummus wasn't the most incredibly smooth hummus that I have ever made. That being said, peeling chickpeas is rather tedious and time-consuming.
Abood's method seems more efficient than the one that I used which was standing their peeling them one by one. Next time I make hummus, I will try to her method and let you guys know how it goes.
How to Make Za'atar Roasted Tomatoes
If you enjoy Middle Eastern food, I recommend getting your hands on a copy of Rose Water and Orange Blossoms. However, in the meantime, feel free to give these delicious za'atar roasted tomatoes and baked pita chips a try. You can add a bowl hummus and an assortment of olives and enjoy a wonderful mezze of your own.
Preheat oven to 275 degrees. Line a heavy baking sheet with parchment paper. Slice tomatoes in half. In a bowl, combine tomatoes with olive oil, salt, and pepper. Stir gently until combined.

Place the tomatoes on the baking sheet with the cut side up. Then, sprinkle each tomato with the za'atar.

Roast the tomatoes for two hours or until they are mostly shriveled.
How to Make Baked Pita Chips
3 pita breads
3 tablespoons olive oil
½ teaspoon salt
Fresh ground pepper
1 teaspoon za'atar
Preheat oven to 375 degrees.
With pita bread lying flat on a cutting board, split the bread in half horizontally so you have two thin rounds. Repeat with the two other pita breads.
Place rounds on two sheet pans. Place olive oil, salt, pepper, and za'atar into a small bowl. Brush each pita round with olive oil mixture.
Bake until golden. Start checking the pita rounds around 7 minutes.
Remove from the oven and let cool enough to handle.
Gently break up the rounds into pieces.
NOTE: You can also cut the pita rounds into eight wedges before you coat with oil and bake. I prefer the more rustic look of breaking the pitas up into uneven pieces.