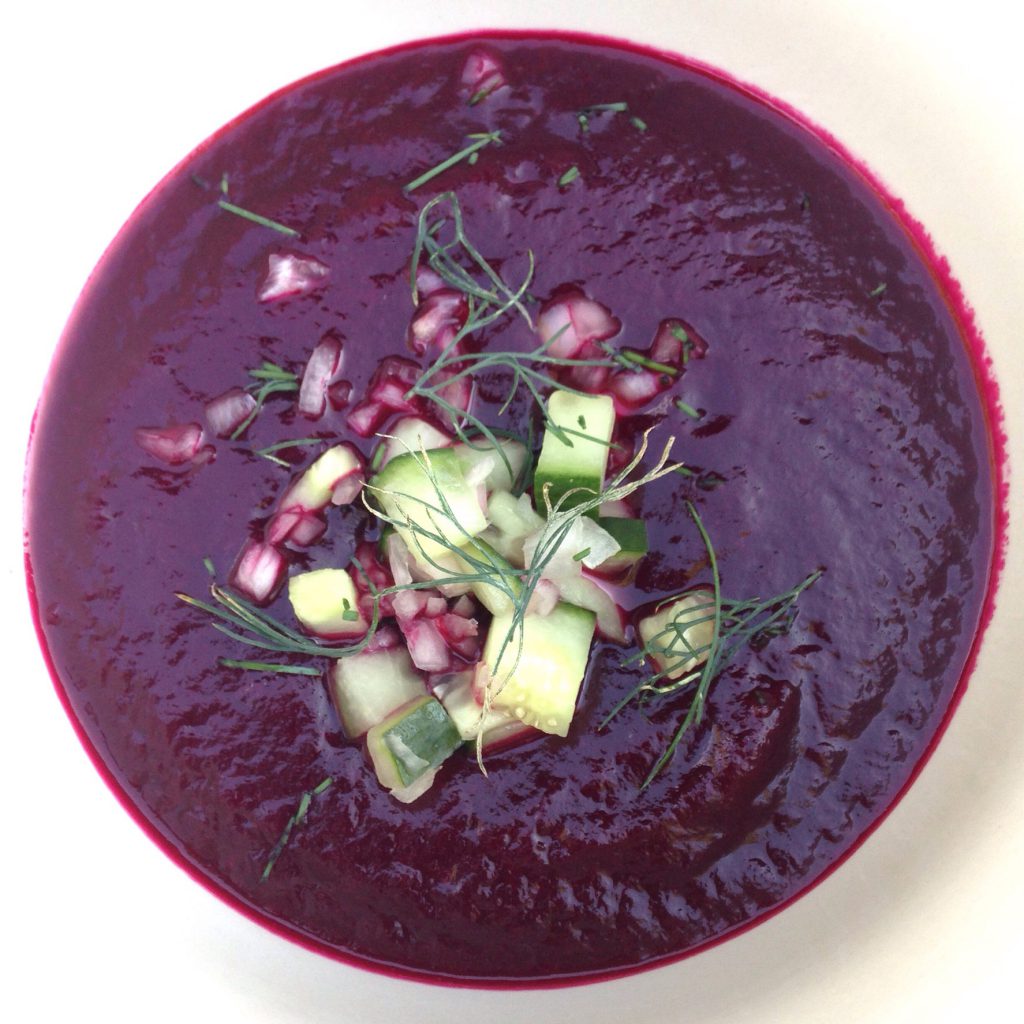 Beets are the jewels of the root vegetable kingdom, perhaps even, the jewels of the entire vegetable kingdom. What other vegetable commands such respect? You must tread carefully when handling them. Don't wear anything that you care about when preparing beets or you will end up with stains that are nearly impossible to remove. I always wear gloves when handling them so I don't look like Lady Macbeth when I am done. Only jalapenos warrant similar care when being handled.  Despite that, I am dazzled by their ruby color and cannot resist their earthy taste.
This summer has been unusually hot. I am talking ten straight days of triple digit temperatures during the last two weeks. The heat makes me feel slothful. The thought of eating hot food isn't appealing at all. Because of this I have saved dozens of recipes for gazpacho over the years and once garden tomatoes come on I make a batch every week until they are gone in the fall.
Recently though, I came across a recipe for Beet Gazpacho from Feasting at Home's blog. The eye-popping color of the gazpacho grabbed my attention. Garden tomatoes were still a few weeks away from being ripe but I longed for a light, refreshing soup to eat at the end of hot day. This velvety soup perfectly fits the bill.

Beet Gazpacho
Recipe adapted from Feasting at Home. I like the subtler flavor of shallots so substituted them for red onions and an English cucumber in place of the smaller Turkish cucumbers. The first time I made the recipe I added sherry to the blender before realizing that they recipe called for sherry vinegar. I loved the way it turned out so now I use both. I used a high speed blender which gives the gazpacho a smooth, velvety texture.
INGREDIENTS
¾ lb. beets (4 medium beets, smaller than a tennis ball)
2 cup shallots, finely diced, divided
2 garlic cloves
1 English cucumber, chopped, divided
½ C fresh dill, divided
2 Tablespoons sherry vinegar, plus more to taste
1 Tablespoon sherry
½ teaspoon kosher salt, more to taste
¼ teaspoon fresh pepper
Garnishes- avocado, diced cucumber, diced beet, diced shallot, and chopped dill
INSTRUCTIONS
Scrub beets, place in a medium pot, and cover with water. Bring to a boil. Turn heat down to low and simmer until fork tender all the way through, about 45- 60 minutes. Chill beets and their cooking liquid.
I wear latex gloves for this part. Once beets have cooled, slip off their skins using your hands. Slice and place 3 of the 4 beets (reserving one beet for garnish) in a blender with 2 Cups of the cold cooking liquid (or veggie stock). Add the half of the chopped shallots), 2 garlic cloves, ¾ of the English cucumber, salt, pepper, sherry vinegar. Sherry, and about ⅔ of the fresh dill (saving some for garnish). Blend until very smooth. Taste and adjust salt and vinegar. Place in the refrigerator until ready to serve.