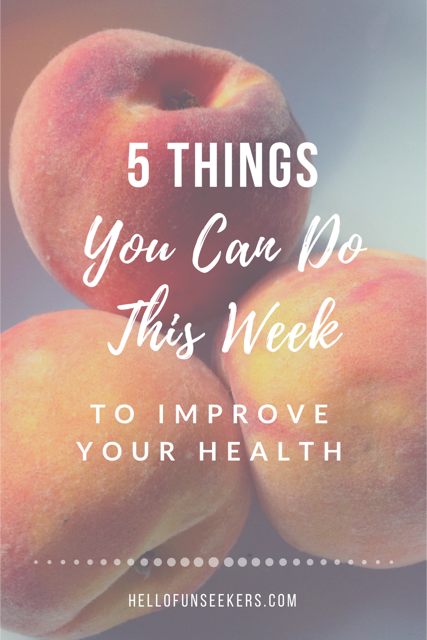 Cook Brown Rice
Cook a pot of brown rice this weekend and set yourself up with a great base for many healthy lunches and dinners. Add some beans, black or pinto would be great, veggies, avocado, and salsa and you have a delicious burrito bowl. Stir-fry your favorite vegetables (I like broccoli, red pepper, onion, and mushrooms), and then whip up a quick stir-fry sauce like this one.  Dinner will be on the table in no time at all. Use any leftover rice in a wrap with hummus, lettuce, cucumbers, tomatoes, and thinly sliced red onion and you can meet your brown bag lunch goals for the week too.
Stop at a Farmer's Market or Roadside Farm Stand
Summer time is here and fresh, locally grown produce abounds. Get yourself some! I picked up peaches, plums, and melons this week which are all in season. I also bought sweet corn, eggplant, and red peppers. Once you buy the produce, spend a little time preparing the food for the week. I filled a container with melon balls which I will take as part of workday lunches and snack on when I get home from work.
Meditate
I started daily meditations in January of this year and immediately starting feeling the benefits. Both my sleep and focus have dramatically improved. There are several apps, podcasts, and websites available to get you started for little or no cost. My favorites right now are the app Stop, Breathe, & Think and the Meditation Minis podcast with Chel Hamiliton.  Have you heard of Jiyo? I just downloaded this wellness app by Deepak Chopra. I will let you know what I think once I check it out.
Get Outside
As John Muir said, 'In every walk with nature one receives far more than he seeks.'  The world is amazing so get out there and explore a new trail, nature path, or neighborhood.  Spending time outside every day can quickly, easily, and inexpensively do your body and mind good. So, what are you waiting for? Lace up your shoes and go!
Add one extra serving of vegetables each day
You know you should be eating 2 to 3 cups of vegetables every day, right? Think back to the last few weeks and recall how many servings you actually eat each day? I like to sneak some veggies in at breakfast. Try adding some spinach, chard, or kale to your smoothie in the morning. Or, on Sunday morning make a big batch of vegetable hash with onions, red peppers, mushrooms, and zucchini. Eat this for breakfast with roasted potatoes or as a filling for an omelet.