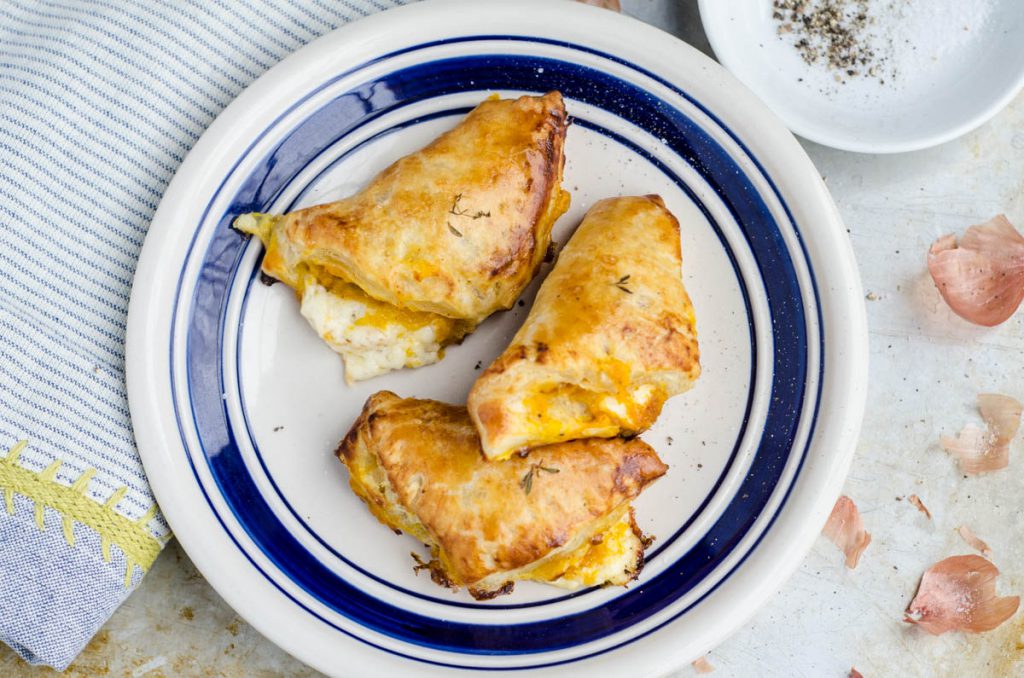 A neighbor once told me that she had never met anyone who pleasure read cookbooks before she met me. She made that comment years before blogs and the internet were a thing.  I wonder what she would think if she knew how much time I spent perusing food blogs these days. There are a ton of really, really good ones. I mean they not only have delicious-looking recipes but also breath-taking photographs.
This recipe is inspired by the Kabocha and Havarti Pocket recipe on the I Will Not Eat Oysters blog. I was practically drooling when I saw the photos she posted.  Plus, who doesn't love roasted squash at this time of year? It's so seasonal, baby!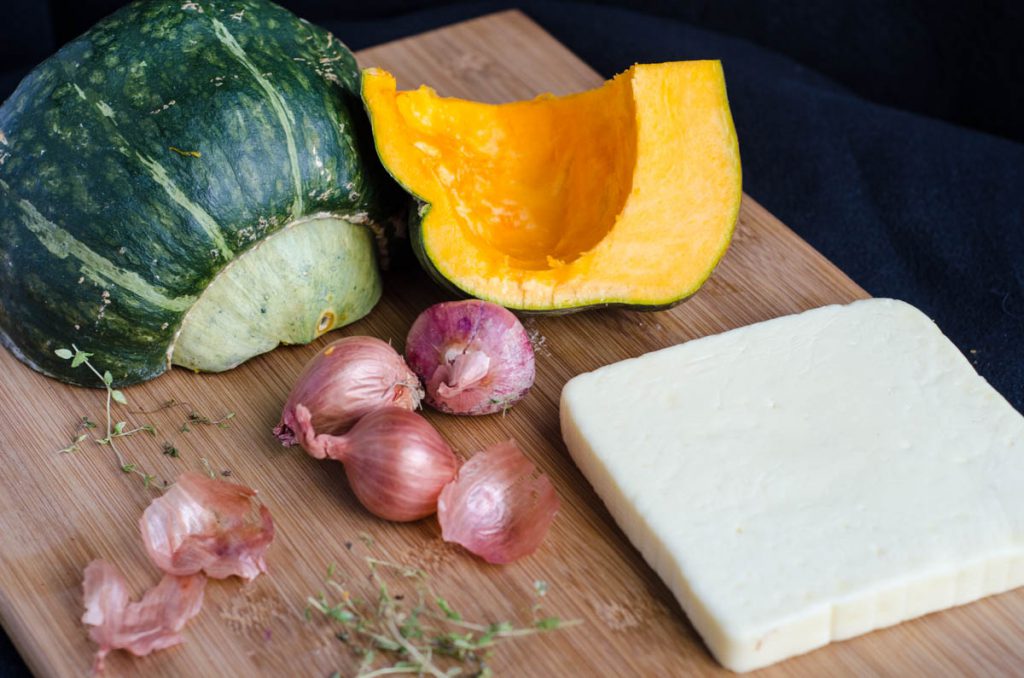 I have been actively seeking out recipes using winter squash because my friend Laraine had a bumper crop of winter squash this year and generously shared her harvest with me. I used a buttercup squash for this recipe but you could substitute butternut, red kuri, or kabocha squash too.  The process will be the same regardless of which squash you chose. You will want to use a really sharp knife to cut through the hard skin of the winter squash. I quartered the squash and scraped out the seeds and strings. If you use butternut squash you will only need to cut it in half lengthwise instead of quarters.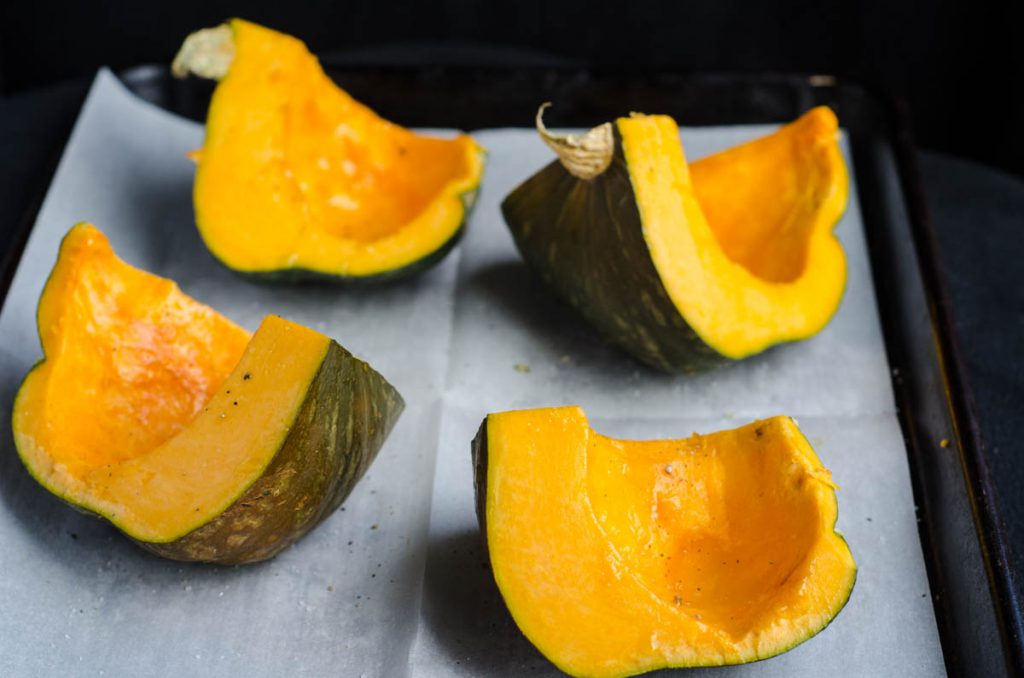 Another modification that I made to the recipe was to add a bit of heat to the roasted squash filling. I added chipotle chili powder, cayenne pepper, and a little drizzle of maple syrup. I thought the sweetness of the squash and creaminess of the Havarti could stand up to the additional spices. I am happy to report that the result was delicious! In keeping with the fall flavors I also used apple cider vinegar instead of the champagne vinegar called for in the original recipe.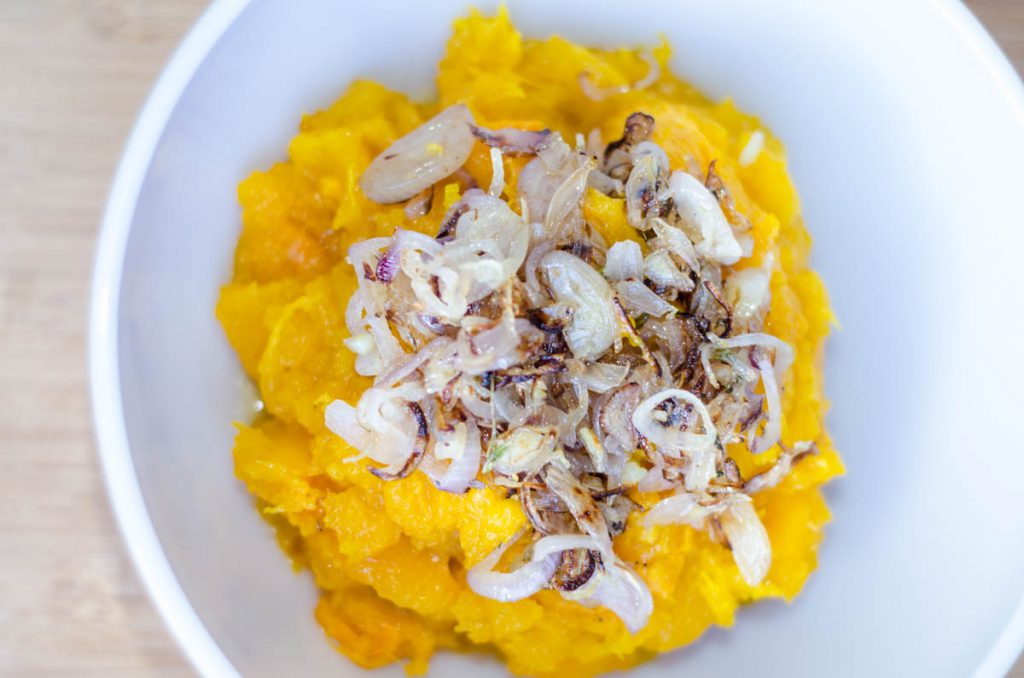 These tasty little treats are super versatile too. You can make small puffs which are perfectly-sized appetizers which can be eaten in two bites. Or, you can make larger puffs and serve them as an entree. I would pair the larger puffs with a salad and crisp Sauvignon Blanc.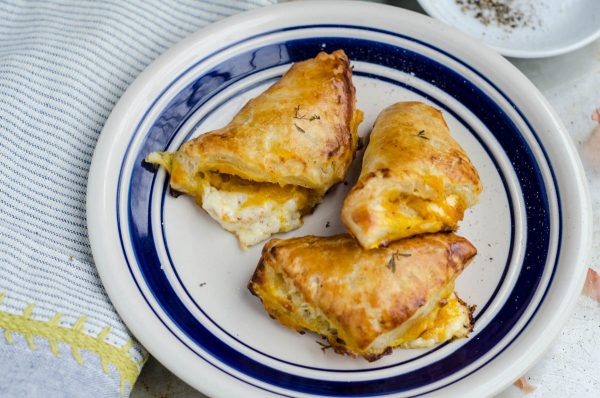 | | |
| --- | --- |
| | |
Preheat oven to 400 degrees. Coat cut sides of squash with olive oil, then sprinkle with salt, and pepper. Roast for 60-75 minutes or until the squash is tender. Remove from oven and let squash cool.

While squash is roasting, heat olive oil in sauté pan over medium heat. Add shallots, thyme leaves, and a pinch of salt. Cook 5-6 minutes until shallots have softened. Remove from heat.

Once squash is cool enough to handle, use a spoon to scrape the flesh out and place into a bowl.

Add the shallot mixture, maple syrup, red wine vinegar, chipotle chili powder, cayenne pepper, salt, and pepper. Mix ingredients to combine.

Line two baking sheets with parchment paper.

In a small bowl, crack an egg and gently beat with a fork. Add a splash of milk or water.

Place one sheet of puff pastry on a cutting board and cut into 12 equal squares for appetizers or six squares for larger puffs. In the middle of each square place 2 tsp of squash filling for small puffs or 1-1.5 TBSP of filling for large puffs. Top squash filling with grated Havarti cheese.

Preheat oven to 425 degrees.

Dip a pastry brush into egg mixture and moisten the edges of each square. Fold one corner to opposite corner to make a triangle. Use the tines of a fork to crimp the edges of the pocket.

Place triangles onto parchment lined baking sheets. Bake until golden brown for 18-22 minutes. Rotate trays halfway through baking.
Note: You can freeze the puffs prior to baking. Place the unbaked puffs on a small baking sheet and freeze until solid. Once frozen, transfer them to a freezer bag until you are ready to bake them. You can bake these straight from the freezer, just give them an extra few minutes in the oven.