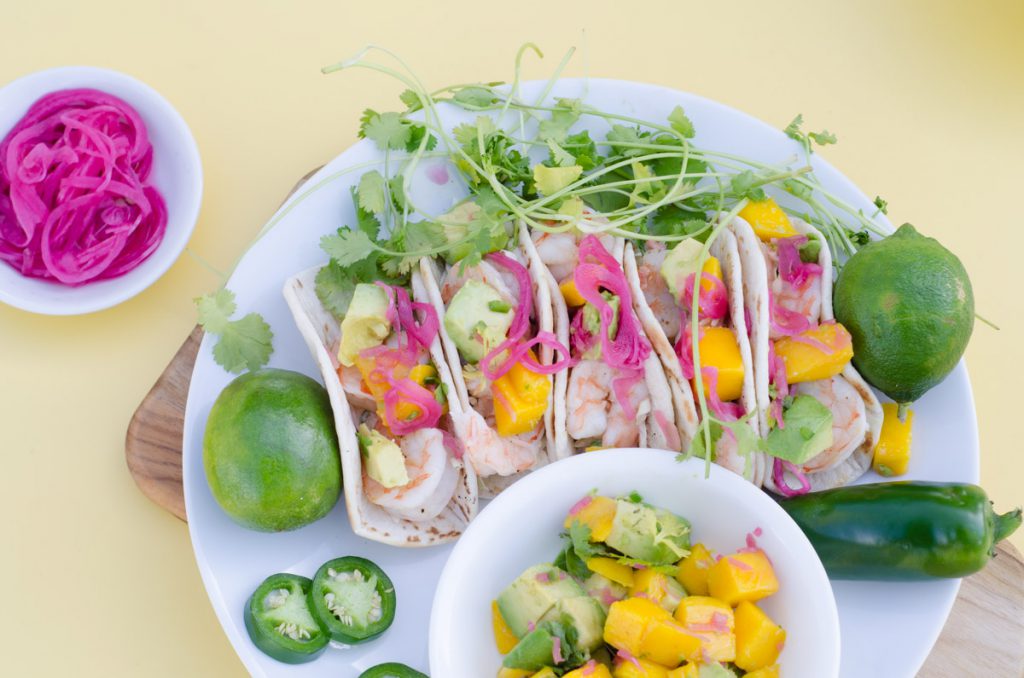 Summer is coming! Summer is coming! I cannot believe that we are less than two weeks out from Memorial Day weekend and the official start of summer. BBQs and margaritas are two summer staples that I look forward to during the cold, gray days of winter. These grilled margarita shrimp tacos hit the mark on both counts.
Firstly, the recipe was inspired by an almost full picture of margarita that was left over after a recent party. Who ends up with leftover margaritas? Usually not me. But this time, I had so much leftover and I couldn't bear to throw it away. So, instead I improvised.
I had shrimp in the freezer that I thawed out and then marinated the shrimp in the leftover margarita making sure that all the shrimp were submerged in the liquid. I let them marinate for an hour or two in the fridge and started making the avocado and mango salsa, as well as, the spicy slaw.
The ingredient list may seem a bit daunting but I promise that this recipe comes together pretty quickly.
Pickled Red Onion
I had the pickled red onion in the fridge and recommend that you make up a batch to keep in your fridge too. I used this recipe. In addition to being delicious on tacos, the pickled red onions also tasted great on burgers (or veggie burgers as is the case in my house). Thinly sliced red onion will do in a pinch if you don't want to make the pickled version.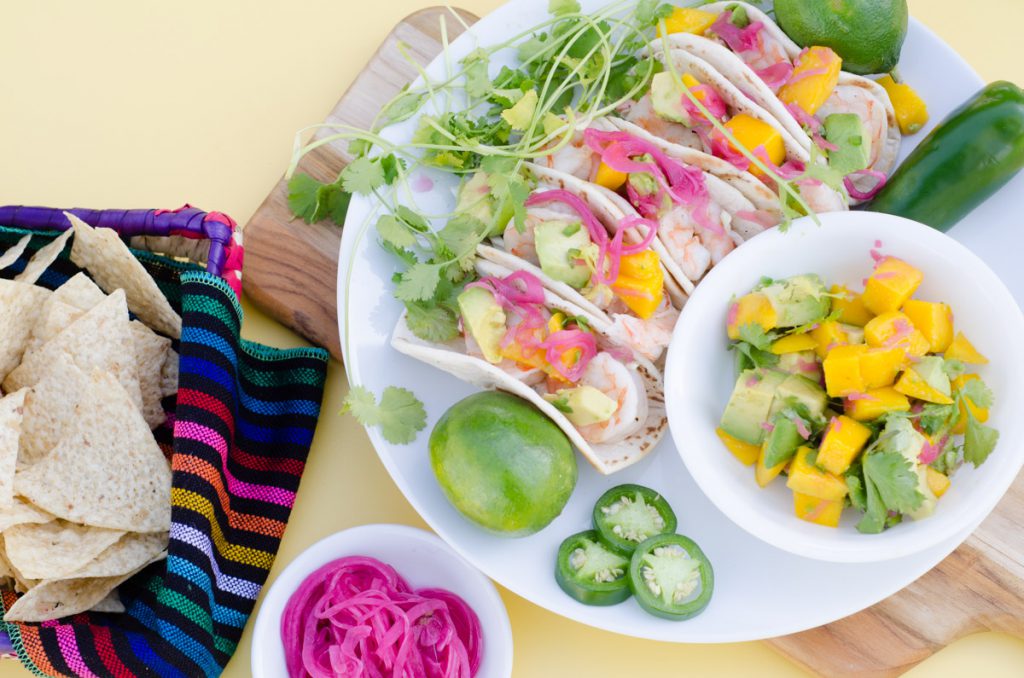 I actually had the rest of the ingredients on hand and drew inspiration from what was already in the refrigerator. You can improvise with this recipe too. Don't want to make the avocado and mango salsa? Then, consider using jarred salsa and avocado slices. Lettuce or cabbage shreds can replace the spicy slaw if you want, but it is really good.
I used flour tortillas but corn works too if that is your preference. If you feel like doing some prep work on the salsa and slaw ahead of time, these margarita grilled shrimp tacos are a great dish for entertaining. Make a big batch of margaritas, use some of it on the shrimp and serve the rest to your guests while you man the grill.
How to Make Margarita Shrimp Tacos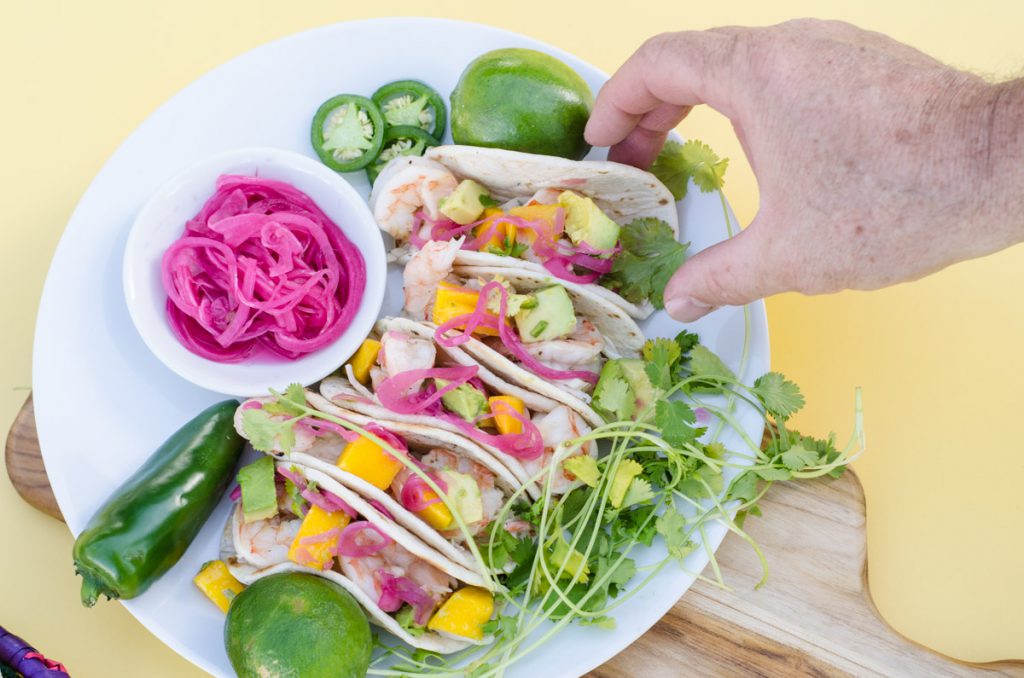 For shrimp: combine shrimp and margarita mix in a large bowl or gallon-sized plastic bag.

Then, place 4 or 5 shrimp on soaked wooden skewers.

Grill for 2-3 minutes on each side until pink.

When cool enough to handle peel shrimp.

To make the avocado and mango salsa: combine mango, avocado, jalapeno, lime juice, cilantro, and pickled red onion in a medium bowl. Taste for seasoning. Add salt and pepper to taste.

To make spicy slaw: In a small bowl, combine yogurt, lime juice, jalapeno, Sriracha, cilantro, salt and pepper. Add Cole slaw mix into a larger bowl and stir in yogurt mixture.

To assemble tacos: warm tortillas on the BBQ, on the stove in a skillet, or over a gas burner.

Add ¼ cup of spicy slaw, add 3 shrimp, top with mango and avocado salsa. Garnish with cilantro and pickled red onion.