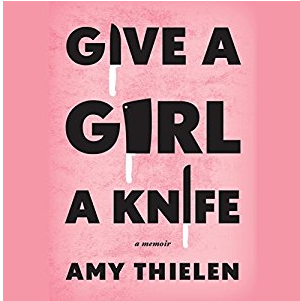 Book Review
I have seen several reviews of Amy Thielen's new cheffy memoir, Give a Girl a Knife, comparing it to last year's restaurant memoir Sweetbitter by Stephanie Danler. I find the comparison odd. Other than both of the authors of the memoirs are women who worked in restaurants, I see few other similarities.
Don't get me wrong, I read and enjoyed Sweetbitter.  But, this memoir described the author's time in New York as a bar back in a fine dining restaurant which included many boozy nights with coworkers at local bars after the restaurant closed. Give a Girl a Knife describes the time when two twenty-somethings were trying to find the balance between chasing their professional dreams in the city while living a simple, unencumbered rural life.
The book is full of examples of Amy and her boyfriend-then-husband Aaron's commitment to eschewing material pleasures in order to pursue their art (his sculpture, hers food) while living a necessarily frugal life. Their trajectory bounces them between New York City and rural Minnesota where they take 'living off the land' to a new level which would be unimaginable to most of us.
Amy Thielen's writing is lovely. Let's be clear, this not a merely memoir of a celebrity chef. I first learned about Amy Thielen was via her short-lived Food Network show Heartland Table. The show came out about the same time as Amy's cookbook, The New Midwestern Table, which was awarded a James Beard award. Amy's style of food and writing is down to earth with a touch of wit and charm.
Thielen did her time in some of New York's finest kitchens. She and Aaron squatted in buildings in New York during many of those years. In the summer, they would pack up and return to rural Minnesota. Where they would plant a large garden at the small home that Aaron built in the woods.
That home initially had no power, no water, and no indoor plumbing. They subsisted primarily on what they could grow in their garden. Thielen preserved what they didn't eat. In the fall, they packed up and went back to New York to work during the winter. They would earn enough to sustain them through the next summer in Minnesota.
I enjoyed Give a Girl a Knife very much and appreciated their determination to live their dream. It wasn't easy, their family and friends didn't always understand, and sometimes Thielen herself had doubts. But, in the end the story is a powerful one of relentlessly pursuing the life you want to live.