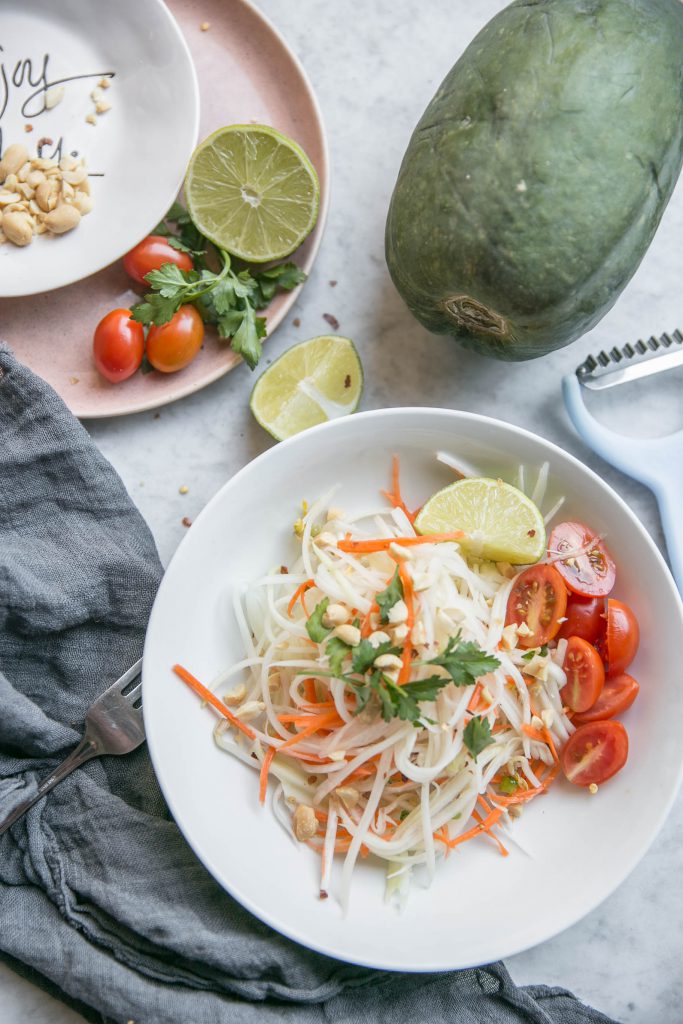 Thai food lovers rejoice! If you love Green Papaya Salad (sometimes called Som Tum on Thai menus) you will be excited to learn that it is very easy make at home. Green Papaya salad is light, healthy, and so fresh tasting. It is one of my favorite Thai dishes whether I am dining at a Thai restaurant or cooking Thai food at home.
If you live near an Asian market, you can make this Thai restaurant favorite quickly and easily. If you haven't ever ventured into an Asian market or any ethnic market for that matter, here is an article I wrote about why you should.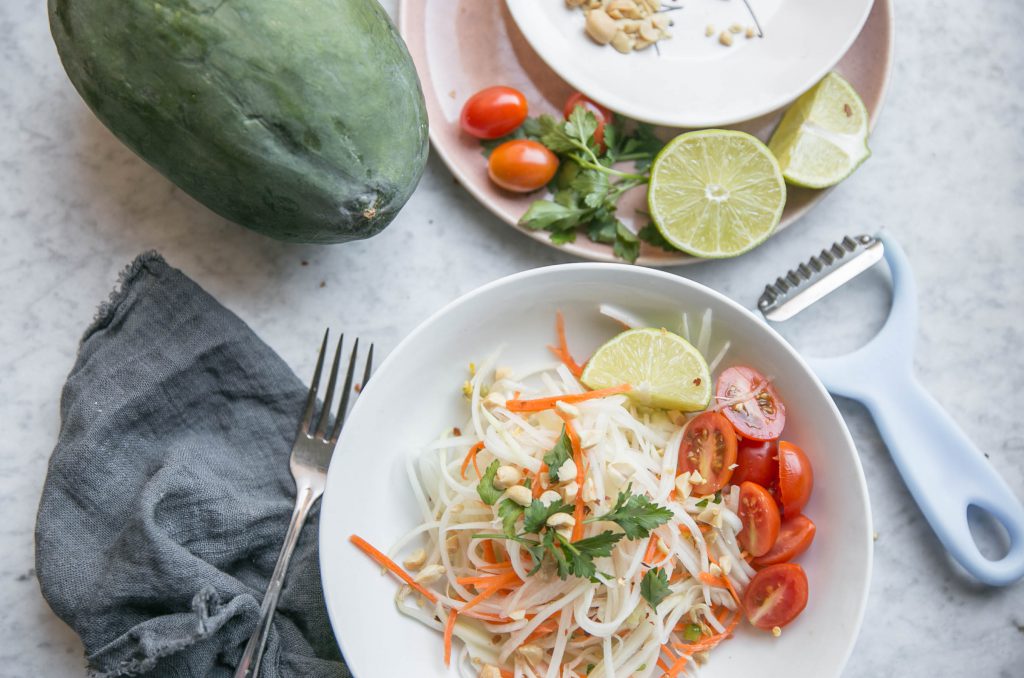 First, go to the produce section. Asian markets have incredible produce, much of it may be new to you. Typically, there are an amazing array of greens, mushrooms, and potatoes. But, today you will want to look for a green papaya which looks like a dark green football. Green papayas are unripe papaya, so, instead of sweet orange flesh the unripe flesh is crisp. If you cannot find green papayas locally, you can substitute cucumbers which are similar in texture albeit more watery.
Another important part of this recipe is the serrated peeler. Using this peeler will result in thin strips of vegetable similar to julienne slices. Serrated peelers can be found on Amazon and at Asian markets. You will use the serrated peeler on the green papaya and carrots. If you have a mandonline slicer you can also use the julienne blade to slice the veggies.
Once the veggies are sliced, you just need to combine the dressing ingredients in a small bowl or Mason jar. Thai food always focuses on the balance of flavors between sweet, sour, salty, and spicy. This dressing combines all those flavors for a nicely balanced dressing.
Pour the dressing over the veggies and toss to combine. Garnish with chopped peanuts and fresh herbs before serving.
Cut top and bottom from the green papaya. Then, peel the green papaya with a vegetable peeler.

Once the dark skin has been removed, use the serrated peeler to create long strands of green papaya. Stop when you get to the seeds in the middle.

Repeat the process with the carrots. Place green papaya, carrots, and halved tomatoes into a large bowl or serving platter.

In a small bowl or Mason jar, combine fish sauce, lime juice, brown sugar, minced garlic, and crushed red pepper flakes. Whisk or shake dressing ingredients until combined.

Pour dressing over salad and toss to combine.

Top with chopped peanuts and fresh cilantro or parsley.