Raise your hand if you currently have more cucumbers in your fridge than fingers on one hand. Am I the only one raising my hand here? I doubt it. I don't know what happened but a whole bunch of them come on at once. So, now I am busting out all the cucumber recipes that I love and eating cucumbers all the time. You have probably had a version of this cucumber sunomono salad one time or another at a Japanese or sushi restaurant.
Sunomono salad is a perfect side dish to accompany meals. It is light, crispy, and refreshing. The vinegar dressing is a perfect foil for any richness you may serve alongside it. For example, sunomono salad is perfect with spring rolls and a peanut dipping sauce. Or, I adore sunomono salad with Hawaiian Poke salad. You can find my recipe for Spicy Ahi Tuna Poke here. One of my friends makes sunomono salad as a side dish alongside a marinated grilled flank steak or ribs. I think it would be terrific paired with grilled salmon too.
Sunomono salad can be dressed up or down. Vegetarians can skip the imitation crab altogether and consider adding chopped peanuts instead. You can kick the sunomono salad up a notch by adding shrimp to the salad. If you add shrimp, don't use the little salad shrimp. Buy something bigger and then slice them in halfThe possibilities are endless!
I often make up a batch of sunomono salad on the weekend and enjoy it for lunch during the week. The cucumbers will soften as they sit but if you are using fresh cucumbers, the salad will remain crisp and flavorful. The salad also comes together so quickly that you can make it as a side dish on a weeknight and pair it with something that you've grilled.
How to Make Cucumber Sunomono Salad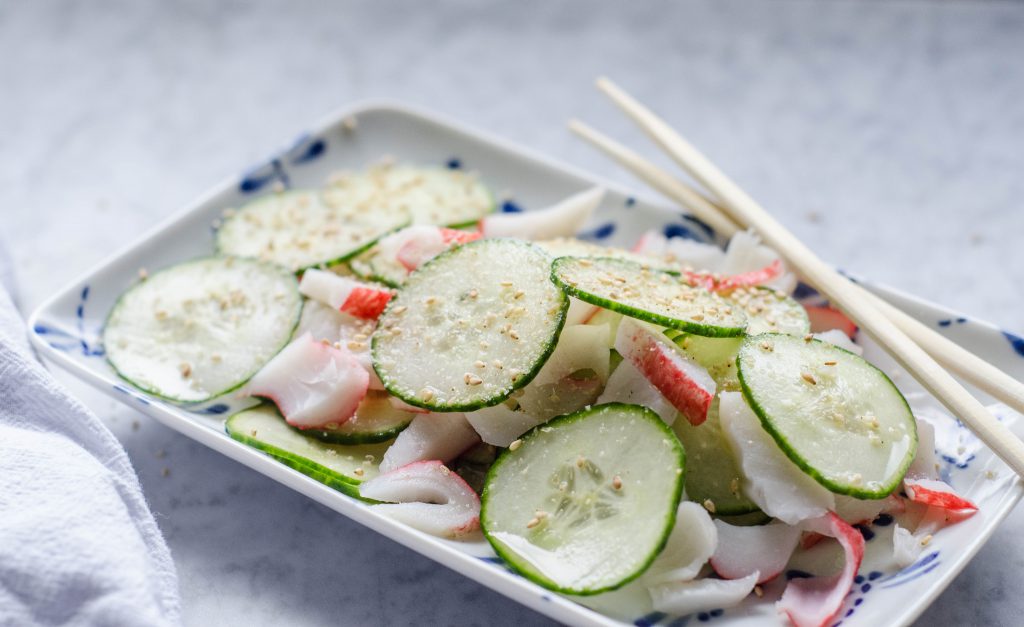 To make dressing: Combine vinegar, sugar, and soy sauce in a small mason jar, cover, and shake until sugar dissolves.

Slice cucumbers very thin (I use a mandoline). Place in a medium-sized bowl.

Top with initiation crab flakes and toasted sesame seeds. Pour dressing over salad.

Refrigerate for an hour before serving.