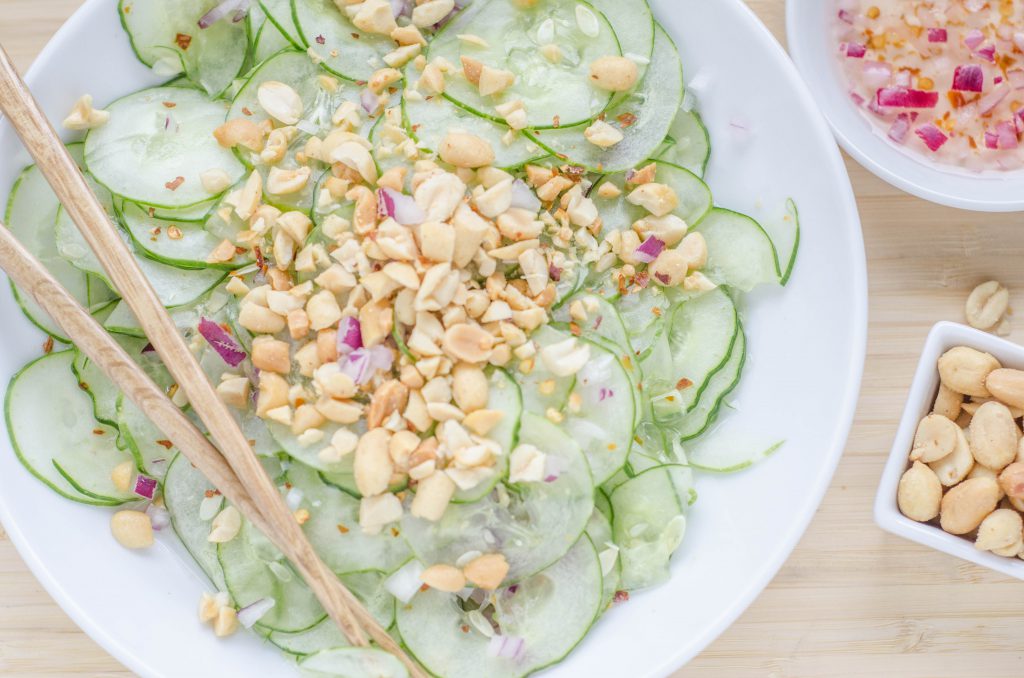 I have been making Spicy Cucumber Salad with Peanuts for years, well over a decade, in fact. This is one my go-to recipes that is in heavy rotation especially during the summer months when I crave cool, crisp, and refreshing meals. I prefer to use English (or hot house) cucumbers for this recipe because of their thin skin and few seeds but if you grow your own cukes, by all means, use them.
The funny thing about cucumbers is that I didn't like cucumbers (at all) until I was an adult. I adored pickles as a kid but wouldn't touch cucumbers with a ten-foot pole. That's weird, right?
Spicy Cucumber Salad with Peanuts is super easy to make. You combine a few ingredients like rice wine vinegar, water, sugar, crushed red pepper flakes in a small sauce pan and simmer until the sauce is reduced by half. The dressing is terrific blend of sweet, spicy, and acid.
While the dressing cools, slice the cucumbers very thin.  Using a mandoline makes this job a snap and results in perfectly uniform slices. The video below shows how to use a mandoline and features the exact same OXO brand mandoline that I use. I love it because I can set the width of the slices and it makes slicing so easy, just be very careful because the blade is sharp. Always use the included safety guard when using the mandoline.
After slicing the cucumbers, I recommend putting the slices into a colander and sprinkling them liberally with salt. The salt will draw the moisture out of the cucumber which results in crisp slices in your salad. Be sure to rinse the salt off the slices and then use a paper towel or clean kitchen towel and pat the slices to remove excess moisture before adding the dressing.
Just before serving Spicy Cucumber Salad with Peanuts, sprinkle the salad or individual servings with chopped up dry-roasted peanuts. The peanuts add that salty crunch which is the perfect foil for the cool, crisp cucumbers.
Sometimes I will make a pot of rice and serve the Spicy Cucumber Salad with Peanuts in a bowl with a scoop of rice. I love to make Spicy Cucumber Salad with Peanuts to accompany Hawaiian Poke. Check out my recipes for Spicy Ahi Tuna Poke or Ginger Salmon Poke with Mango and Avocado. Grilled meat or fish would also make a great accompaniment to this salad.
How to Make Spicy Cucumber Salad with Peanuts