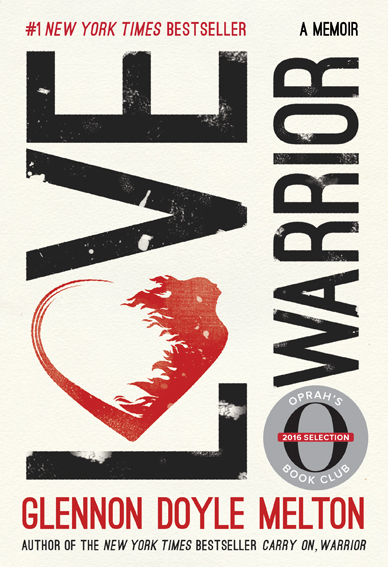 Love Warrior is a memoir which at its outset feels much like reading someone else's diary.  The narrative is so intensely personal that it made me feel uncomfortable, as if I were a voyeur peering into Glennon Doyle Melton's innermost thoughts and feelings. But, just as I was squirming under the weight of her words, I would read a passage that was so perfect and insightful that I would have to stop and read it again. So goes the reading of this Oprah's Book Club selection.
This is the second Oprah's Book Club selection I have read recently. The first was Colson Whitehead's The Underground Railroad which was outstanding. You can read my review of The Underground Railroad here. Both books are well-written and thought-provoking, albeit, in very different ways. In Love Warrior we gain insight into the mind of woman who struggles with bulimia, alcoholism, and insecurities as she makes her way from her teen-aged years to early and middle adulthood.
Glennon Doyle Melton is able to overcome the hurdles of the eating disorder and alcoholism and find happiness in her marriage, children, and successful writing career. But, after a decade or so of marriage her husband drops a bomb on her that sends her plummeting down to rock bottom again. What follows is Melton's path directly into the pain rather than retreating from it as she had in the past with food and alcohol.
As I mentioned earlier, the raw emotion conveyed in the memoir may be uncomfortable for some who are not used to bearing their souls but I encourage you to get outside your comfort zone. Go for it and read Love Warrior.