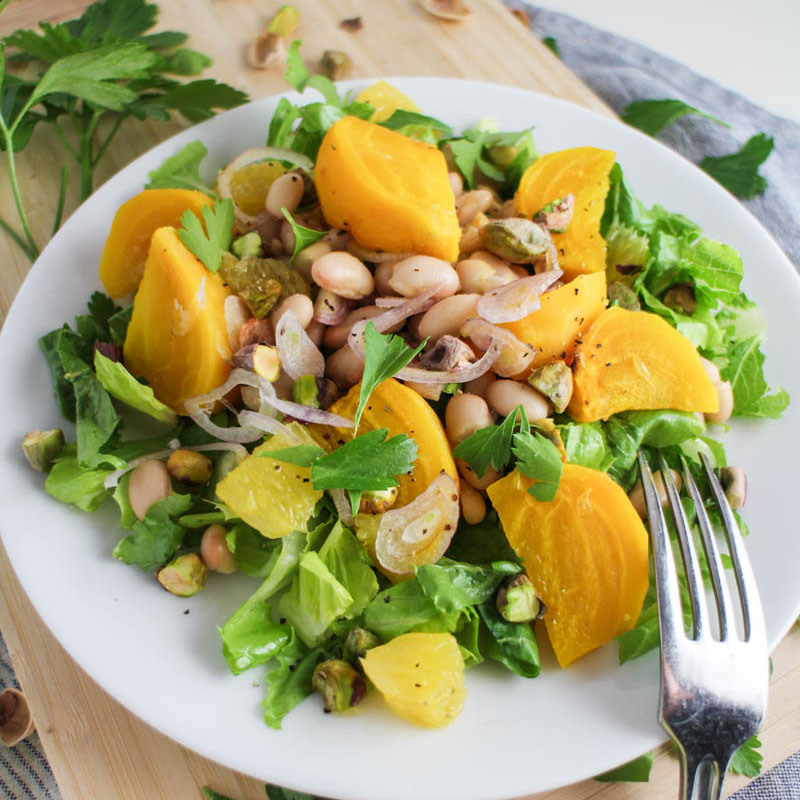 I went through the first twenty-five years of my life thinking that I didn't like beets. My only point of reference was the pickled beets that I encountered sliced up on salad bars. Those pickled beets just didn't do it for me and never made their way to my plate.
Believe me when I tell you that back in the day, I knew a lot about salad bars. When I was in high school I worked at Burger King and back then BKs had salad bars where diners could make their own salads. I was the queen of that salad bar. I took pride in making sure that the salad bar looked fantastic when I was working. I would painstakingly arrange the kale (which was decorative in those days) around the containers of salad fixings. I would also make sure that the salad bar items were fresh and full and oh so tempting. I took it as a personal affront when people ordered hamburgers instead of a salad! But, I digress; let's get back to this salad.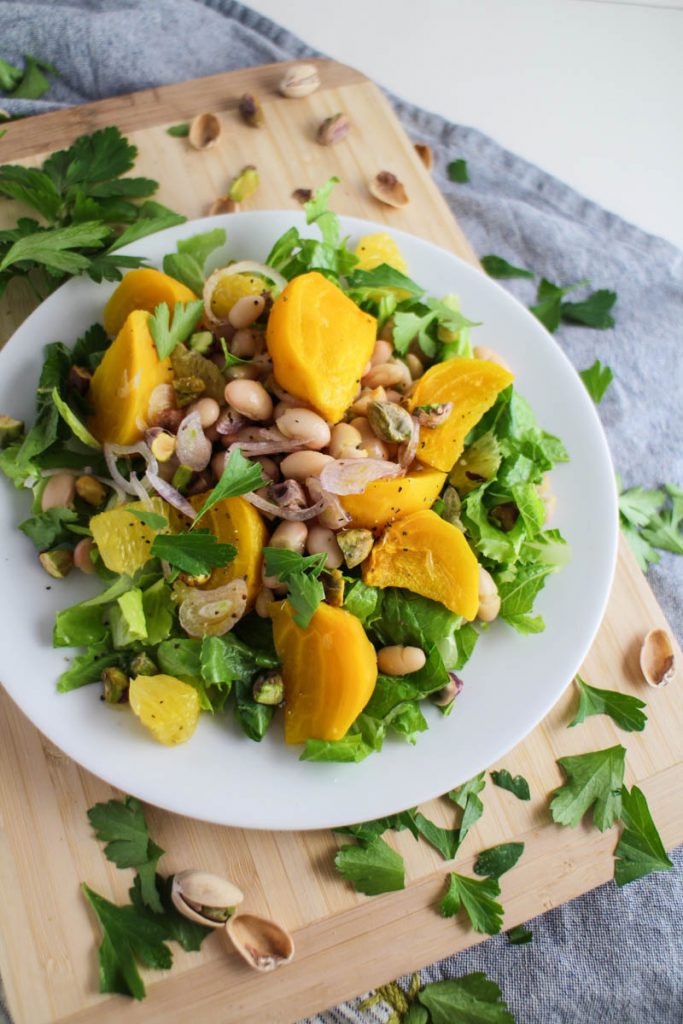 I can't remember the exact moment when I first tried a roasted beet but it was well after my BK days. I just know that at some point I became a roasted beet fanatic. That discovery then led to me realize that I also love steamed beets, especially small beets. Their texture and flavor are well-suited to steaming.  In the notes section below you will find cooking directions for steaming, roasting, and microwaving beets. Yes, microwaving. Who knew? I tried the method listed below and it works well. But, I included all three methods because I wanted you to have a few options so you can pick your favorite cooking method.
Beets bring an earthy flavor and wonderful texture to salads. In this salad, I chose to use golden beets for a few reasons. Firstly, I prefer working with golden beets because my kitchen and I don't end up looking like a crime scene which sometimes happens when working with red beets. Also, don't the yellow beets look gorgeous with the orange segments and pieces of green pistachios? I can't help it; I like my food to be colorful and coordinated.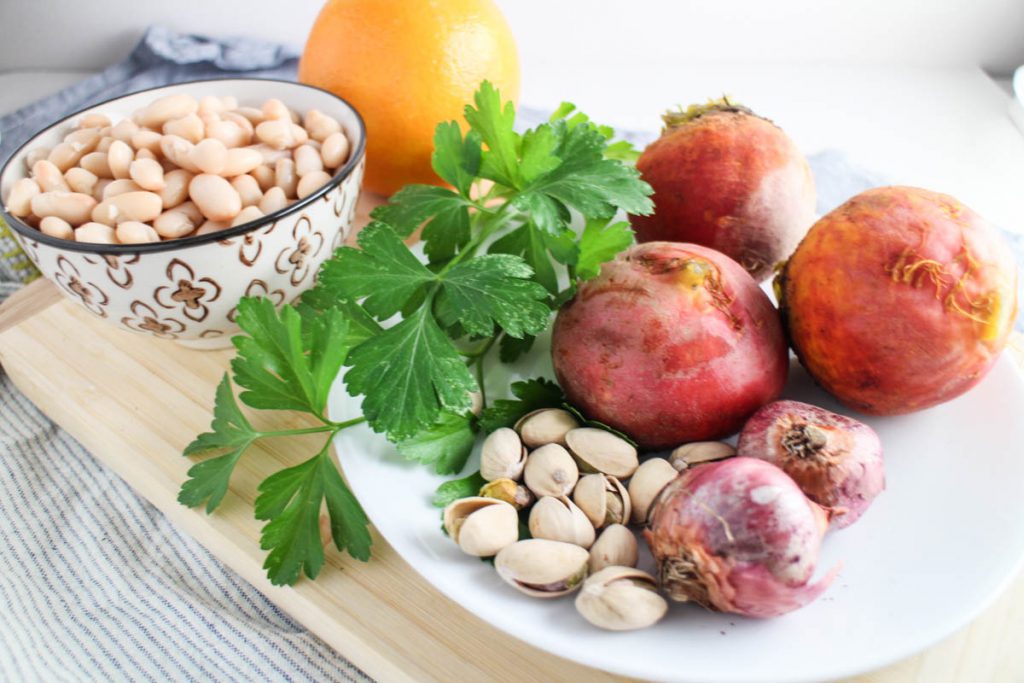 Once your beets are cooked, this salad comes together in a snap. You could cook your beets ahead of time if you need to get dinner on the table quickly during the week or if you want to serve this salad as part of your menu for a dinner party.
The combination of the beets and beans gives this salad some heft making it a light and satisfying meal on its own. But, it can also be paired nicely with fish, chicken, or pork.
If you are a beet lover should also check out my recipe for beet gazpacho.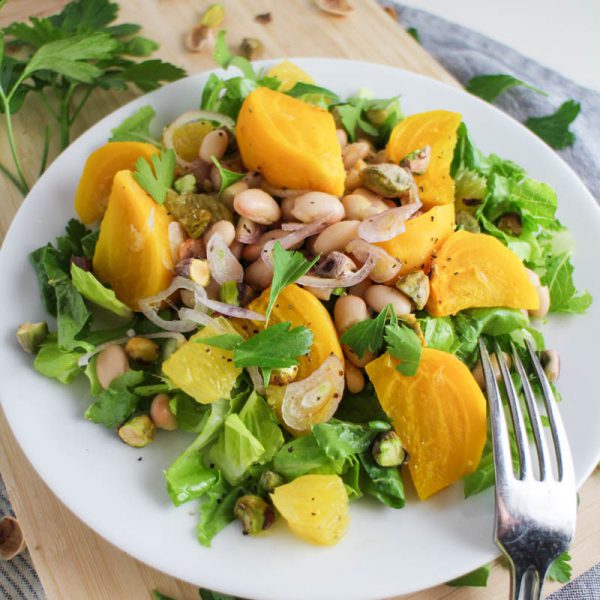 | | |
| --- | --- |
| | |
Place chopped Romaine on a small platter.

Peel orange; using a paring knife cut into segments. Cut each segment in half or thirds if orange is large. Discard membranes.

Combine beets, orange segments, and cannellini beans in a bowl with shallots, parsley, vinegar, salt, and pepper. Taste for seasoning, adjusting vinegar, salt, and pepper as needed.

Place beet mixture on salad greens. Sprinkle pistachios, salt, and pepper over salad.
Note on cooking beets:
Steamed- To steam beets, place in a steamer above 2 inches water. Bring to a boil over high heat and cover. Turn down heat to medium. Steam small and medium beets for 30 minutes.
Roasted - Preheat oven to 375 degrees F. Coat beets lightly with oil. Wrap beets in aluminum foil, place on a baking sheet, and roast in the oven until cooked through, approximately 45 to 60 minutes. Remove from the oven, let cool for 10 minutes, and then peel and slice.
Microwave - Wrap beets in microwave-safe parchment paper. Microwave on high until tender, 11 to 12 minutes. Let stand 5 minutes.