Isn't summer a glorious thing? A friend brought me a grocery sack full of apricots from her Grandmother's tree today. I adore summer for many reasons but one of the things that I love most is that food is growing all around. From this bounty, you barely have to cook a thing. Fresh fruits and vegetables are a treat right off the tree, vine, or plant. I haven't decided what I will do with those apricots besides eat them right out of the bowl but you will be the first know when I decide.
For the second year in a row, my herb garden is a splendid thing of basil-making beauty. I am about to go on a pesto-making binge. Last summer I made tons of pesto. I froze it in ice cube trays and we enjoyed that summer fresh taste of basil all year long. I think I only have one or two cubes left in the freezer.
Summer in the Country Spotify Playlist
Whether you consider gardening a pleasure or a chore, or maybe you just need some fresh tunes to listen to while you mow your lawn, my friend Courtney is back with another fabulous Spotify playlist called 'Summer in the Country'.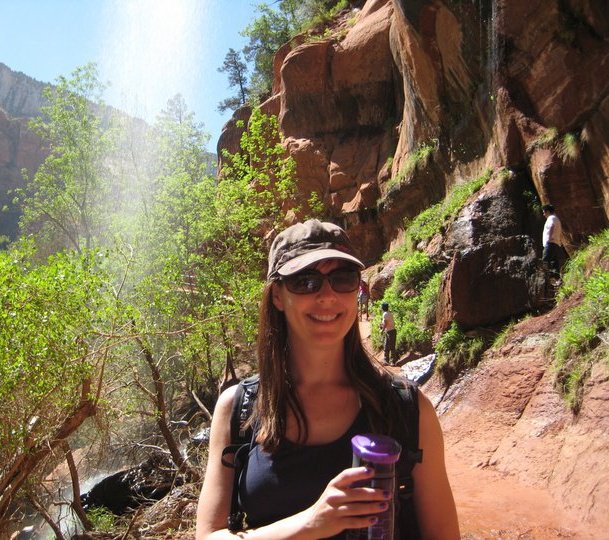 Making playlists on Spotify is something I love to do. I have playlists for different seasons, moods, and activities. I'll spotlight some of them here on Hello Fun Seekers playlist series. I hope you enjoy!
Last night we had pork for supper

Today'll be chicken consomme

And a fruit jar full of iced tea

On a long hot summer day

For every day I work on the Illinois River

Get a half a day off with pay

On a tow boat pickin up barges

On a long hot summer day

-Sara Watkins
This playlist is perfect for those long hot days working outside in your garden or yard. I love this playlist so much that I look forward to mowing the lawn and weeding the garden just so I can spend some time with these tunes on my headphones.
It starts out with Sara Watkins' beautiful voice and fiddle playing "Long Hot Summer Days." Her voice just sounds like summer to me. Next we have Valerie June singing "Workin' Woman Blues", then Brown Bird's "Fingers to the Bone." There are a few songs from Old Crow Medicine Show's album Remedy, as well as songs by Bob Dylan, Tom Waits, and of course, Willie Nelson.
I've also put in a couple of fiddle solos by Sara Watkins and the song "Be My Husband" by her group called I'm With Her. There are a lot of pistols, criminals, and vigilante justice in this country playlist and it ends violently with Ruby Friedman Orchestra's "I'm Not Your Friend" which is just so good.
Get your gardening gloves, a fruit jar full of iced tea, and get to work! Hope you enjoy!

Be sure to check out some of Courtney's other Spotify playlists: