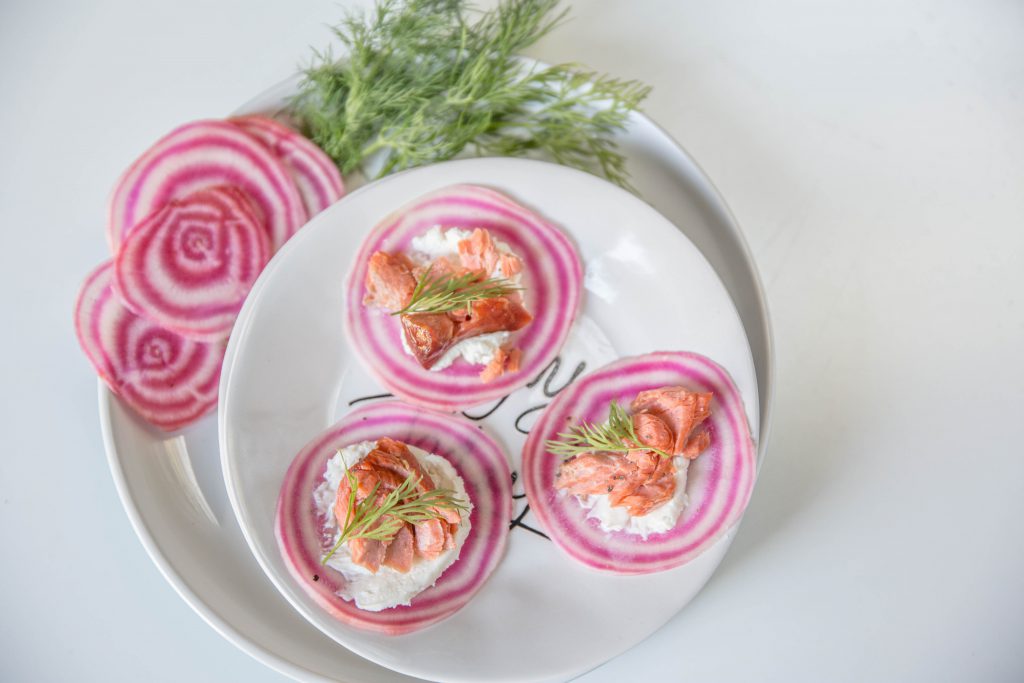 This recipe is sponsored by Alaska Seafood Select. 
Do you know what you need in your life? You need five minute appetizers. Tasty little bites that you can throw together when friends stop by or a little something to whet appetites before a dinner party. These smoked salmon beet bites are killer and they take five minutes to assemble.
I swear, even if you think you don't like beets these paper-thin slices of Chioggia beets are mild in flavor and high on crunch. Chioggia beets are sometimes called candy cane beets because of their distinctive pink and white stripes. The thinly sliced beet is not only beautiful but practical too. The beet slice is sturdy enough to hold a little schmear of whipped cream cheese, a pinch of smoked salmon, and an herby cap like dill or parsley.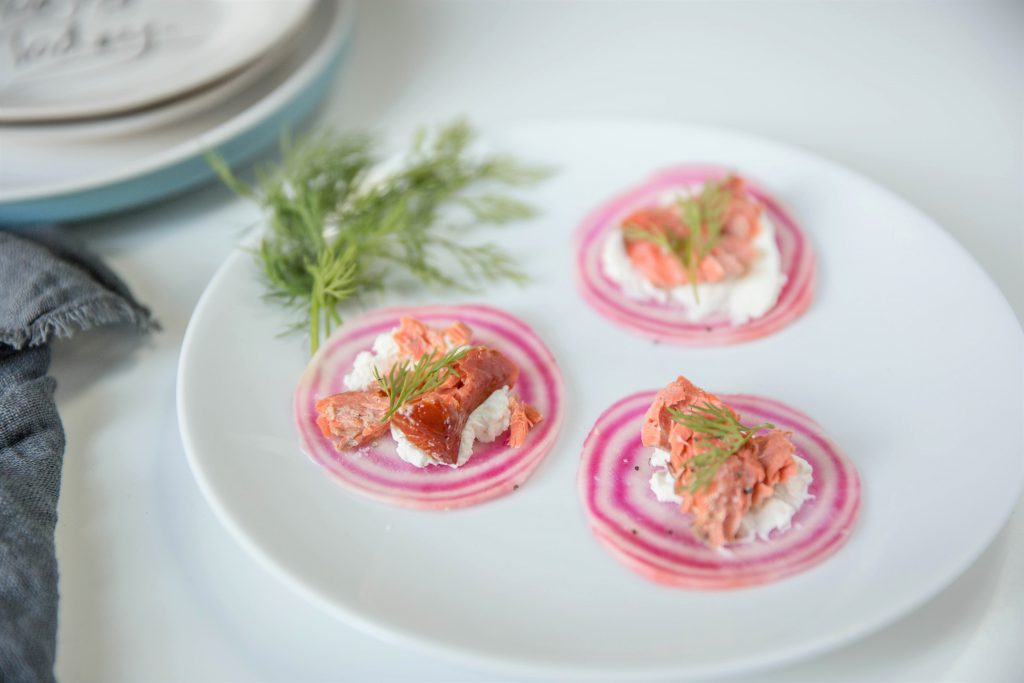 Viola! Could anything be easier? Plus, this appetizer is a bit of show-stopper, don't you think? If you really cannot wrap your head around slices of beet, you could also use cucumber slices or crackers.
But, let's get back to the flavor bomb in this appetizer. Smoked salmon is one of my favorite ingredients to have on hand. It keeps well in the refrigerator and can be frozen. The smoky salty flavor packs a punch in so you don't need to use much to impart terrific flavor.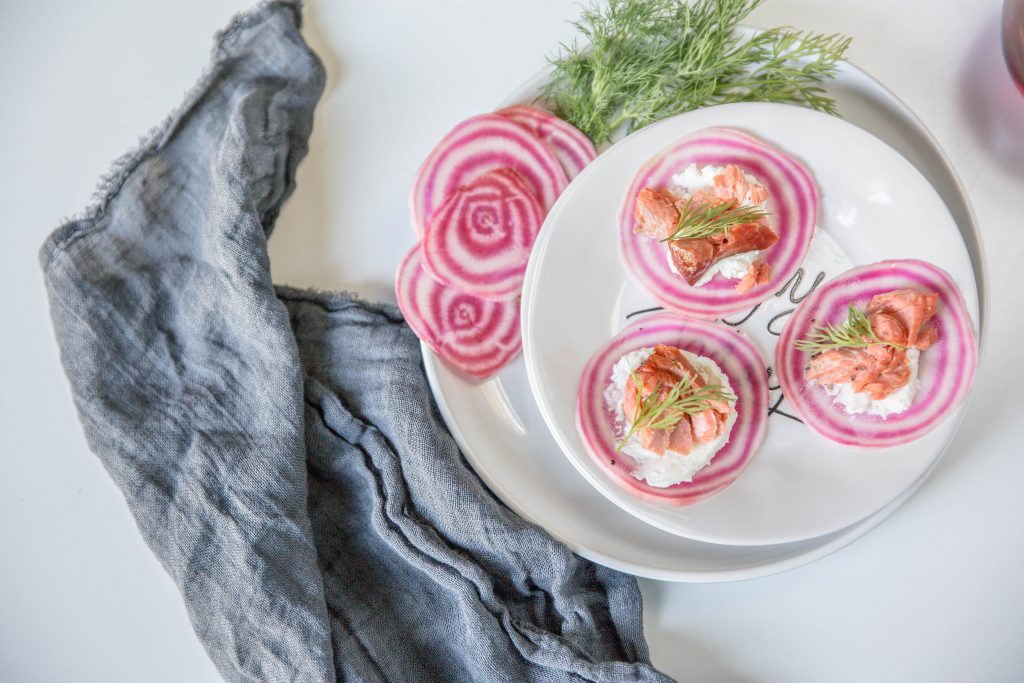 If you will indulge me a little tangent, I want to tell you about a fun and interesting event that I went to last week. Nick Lee, fisherman and owner of Alaska Select Seafood was in town. He shared his story about how he became a fisherman and his passion for fresh, sustainable seafood was evident.
I learned that 2/3 of the salmon that US consumers eat is farmed rather than wild. I also learned that 90% of the seafood that Americans eat is imported from other countries. He brought samples of salmon, smoked salmon, black cod, and snow crab for us to try. If you want to know more about Nick and Alaska Select Seafood check out this video.
As you may know, seafood is one of my favorite things to eat. So, I was in heaven getting to try the seafood that Nick brought to the event. Susie from the blog, Hey Grill, Hey, was on hand demonstrating her favorite recipes using salmon, shrimp, and black cod.
At the end of the evening, we were given swag bags that contained two portions of sockeye salmon and two portions of smoked salmon. With these goodies in hand, my challenge became how to create a recipe that showcases the beautiful wild salmon. Thus, the smoked salmon beet bite was born.
How to Make Smoked Salmon Beet Bites
Cut root and stem ends of Chioggia beet. Peel beet. Using a mandoline, slice beet very thin.

Spread a little whipped cream cheese on each beat slice.

Flake off a pinch of smoked salmon and place on top of cream cheese.

Top with a small piece of fresh dill.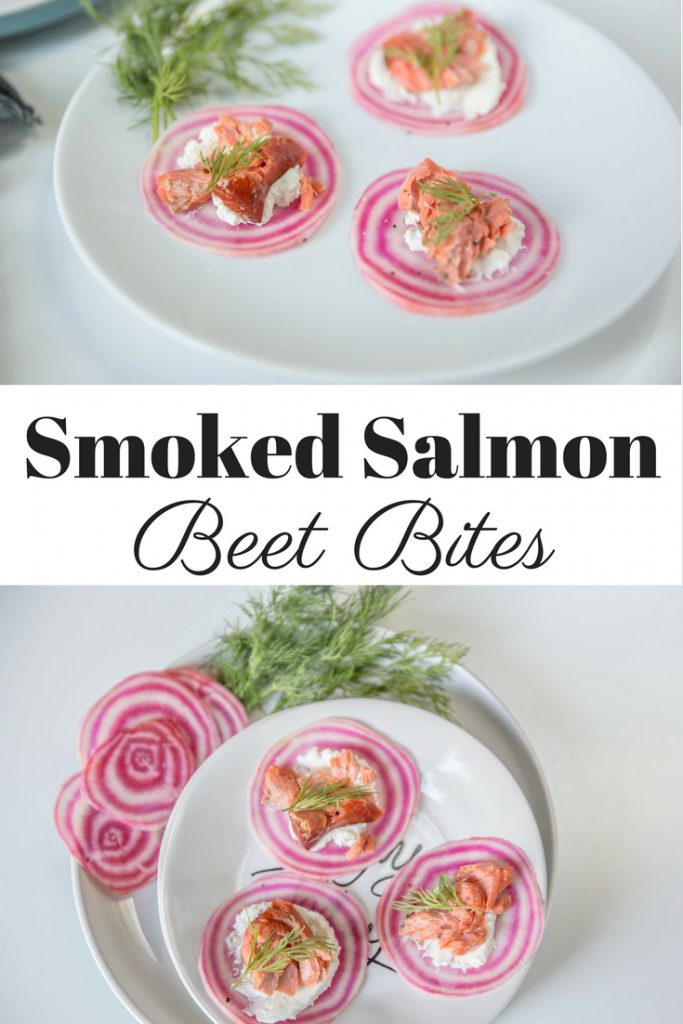 This post was created in partnership with Alaska Seafood Select. I was given salmon and smoked salmon and compensated to develop a recipe using Alaska Seafood Select's product.