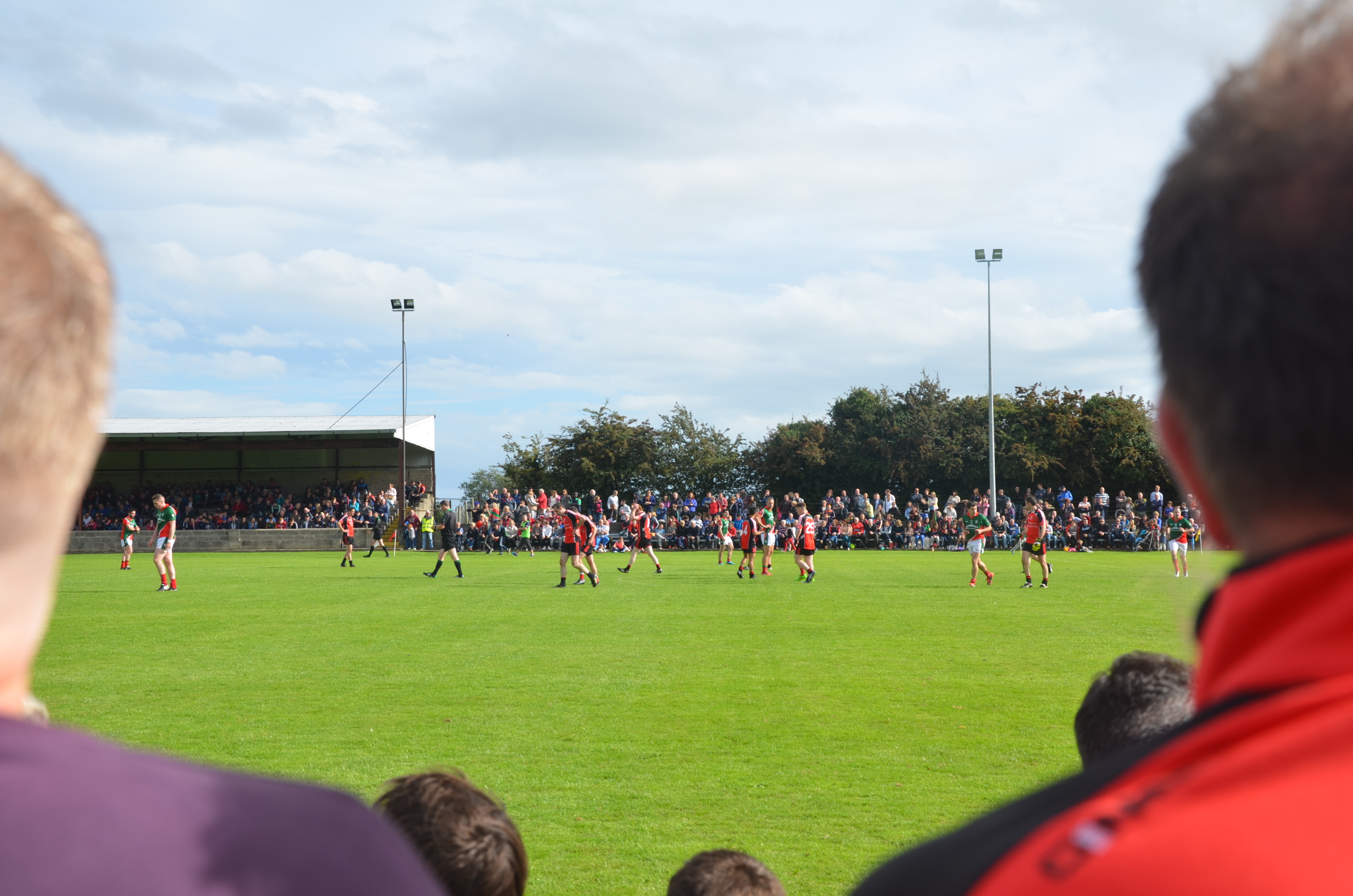 On Saturday night, our first night in Ireland, we slept like the dead. I did not wake up until 11:00a. Eleven o'clock! I have never in my entire life slept until 11:00a. My cousin Amanda invited us to the County Louth Gaelic Football championship game later that afternoon. Her brother and two nephews were playing in the match. We wrongfully assumed that this would be held at a school yard with a few family and friends watching from the sidelines. Crazy Americans!
We failed to realize what a big deal this match watch. As we approached the address Amanda had given us we began to see cars lining both sides of the street with team flags attached to the windows. We were directed into a field to park and there were easily hundred cars already parked in the lot.
If you are unfamiliar with Gaelic Football it can best be described as a mix of soccer, basketball, and rugby. Gaelic football is played primarily in Ireland and consists of teams of fifteen players. The goal resembles the goal in rugby but has a net attached like in soccer. The object is to kick or punch the round ball into the net (scoring three points) or over the crossbar (one point).
Here is a video that shows a Gaelic football match in action. Take note: the players do not wear pads or helmets.
As we entered the stadium, the crowd was thrumming with energy as we made our way in to meet up with our family. Despite everyone around us sporting their black and red for St. Kevin's we easily spotted my Aunt Joan and Cousin Elaine.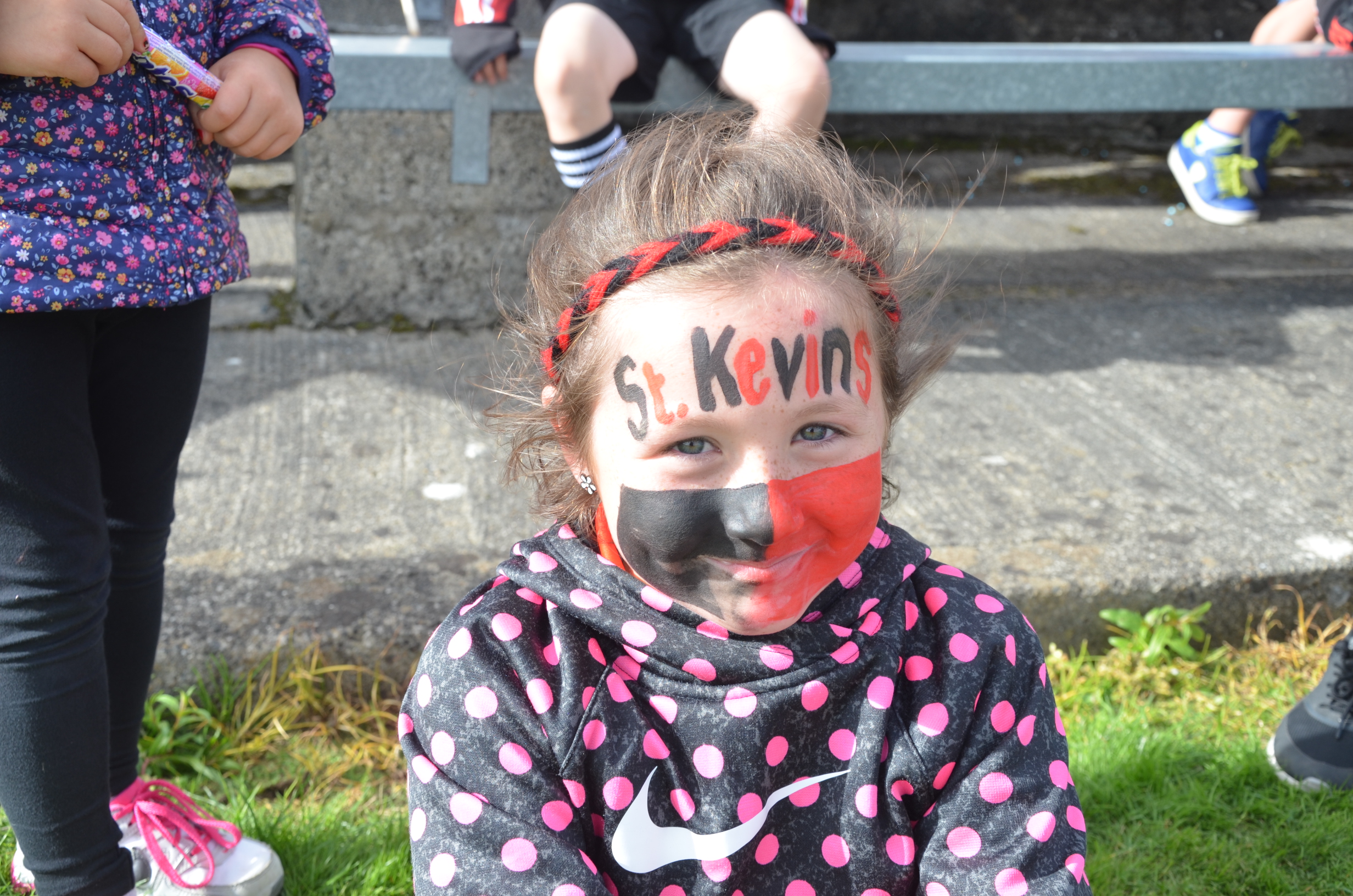 There was little time for small talk though as the match was underway. We had a hard time following the action at first and had to resort to cheering when everyone around was cheering. But it didn't take long for us to catch on to what was going on.
The match was incredibly close throughout and so fast paced that we found ourselves screaming and cheering along with the rest of the crowd. I feared that my poor Cousin Amanda was going to lose her mind! She was so nervous and rooting so hard for 'the Kevins' to earn the win. We learned a few new swears which was awesome too, 'aw, c'mon, stop bullocking around' is one of my favorites.
The score was tied at the end of time but there were a few minutes of extra time for injuries and thankfully St. Kevin's scored in the last minute and won the title of County Louth champs! The crowd went mad and rushed the field. It was a joy to see my cousin Gerard and his family bursting with pride at the win.
So, if you ever visit Ireland and love exciting sports I recommend finding a Gaelic football match to attend to get a real sense of Irish culture.
We left the match exhilarated and rushed back to our Airbnb to meet up with my father's brother Teddy and his wife Carol. I hadn't met them the last time I was in Ireland because they were living out of the country at the time. Teddy has a great sense of humor and shared many stories about my father both when they were young and would save their money for weekend carousing around Bray and later on the golf trips they took together and the ones that they had planned before he died.
My cousin Kenneth and his wife Fiona also stopped by to visit. Kenneth was ten years old the last time I saw him thirty-six years ago but the moment he walked in the room I recognized his face instantly. We had a lovely visit with them and caught up about his mother Sheila (my father's sister) and his brothers Tony and Shane.
I can't tell you how much it meant to me to sit down together and spend time with my family. I am grateful to them all for coming together to spend time with us.