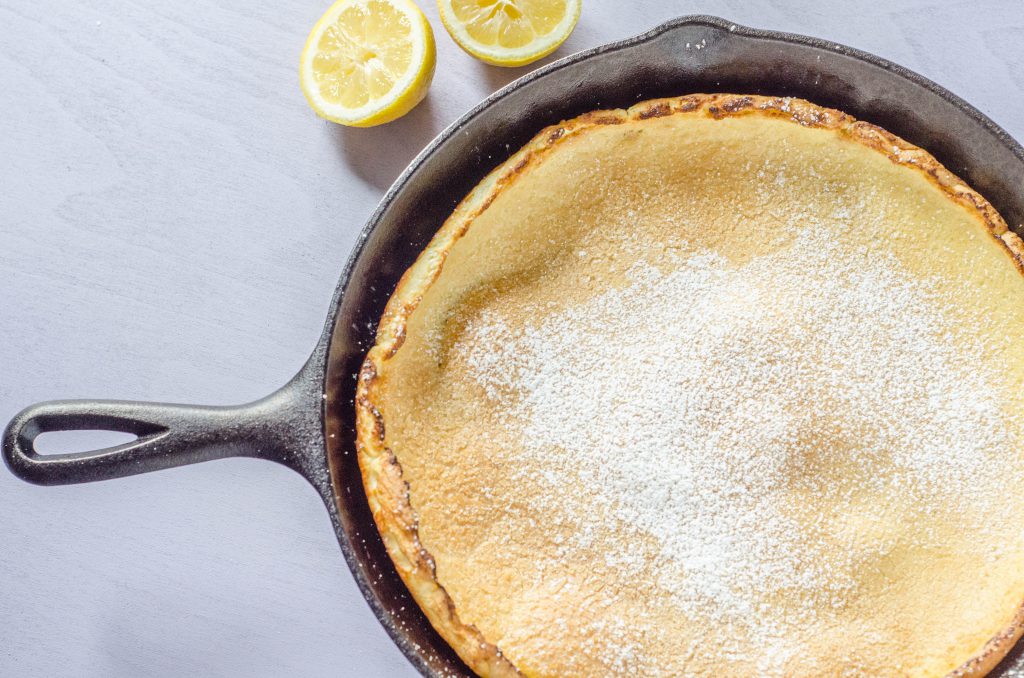 Who likes recipes that involve less than five ingredients, can be blitzed up in a blender, and takes under thirty minutes to bake? *raises hand*
The Dutch baby pancake meets these criteria. You simply put eggs, flour, milk, and seasonings into a blender and pour the batter into a hot skillet which contains melted butter. Let's talk about Dutch baby pancakes. Have you ever had one?
For the uninitiated, Dutch baby pancakes come out of the oven as light, puffy, golden brown, eggy pancake. Have your cameras ready if you want to Instagram this dish because the puff of the pancake is short-lived. Within minutes, the air comes out of the Dutch baby and it flattens out to a slightly less photogenic but still absolutely delicious dish. The video uses a slightly different recipe but will show  you the process of making a Dutch baby pancake.
How-to Make Dutch Baby Pancakes
Dutch baby pancakes are typically served for breakfast or brunch. I love to eat a Dutch Baby pancake with a squeeze of fresh lemon juice and a sprinkle of powdered sugar. But, served with mixed berries and maple syrup is also delicious. How does lemon curd and strawberries sound to you? Or, wouldn't sauteed apples and sprinkled with cinnamon and sugar be scrumptious? Let's face it, any fruit that is in season is a perfect accompaniment to a Dutch baby pancake.
Once you make a Dutch baby pancake, you may find that your imagination runs wild thinking about the possibilities.  Please tell me that your imagination runs wild when you make a delicious recipe. I find myself thinking about what else would taste great on this light and fluffy pancake. What savory toppings can I pair with it to turn this into a savory dinner?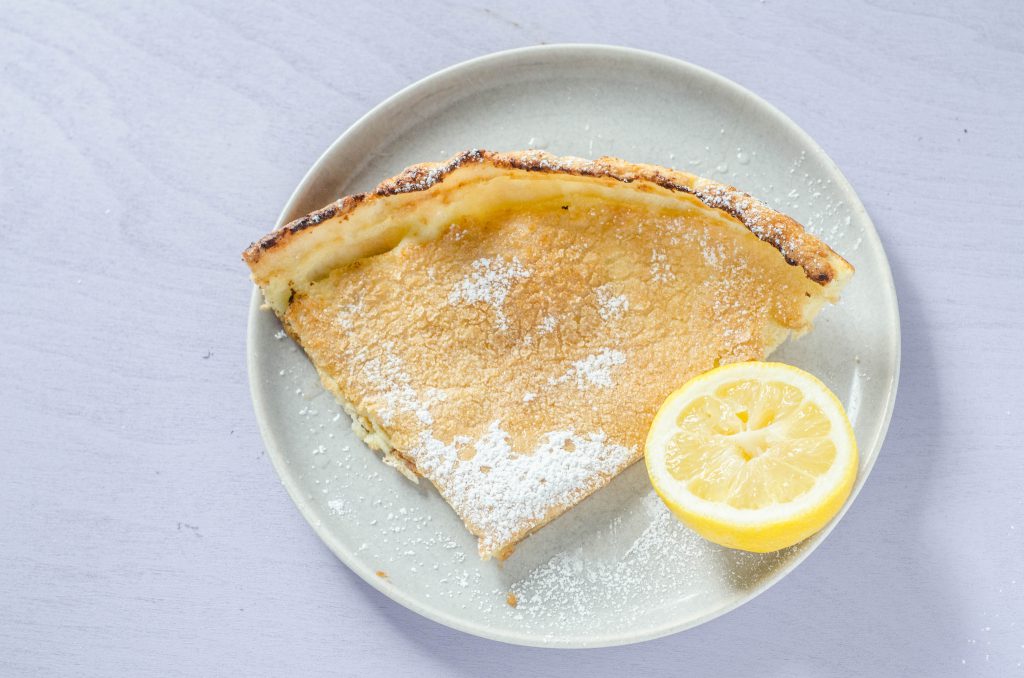 This recipe for a savory Dutch baby pancake from the NY Time includes fresh herbs in the batter and is sprinkled with salty, nutty Parmesan cheese while it bakes. OMG. Yum! I must try that recipe soon. I imagine pairing it with a salad and glass of crisp, white wine.
Enough daydreaming, let me encourage you to try making a Dutch baby pancake this week. You will impress yourself and your people as you take it from the oven in all its glory. I use my 10-inch cast iron skillet to bake the Dutch baby. If you don't have a cast iron skillet then a similarly sized baking dish will do in a pinch.
Other recipes full of eggy goodness that you might be interested in: