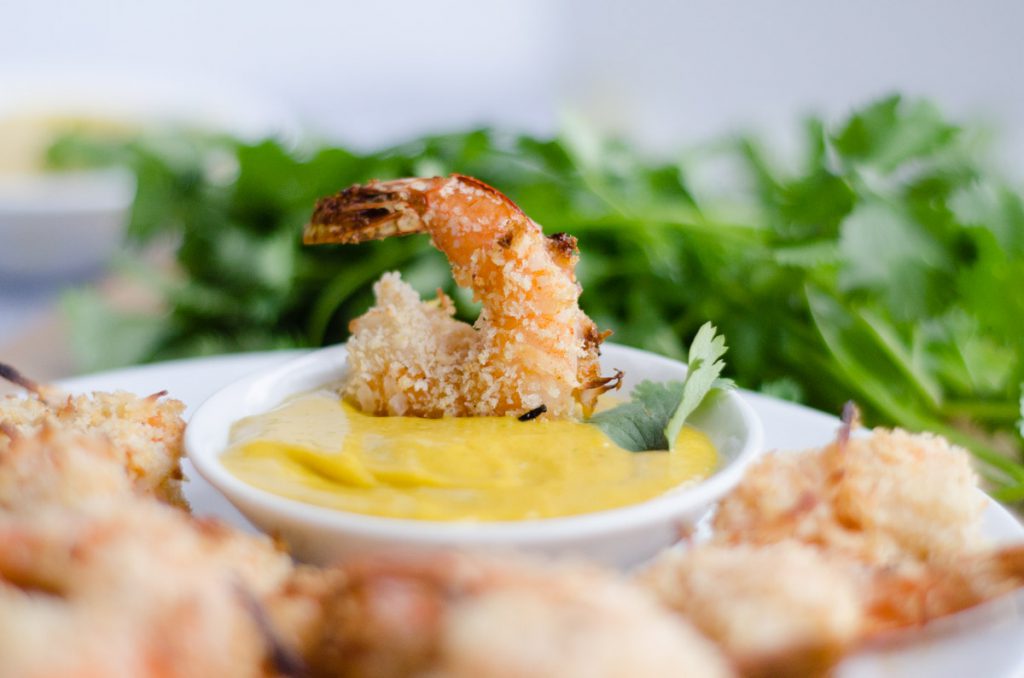 Coconut shrimp. I adore this easy and elegant appetizer.  The coconut and panko are a crunchy coating to the tender and sweet shrimp. The recipe comes together in very little time and is quite a stunner on the table. You could also easily double the recipe, serve with rice and veggies, and enjoy a scrumptious meal.
I will always have a sweet spot in my heart for coconut shrimp. It was one of my father's favorite foods. That may not mean much to you but my father was one of those people who considered food as not much more than fuel. He wasn't the most satisfying person to cook for because when you asked him what he thought of a meal you had prepared for him his most common response was 'it was okay.'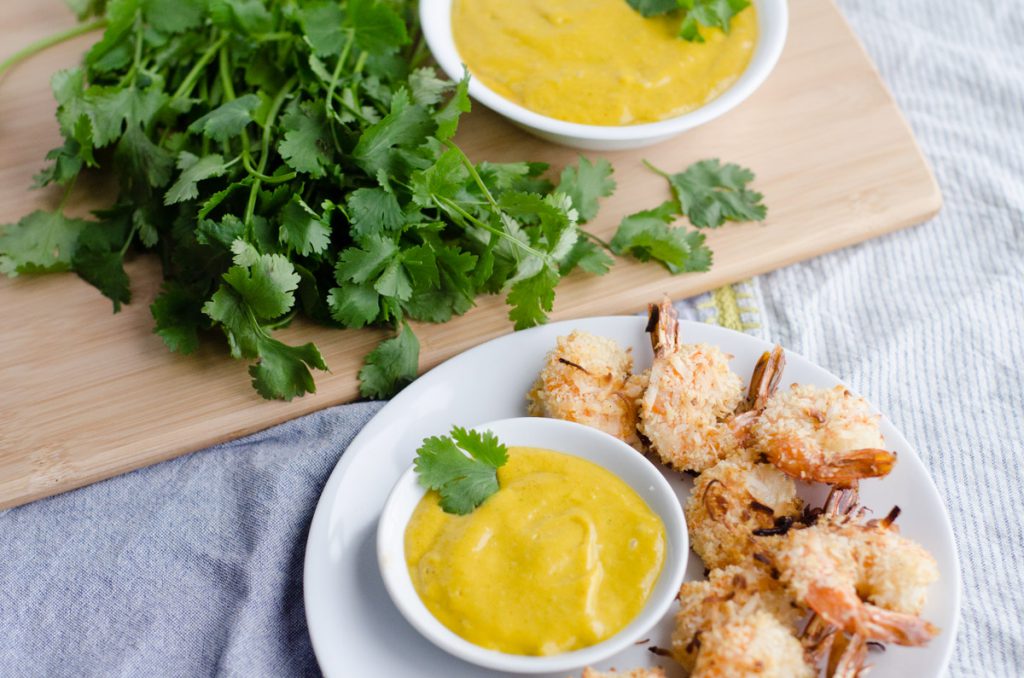 Nevertheless, he did love coconut shrimp. I will admit that I often cringed when he ordered the deep-fried version of coconut shrimp out at a restaurant. Therefore, I began testing recipes where I baked the coconut shrimp rather than fried it in oil.
I made him this version numerous times and often received the elusive compliment that he thought it was delicious. You can pair these shrimp with commercially prepared mango salsa (I like Costco's) for a quick dipping sauce. On the other hand, you can easily blend up the spicy mango dipping sauce recipe listed below and have enough left over to dip all kinds of crazy delicious foods into it.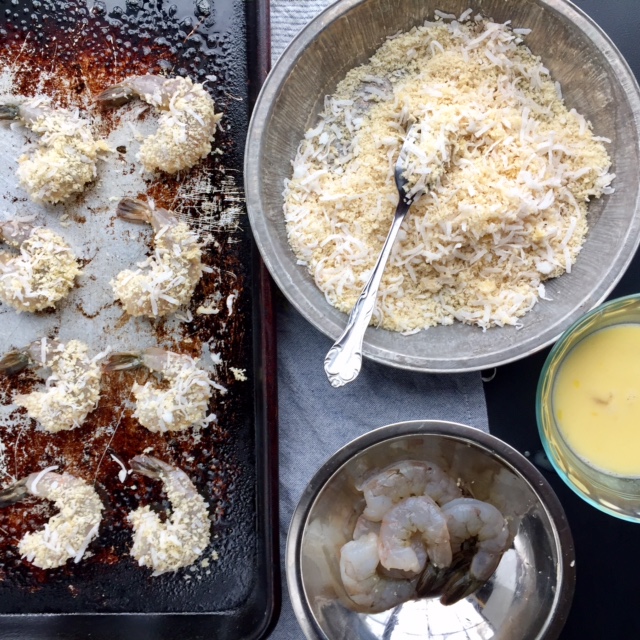 Pairing the coconut shrimp with this spicy mango sauce is new for me though. My father probably would not be crazy about it but I love it. You get a little bit of sweet from the mango and coconut milk and some heat from the Sriracha and chipotle chili powder. I think it is a perfect complement to the shrimp and it could not be easier to pull together.
How to Make Coconut Shrimp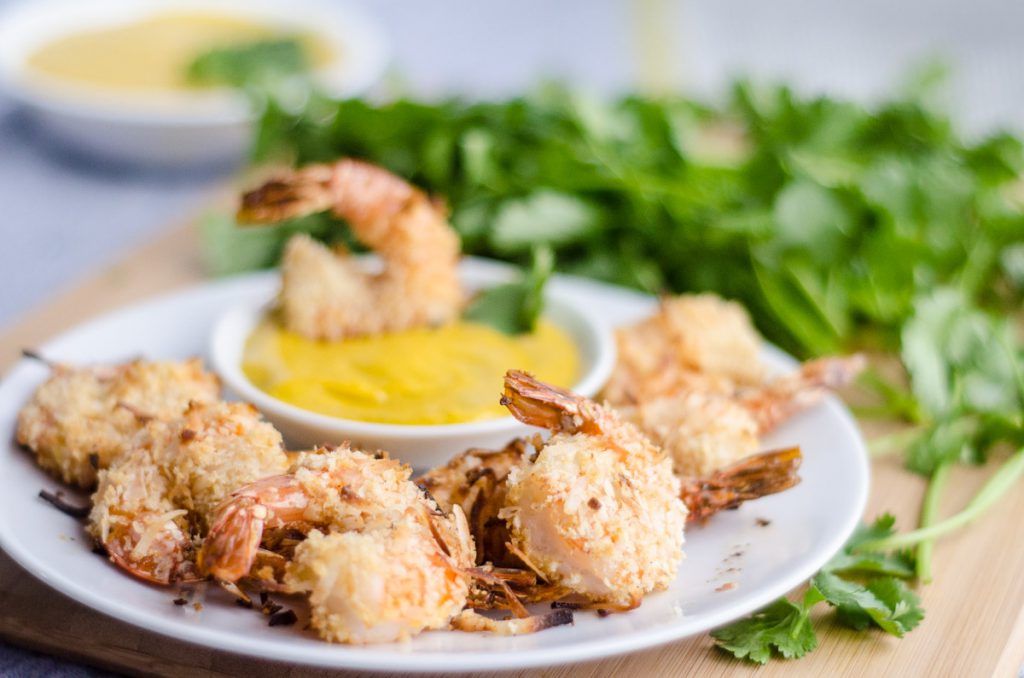 Spicy Mango Sauce
Here is the link to my post on how to make spicy mango sauce or you can follow the directions below.
Ingredients
1 ripe mango, peeled and diced
¾ cup canned coconut milk
1 tablespoon Sriracha
1/2 tablespoon honey
1 lime, juice and zest
1 tablespoon cilantro, chopped
1/2  teaspoon chipotle chili powder
1/4 teaspoon salt
Instructions
Place ingredients for sauce in blender or food processor and blend until smooth.
Put sauce in a canning jar or covered container for one hour.

If you are interested in other Asian-inspired recipes, here are few to try: