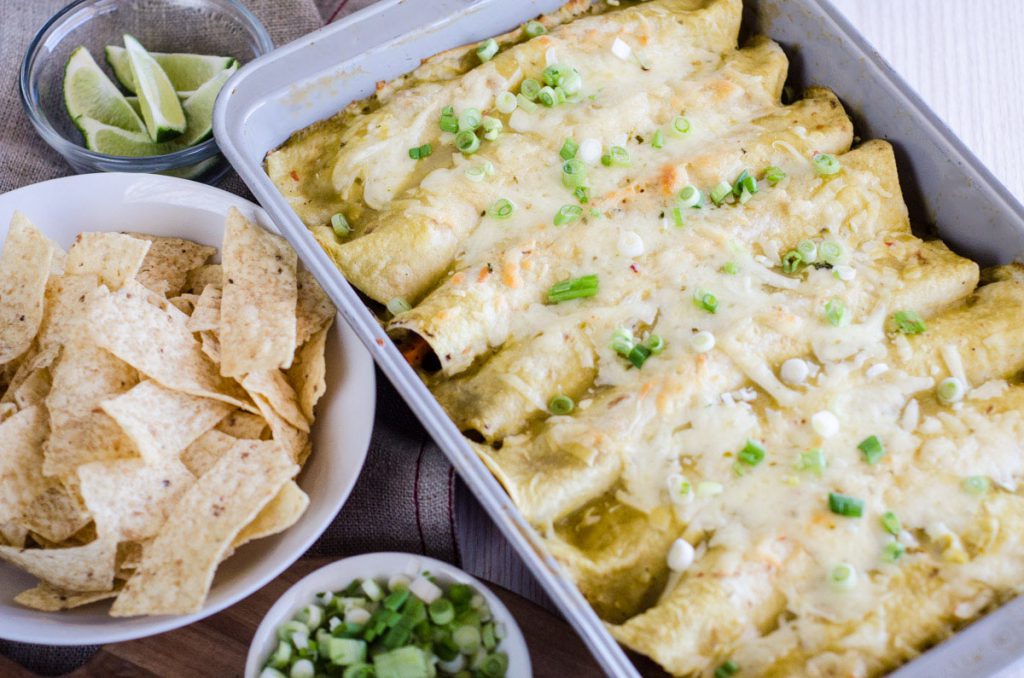 My main goal in life is to incorporate more vegetables in the food that I prepare for myself and my family and friends.  Okay, calling it my main goal in life may be an exaggeration, but it is a very important consideration in my cooking. Vegetables are full of healthful nutrients. They are also proven to reduce the incidence of most lifestyle-related diseases like cancer, diabetes, and heart disease. These veggie enchiladas are delicious AND nutritious!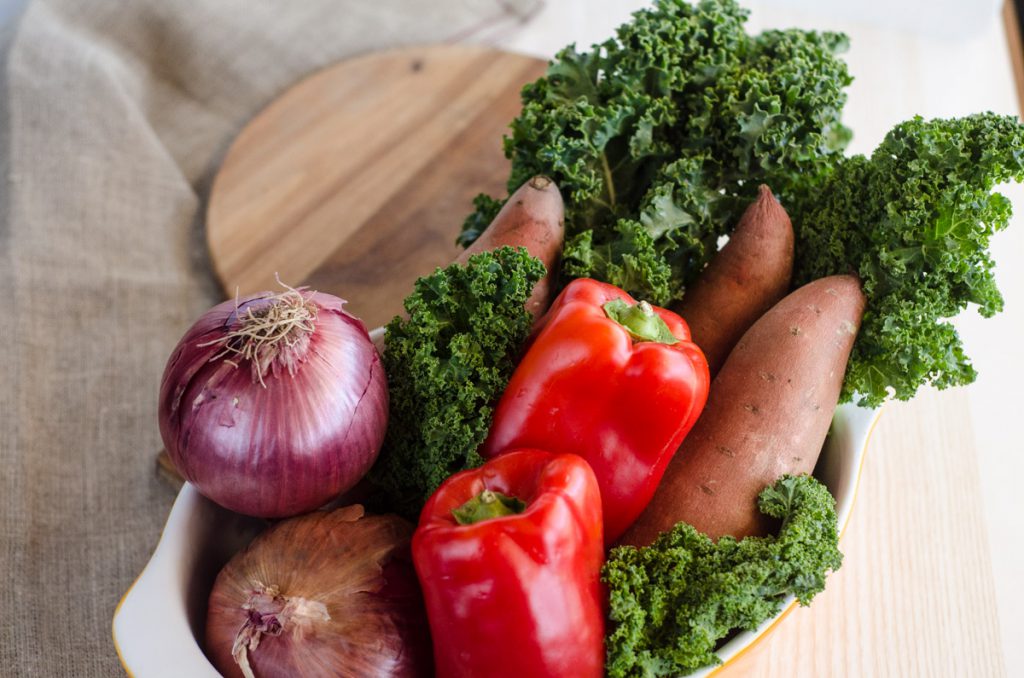 Eat Your Veggies
So, do you still need convincing about why sneaking adding vegetables into every meal is important? Okay, here it goes, vegetables are cheap. Who could argue with adding more budget-friendly food into your diet? Vegetables are also delicious. Stick with me on this one.
This veggie enchilada recipe is for you if you not a veggie lover. Or, it is also for veggie lovers who live with and cook for veggie-resistant people, I encourage you to try introducing new veggies to your crew and/or new preparations of veggies.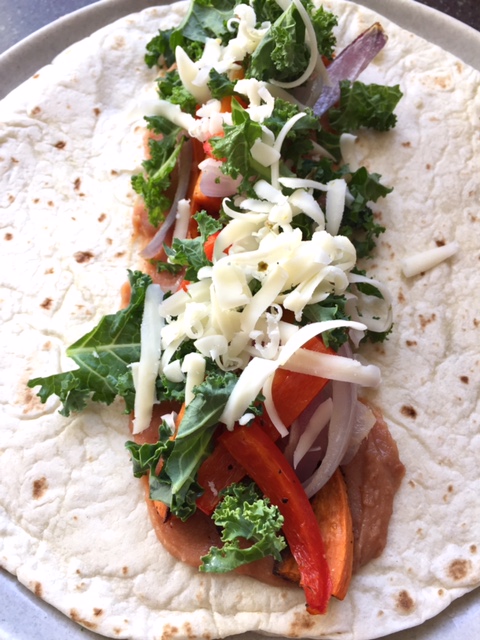 For example, most people can behind the idea of eating a tray full of warm, cheesy enchiladas. Right? What if you added some delicious roasted vegetables to the beans and cheese that most people expect in their enchiladas? I tried this out on family and they gobbled up the enchiladas. As a result, I effectively and deliciously added an extra serving of vegetables to their day!
For this recipe, I roasted sweet potatoes, red peppers, and red onions in order to bring out the sweetness of the vegetables. By seasoning the veggies in in olive oil and chipotle chili powder, salt, and pepper, they take on a smoky, spicy flavor.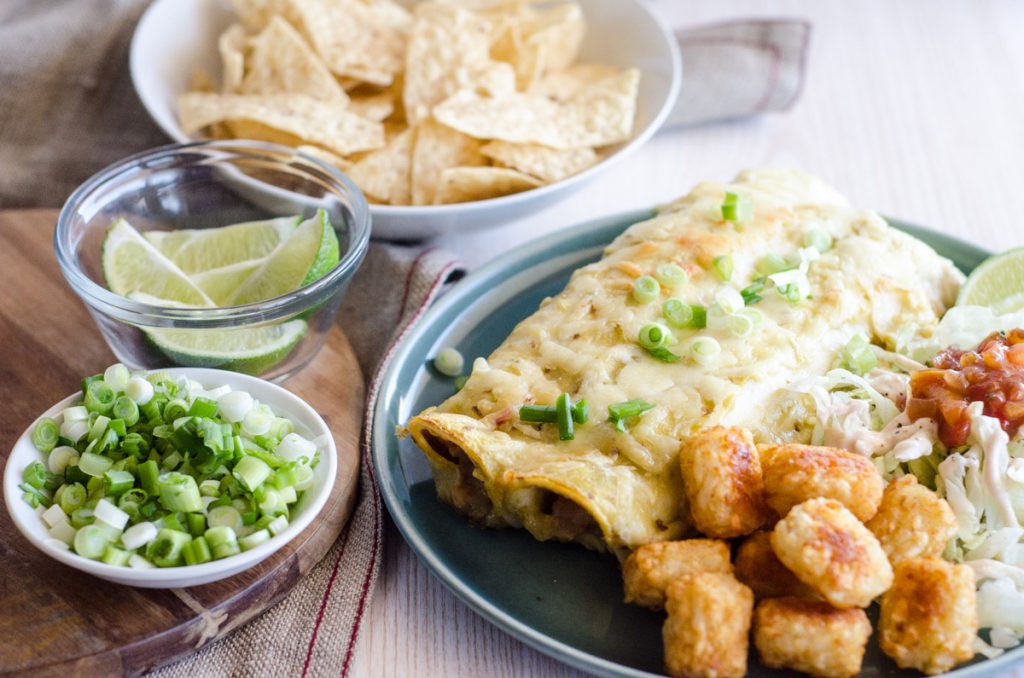 Once you are ready to start assembling the enchiladas, spread refried beans on a tortilla, top with roasted veggies, add finely chopped kale and cheese on top, and then roll up! Then, you slather on enchilada sauce and more cheese, no one will be the wiser about the big favor that you have done for them.
Leftover Filling
If you have any of the filling leftover, you can use it to make:
Huevos rancheros – warm corn tortillas, top with refried beans, leftover veggies, fried egg & salsa
Frittata – Beat eggs in a bowl, add leftover veggies to greased pan to warm, add egg mixture and cook until set
Quesadilla – Warm up leftover veggies, place a tortilla in pan, add veggies and shredded cheese, top with other tortilla, cook until golden on both sides. Slice into 6 pieces and serve with salsa
Here are a few other recipes that are chock full of veggies for you to consider:
If you would like other veggie-filled recipes delivered to your mailbox twice per month, sign up for my newsletter in the side bar to the right.