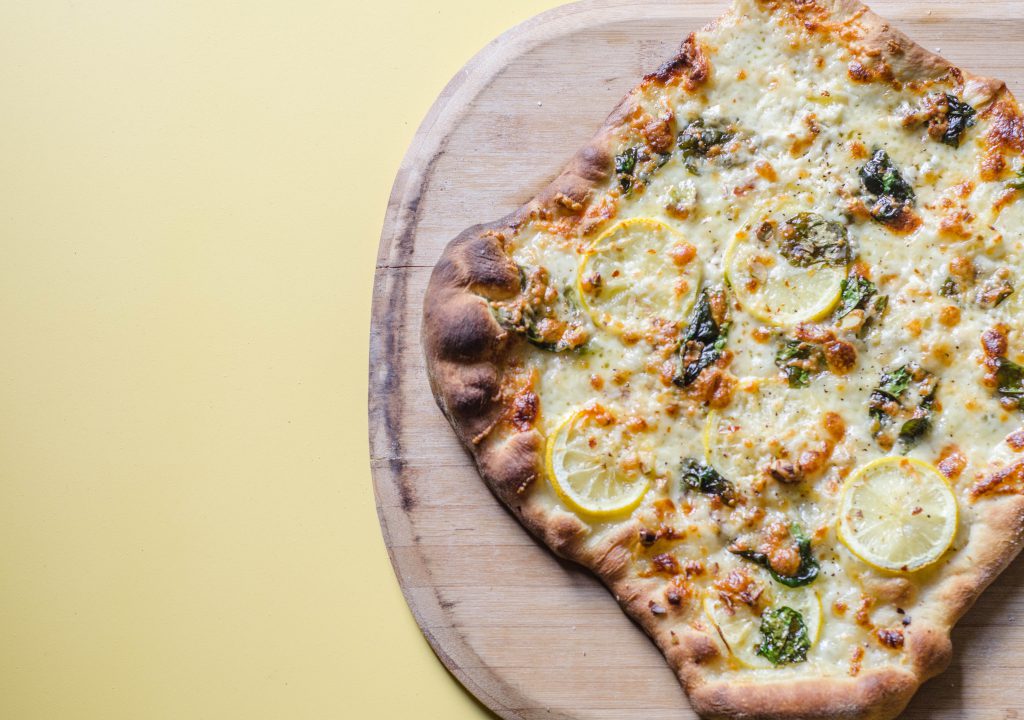 Smoked Mozzarella Lemon Pizza
If you keep pizza dough in your freezer (you do keep pizza dough in your freezer, right?), then weeknight dinners are a breeze. All you need is sauce, a few vegetables, and cheese and you are good to go.
A few years back I found a recipe on a blog for smoked mozzarella pizza with lemon.  The recipe and picture caught my eye because the lemon was sliced into paper thin rounds and used as a topping. Lemon rinds? Can you eat them? Would you want to?
Since I am always game to try new things, I made the recipe and fell in love with it! Since then I have realized that thinly sliced lemon on a salmon sushi roll is also delicious. But, this post is about pizza and over the years I have riffed variations of the original pizza based on whatever is in season or in my refrigerator.
This time around I had spinach that I needed to use and the end of a bag of pistachios. I find smoked mozzarella at Trader Joe's. If you don't have a Trader Joe's near you, ask at your local grocery store. Smoked mozzarella can sometimes be challenging to find. You can use fresh mozzarella in a pinch if you can't get your hands on the smoked variety.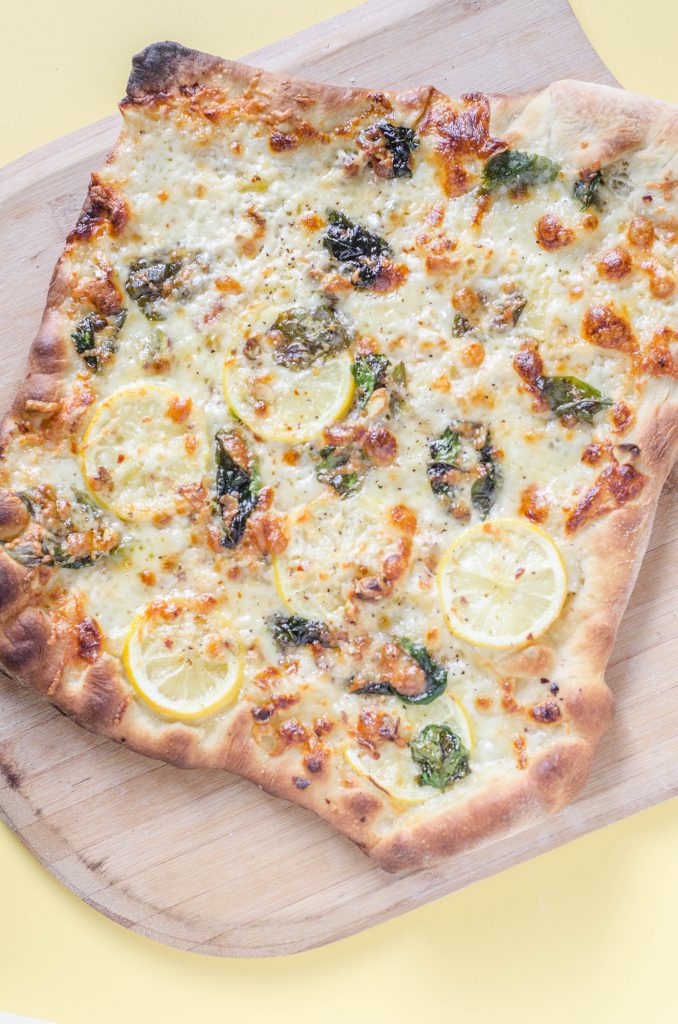 Pizza Dough
I take the pizza dough out of the freezer the morning I plan to make pizza. The dough will be thawed by dinner time. A few tips on pizza dough. Many grocery stores stock fresh pizza dough in their refrigerated aisles. I particularly like Trader Joe's and Whole Foods. You can also hit the freezer section and get bread dough (like Rhodes) and keep that on hand. If you have some time on the weekend, you can make a delicious no-knead pizza dough and use it for this recipe or place it in the freezer for future use.
I also love making pizza on a pizza stone. You put the pizza stone in the oven as you start to preheat the oven. Once the oven comes to temperature, then set a timer for at least fifteen minutes and let the stone get nice and hot.
I roll the dough out on a parchment paper-lined pizza peel. Roll the dough out thin if you want to achieve a crispy crust. Then, drizzle the crust with olive oil and spread it around with your fingertips until there is even layer over the surface of the dough. Sprinkle salt, pepper, and crushed red pepper flakes over the top of the dough.
Next, place slices of smoked mozzarella on top of the dough, followed by lemon slices (rind and all). My sweetie doesn't love the lemon rind so I do cut the rind off half the lemon slices and put those pieces of lemon on his side of the pizza.
Finally, place spinach leaves over the top and sprinkle with the pistachios. Slide the pizza and parchment onto the pizza stone and let the magic begin.
I usually check the pizza halfway through cooking time and rotate the pizza 180 degrees to ensure even baking.
Let me know if you try this unusual but delicious pizza!
This recipe is inspired Alexandra Cooks recipe for Pizza with Lemon Smoked Mozzarella and Basil