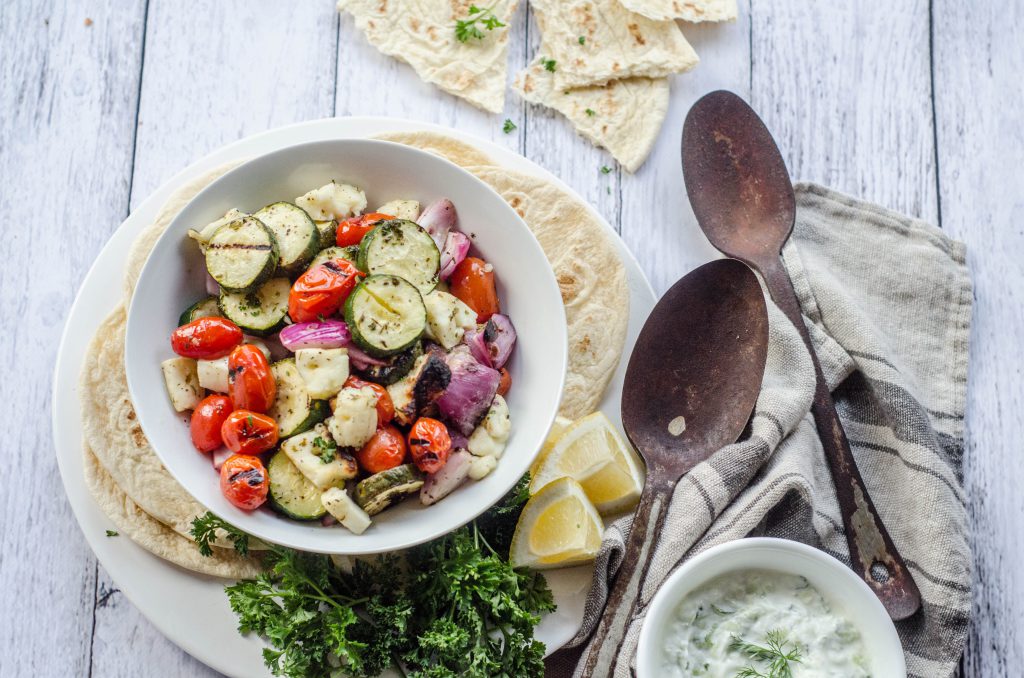 Can we agree that cooking outdoors is approximately 110% better than cooking indoors? The food always tastes better, outdoors > indoors, and your kitchen stays cool. Grilled vegetables are a summer staple at my house. Whatever ripe vegetables I can find in my garden or the farmers market typically makes onto my grill.  The addition of Halloumi takes this grilled veggie dish up a few notches.
Are you familiar with Halloumi? From Cyprus, halloumi cheese is an unripened goat and sheep's milk cheese. Eaten before grilling, halloumi is a bit bland but once your grill it or cook it in a skillet, a golden crust forms with soft delicious interior. Halloumi can be found in many grocery stores with the fancy cheeses, Mediterranean markets, and at Trader Joe's.
For this recipe, I made a simple, Mediterranean-inspired dressing to marinate the Halloumi and veggies prior to cooking. Both the vegetables and the cheese will soak up the flavors of the dressing so be sure to allow enough time for the marinade to do its work before you are ready to cook.
How to Grill Halloumi on the BBQ
If you can't quite wrap your head around grilling cheese on the BBQ this video by Curtis Stone will show you how it is done and what the Halloumi should like when it is done.
If you plan to cook outside on the grill, you can either thread the cheese and veggies onto skewers or use a grill basket (I like this one). If you use a grill basket, be sure to not overfill the basket with vegetables and cheese. You are looking to get a char on the veggies and cheese. If you overcrowd the grill basket you will find that some of the veggies will steam. I would cook half the veggies and cheese first and then the other half if space is an issue.
I like to serve the grilled veggies and Halloumi cheese with warmed pita bread and Greek Tzatziki sauce. You could also add a bowl olives or perhaps some hummus and cut cucumbers to round out the meal.  My favorite way to entertain is to place all the components of this recipe on a large platter or board. Then, your dinner guests can help themselves and take exactly what they want.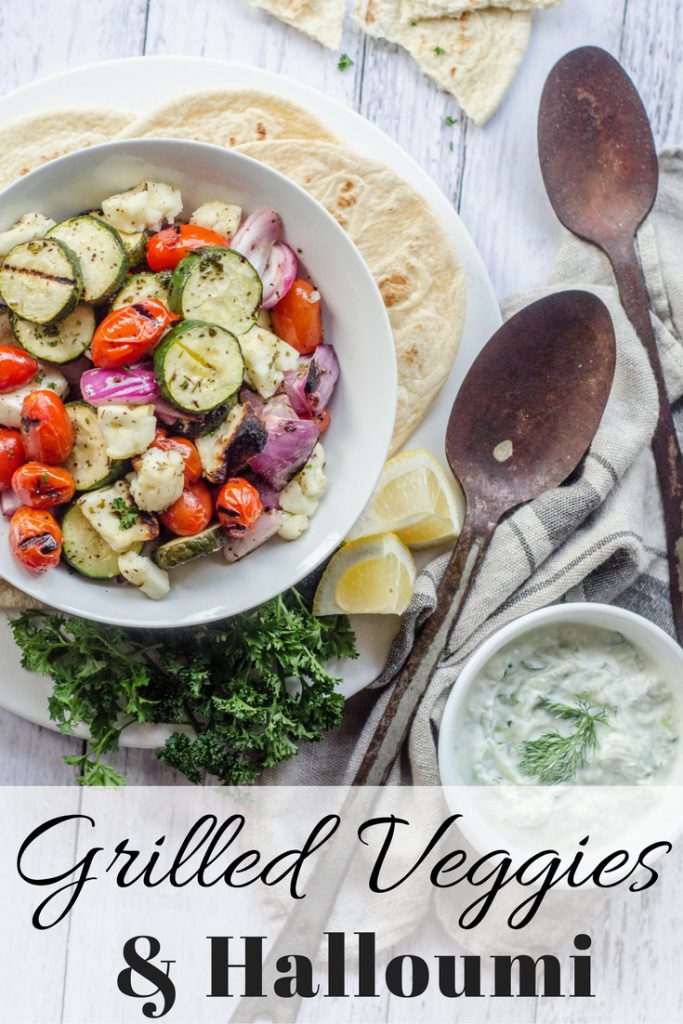 Like Mediterranean and Middle Eastern food? Check out these other recipes: