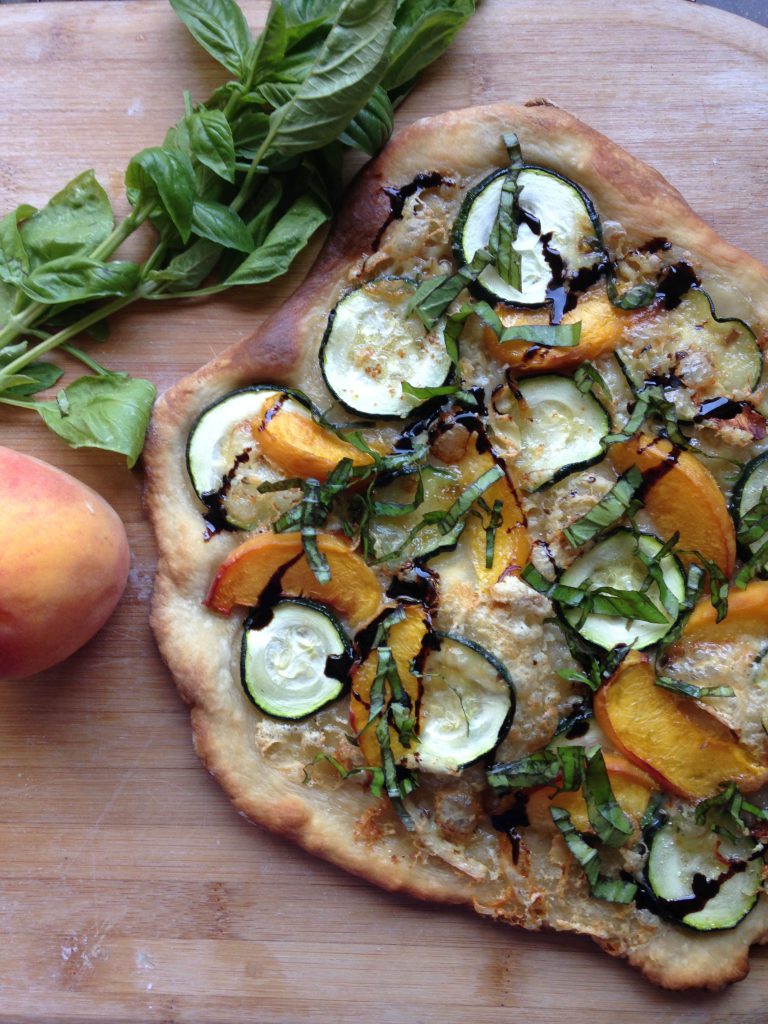 Is there anything better than eating a peach on a hot summer day?  During August I cannot drive by a fruit stand without veering off the road to pick up a few peaches. When I get home with an armload of them all I can think about is how to work peaches into every meal.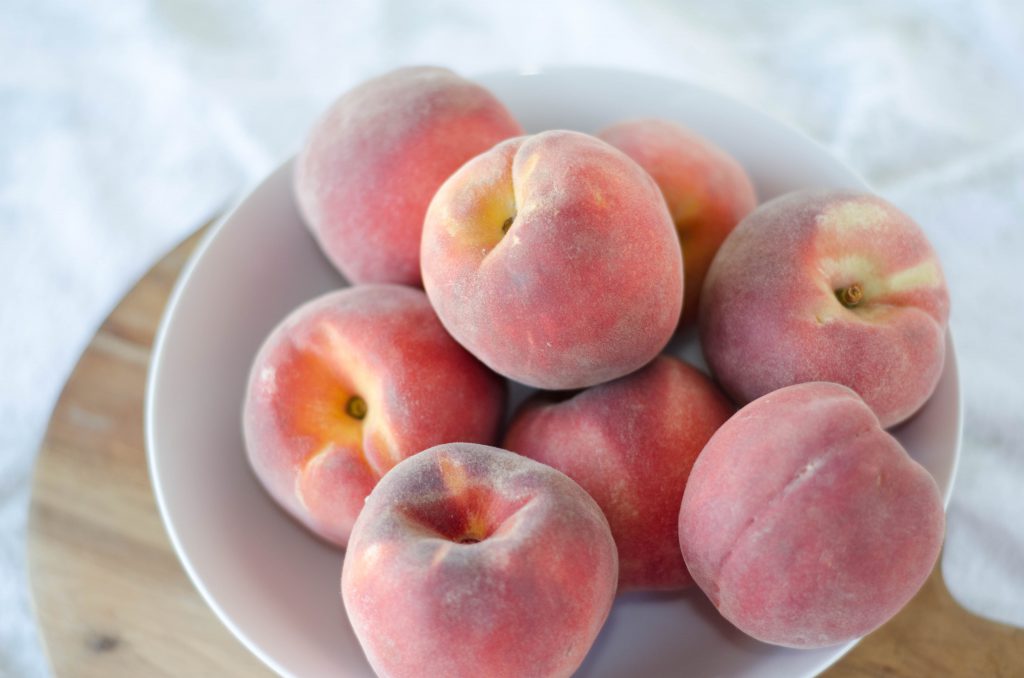 Cutting up peaches for breakfast is a no-brainer. For lunch I will toss sliced peaches into a salad of greens and grains.  When it came time for dinner though, I couldn't resist incorporating peaches into a savory pizza. I had a small zucchini from the garden, tons of basil, and fresh mozzarella which adds creamy contrast to the freshness of the summer produce. The balsamic reduction adds a nice tang to the cooked pizza.
If you buy the pizza dough this dinner will come together in no time and is perfect for a weeknight dinner.

Peach, Zucchini, and Basil Pizza
1 lb. of pizza dough, homemade or store-bought
2 tsp olive oil
Dash of salt
1 small to medium zucchini, sliced into 1/8" rounds
2 peaches, thinly sliced
3 oz. of fresh mozzarella, thinly sliced
½ cup balsamic vinegar
¼ cup fresh basil, leaves rolled up and thinly sliced
Preheat oven to 450 degrees F. Place a pizza stone in oven while the oven preheats. You can also bake pizza on a baking sheet rather than on a pizza stone but spray baking sheet with cooking spray before cooking.
Divide dough into two pieces. Place a sheet of parchment paper on a pizza peel and then sprinkle with flour. Roll dough out so the crust is thin. Sprinkle 1 tsp of olive oil over crust and spread oil around using your fingers or a pastry brush. Sprinkle dough with a dash of salt. Place half of each of the zucchini rounds, peach slices, and cheese on the pizza.
Transfer pizza to pizza stone or baking sheet and bake for 10 minutes. While the pizza bakes place balsamic vinegar is a small saucepan on medium heat and cook down until it reduces and thickens. Remove from heat and let cool. Rotate pizza and cook for another 5 minutes or until the crust is golden and crispy and cheese is bubbly. Remove pizza from oven.
Repeat steps with the other half of the dough and remaining ingredients and place in oven to bake when the first pizza comes out of the oven.
Once the pizza is out of the oven drizzle half of the balsamic vinegar reduction and basil over the top of the pizza. Cut into wedges or squares and serve.
Serves 2-4