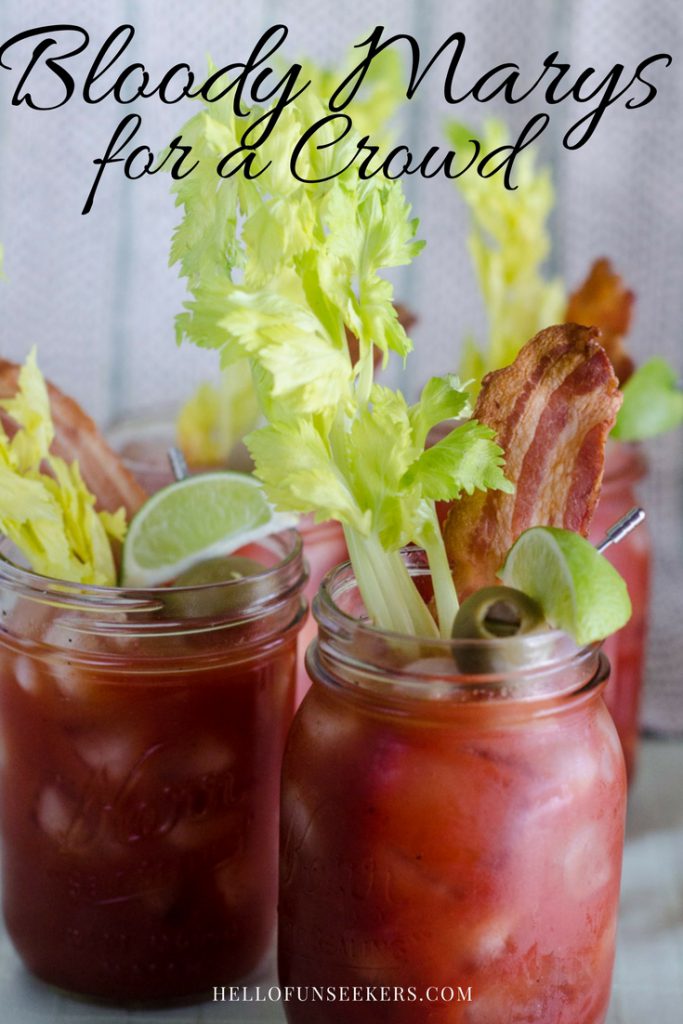 How often do you need to make one bloody Mary? My guess is not very often. Sometimes, on a lazy Sunday we make up two Bloody Marys, and, on occasion, we will make a second round. But, it seems as though we most often make Bloody Marys when there is a crowd. Sometimes we want to make Bloody Marys when we have friends or family over for a weekend brunch. Other times, we want to make them when our group is camping out in the mountains eagerly awaiting breakfast by the campfire.
We love our Bloody Mary recipe but I hated having to make up each cocktail individually when I was making them for a group. Therefore, a few weekends ago, I did some math, tested the recipe (twice!), and came up with the proportions for making our delicious Bloody Marys for a crowd. You are welcome!
These Bloody Marys are spicy, savory, and delicious. Use your favorite Bloody Mary mix as a base for the Bloody Marys. Then, add some infused vodka. You can buy commercially prepared infused vodka but I would encourage you to infuse your own. We used this recipe from Bon Appetit for Black Pepper and Horseradish infused vodka.  It turned out so good! Of course, you can just use all plain vodka but adding the infused vodka and Bacardi Limon take these Bloody Marys to the next level.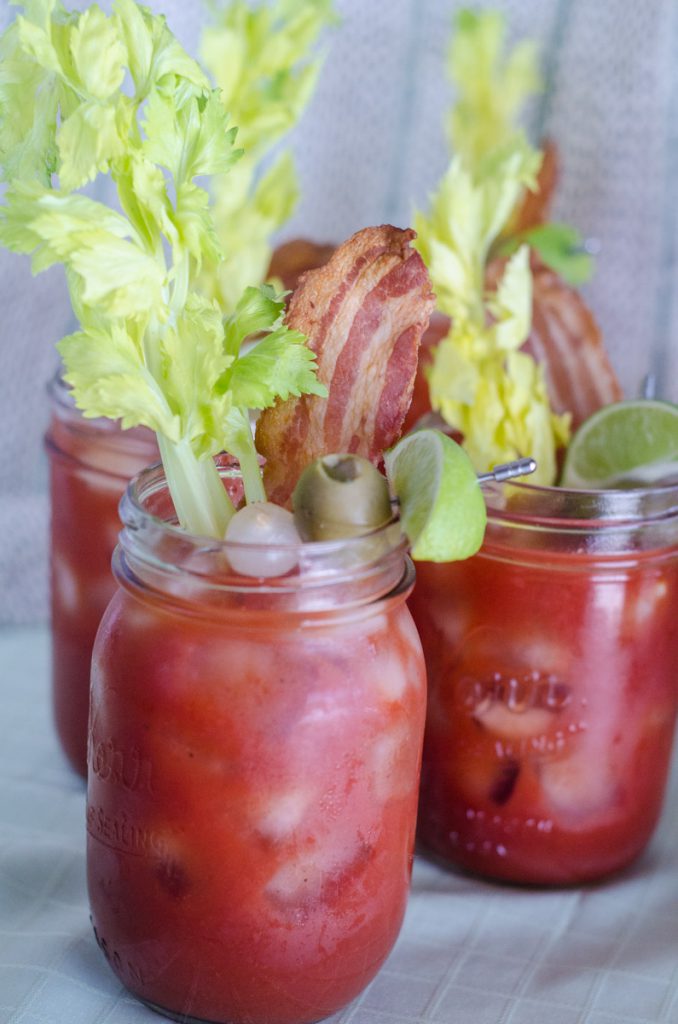 How to Make Bloody Marys for a Crowd
Another important consideration when making Bloody Marys for a group is your garnishes. Because part of the fun of drinking a Bloody Mary is its rather theatrical presentation of all the garnishes. I did a quick search for Bloody Marys within Pinterest  and was floored by what I saw.  In addition to the usual assortment of olives. limes, and celery, I found sliders, slices of pizza, and fried chicken. I am not suggesting you should go to that extreme but do feel free to exercise your creative muscle and garnish your Bloody Marys with foods that you like and want to eat.  We love to throw a few unexpected items in our Bloody Marys like cheese curds, strips of cooked bacon, or pretzel rods.
In the comments below, let me know how you like your Bloody Marys and what your favorite garnishes are.
If you are looking for food pairings to go with the Bloody Marys, might I suggest: