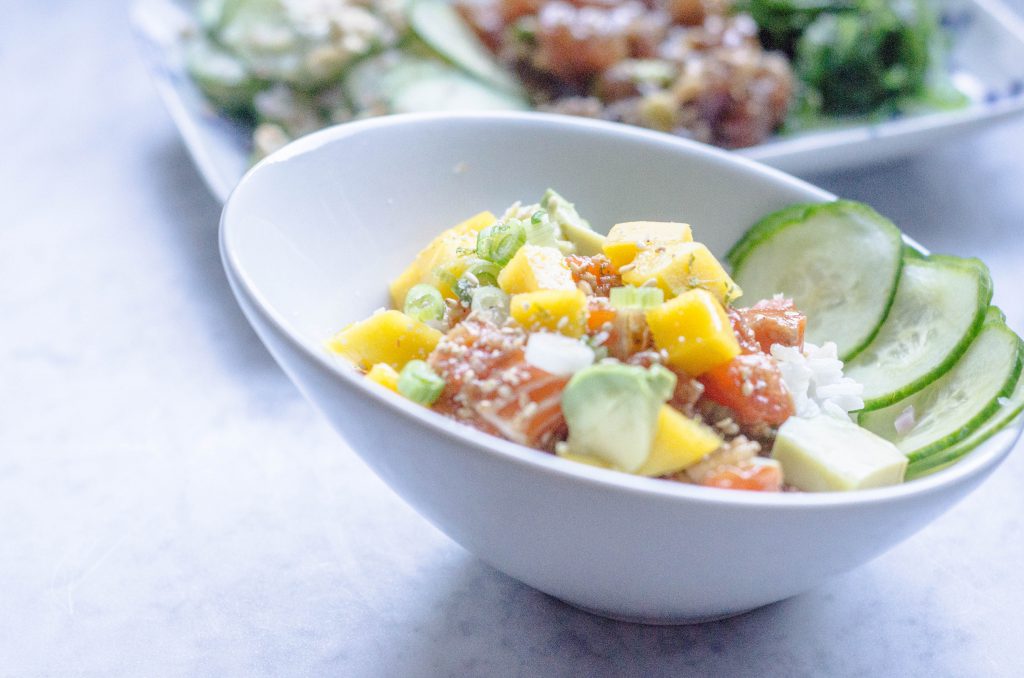 Salmon and Mangos and Avos….oh my!
I could eat Hawaiian poke (pronounced poe-kay) every day, it is so light and fresh, perfect in the summer. Poke is a raw fish salad seasoned with flavors common in Japanese cooking. Ginger salmon poke is flavored with a dressing of fresh ginger, sesame oil, soy sauce, and Sriracha. Once the cubes of salmon are coated with the dressing, onions, sesame seeds, mango and avocado are added to poke.
There are a few things to consider before attempting to make poke at home. First, buy your fish from a reputable fish monger or a grocery store which carries high-quality fresh fish. I recommend mentioning that you plan to make poke with the fish when you are buying. Also, you will want to use a very sharp knife to cut the fish into cubes. A knife that isn't super sharp will tear the fish so be sure to sharpen your knives before cutting up the fish.
Do you have a good knife? The single most important kitchen tool for me a sharp chef's knife. This is the knife that I use to cut almost everything while preparing recipes. I have a serrated bread knife for slicing bread and a paring knife that I occasionally use to slice up a peach or remove the segments of oranges.
Having a solid chef's knife is the first step, keeping the knife sharp is the second step. You should invest in a steel to sharpen your knife. The video below will show you exactly how to use the steel to keep your knife in perfect cutting condition.
With this in mind, you will become a poke-making master in no time. I love to serve poke in a bowl with steamed rice (brown or white). Then, I like to add some fresh vegetables like shredded cabbage or a lightly dressed cucumber salad to round out the bowl.
If poke is your thing too, you may want to check out my post on Spicy Ahi Tuna Poke too.
How to Make Ginger Salmon Poke with Mango and Avocado