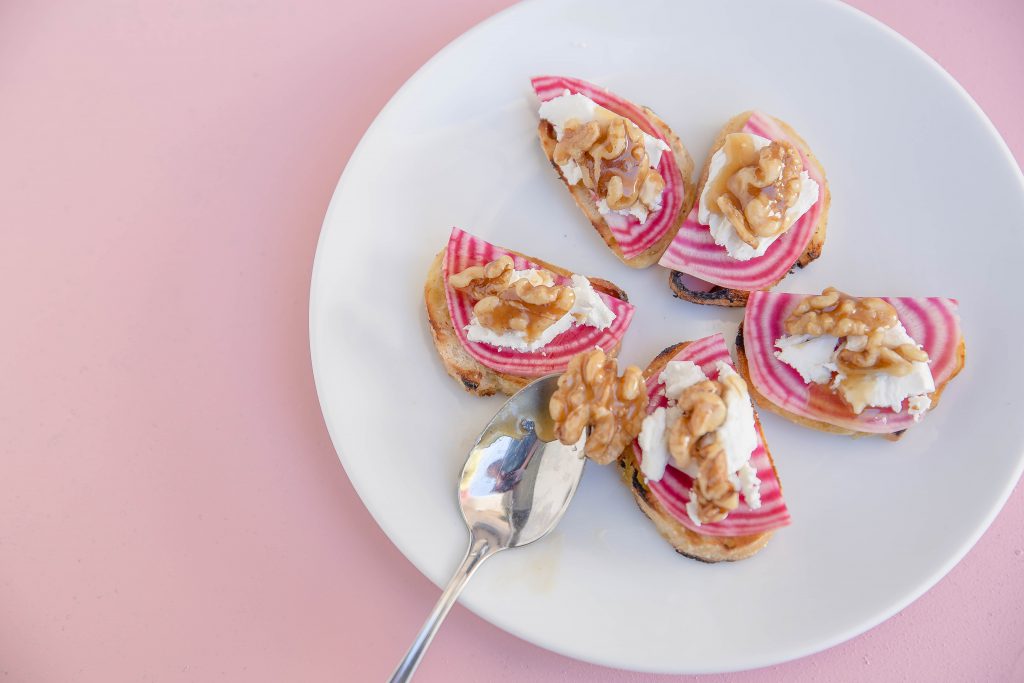 Note: This post contains affiliate links*
Crostini are always on my appetizer short-list when I am planning a party. For those that aren't sure, crostini are an Italian appetizer consisting of toasted bread with toppings. Crostini are great appetizers because you can toast the bread and make the toppings ahead of time. As the holiday season is upon us, I wanted to incorporate some seasonal flavors into the topping. Thus, the Goat Cheese and Maple Walnut Crostini was born!
Let me lay down the process of making these crostini for you. First, you are going to make a batch of maple walnuts. You can do this step a few days in advance of when you want to serve the crostini. To make the maple walnuts, you will combine butter and maple syrup with spices. After adding the walnuts you will stir to coat and the sauce is reduced. You will want to cool the walnuts on a parchment-lined baking sheet. Be careful transferring the walnuts from the pan to the baking sheet. They are hot! I speak from experience.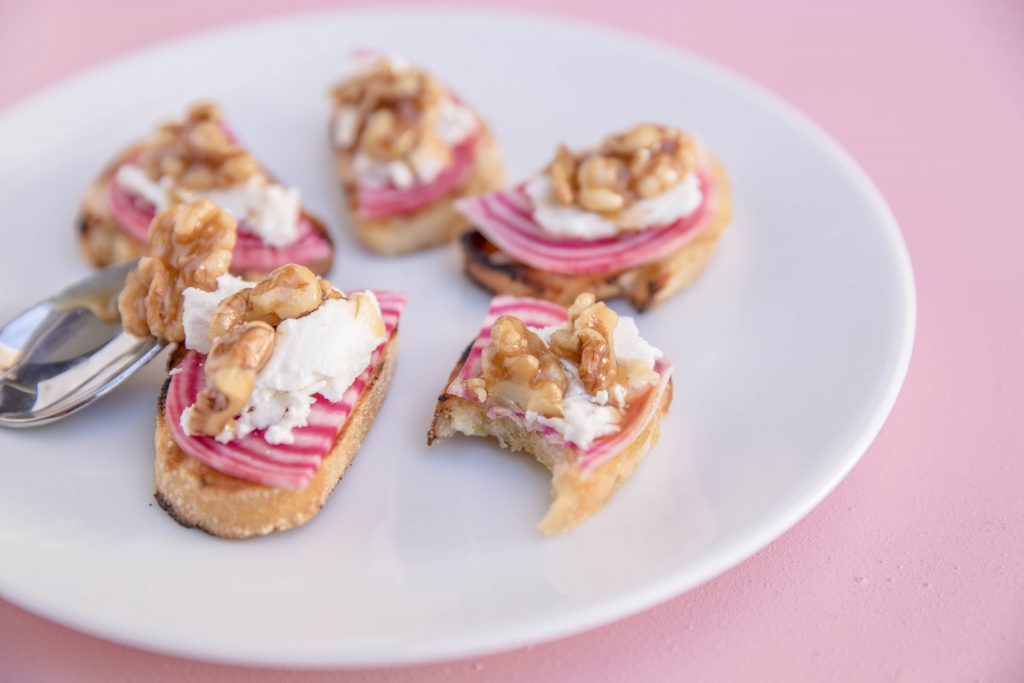 The second step is to slice the Chiogga beets very thinly. Chioggas are sometimes called candy cane beets, not because of their flavor but because of their beautiful red and white striped interior. You can peel and slice the beets the day before you plan to serve the crostini. If Chiogga beets are your thing (as they are mine) you may want to check out my Smoked Salmon Beet Bites too.
If you have a mandoline, slicing the beets very thinly is a snap. I love, love, love my mandoline (to be clear, I am talking about a Japanese-style slicing tool not the musical instrument). I use it all the time when I need food sliced very thinly or very evenly or both! The XOX Brand Mandolin is my favorite. It is super affordable, dishwasher-safe, and easy to store. A word of caution: the V-shaped blade in mandolins are very sharp and you should always use the included food holder to protect your fingers from the blade. Again, I learned this the hard way. Twice.
The last do-ahead tip I want to share is to make the crostini up to three days before you want to serve them. I typically buy a baguette for crostini. I like the small size of the bread. It is the perfect bite. Slice your baguette into about 1/2'' slices. Drizzle the slices of baguette with olive oil and a sprinkle or salt and pepper.
You can either make your crostini on the grill or under the broiler. Whichever way you decide to make your crostini, be sure to keep your eye on them. They can go from just about there to burnt mess in no time at all.
How to Make Goat Cheese and Maple Walnut Crostini
Once you have all your components ready, you just need to assemble the crostini shortly before you want to serve. Place crostini on a platter, place one slice of Chiogga beet on the crostini, top with a dollop or slice of goat and top with a maple walnut. I recommend taking the goat cheese out of the refrigerator an hour before you want to prepare the crostini.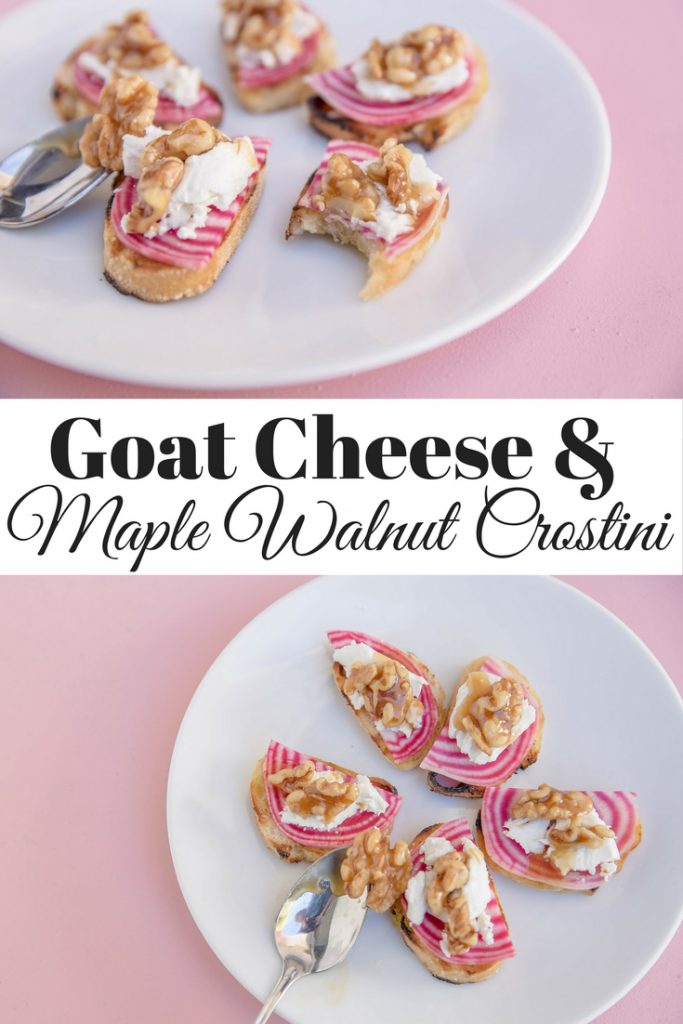 * Hello Fun Seekers is a participant in the Amazon Services LLC Associates Program, an affiliate advertising program designed to provide a means for sites to earn advertising fees by advertising and linking to amazon.com and affiliated sites.Please note that some links on this blog are affiliate links and I will earn a small commission if you purchase through those links.  It is also important to note that your price remains the same and there is no extra cost to you.  Thank you for your support of Hello Fun Seekers!