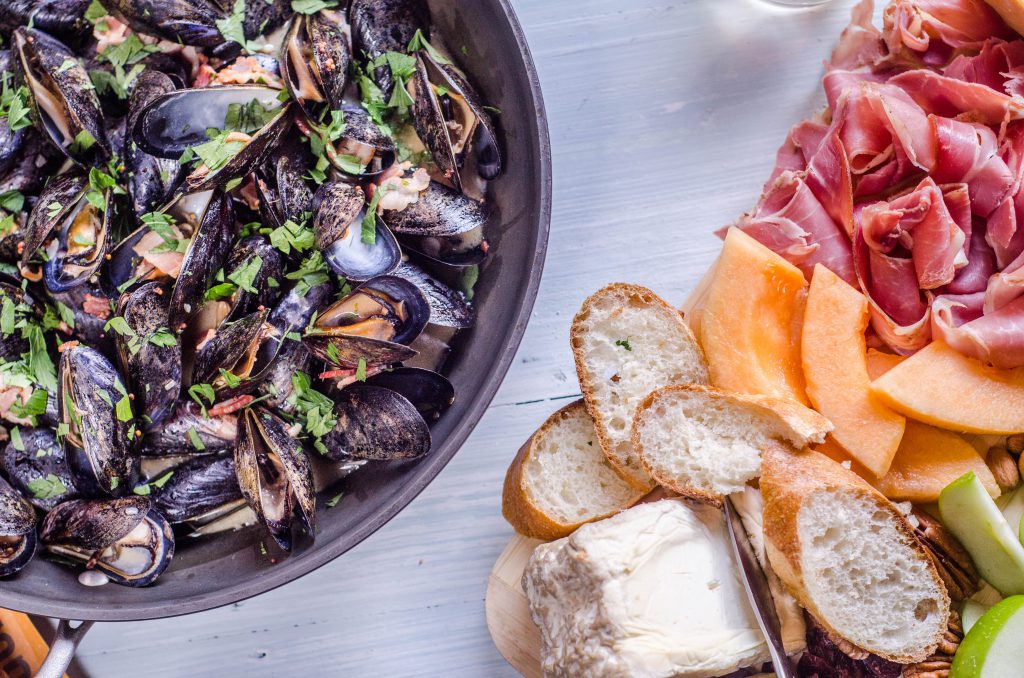 If you have a large pot and a few pounds of mussels, you can have a dinner party worthy meal on the tables in no time at all. Mussels are one of the easiest meals to prepare. All you need to do is give the mussels a quick scrub and soak, cook up a few aromatics for a broth to steam the mussels in, and five minutes cooking time. For Mussels with Cider, Shallots and Bacon, I decided to add some autumn flair but using apple cider instead of the more typical white wine as the base of the broth.
The website Serious Eats has a more detailed article on cleaning mussels if you would like a step-by-step guide. I have also included a video below. But, I promise, it is really easy and takes no time at all. Once you get the hang of it, you will be preparing mussels all the time!
While mussels and French fries (frites) are a popular combination in Belgium and France, I prefer to serve mussels with slices of nice bread. My favorites are a beautiful baguette or ciabatta. You will want to use the slices of bread to soak up the delicious broth.
So, let's walk through the process. Heat a large pot over a medium flame and add oil olive and butter. When the oil and butter start to bubble, add the chopped bacon and cook for a few minutes.  Next you will add the shallots, garlics, and thyme and cook until they are soft. Finally, add the cider and mustard. Bring the broth to a boil before adding the cleaned mussels. The only need a few minutes to cook. Seriously easy, right?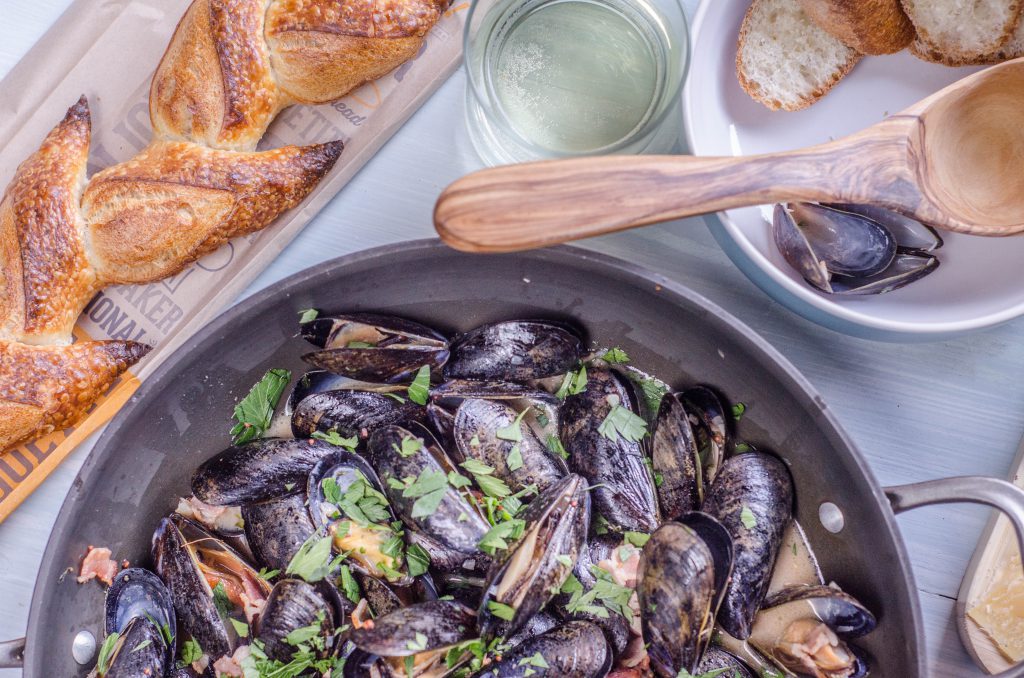 If you would like a tasty beverage to accompany your mussels, I recommend either a crisp white wine, sparkling wine (bubbles go with everything), or a Belgian beer.  I love to serve this meal not only because it is delicious but it is a slow-paced meal which encourages conversation as you work your way through the mussels. Slow food at its best!
How to Make Mussels with Cider, Shallots, and Bacon