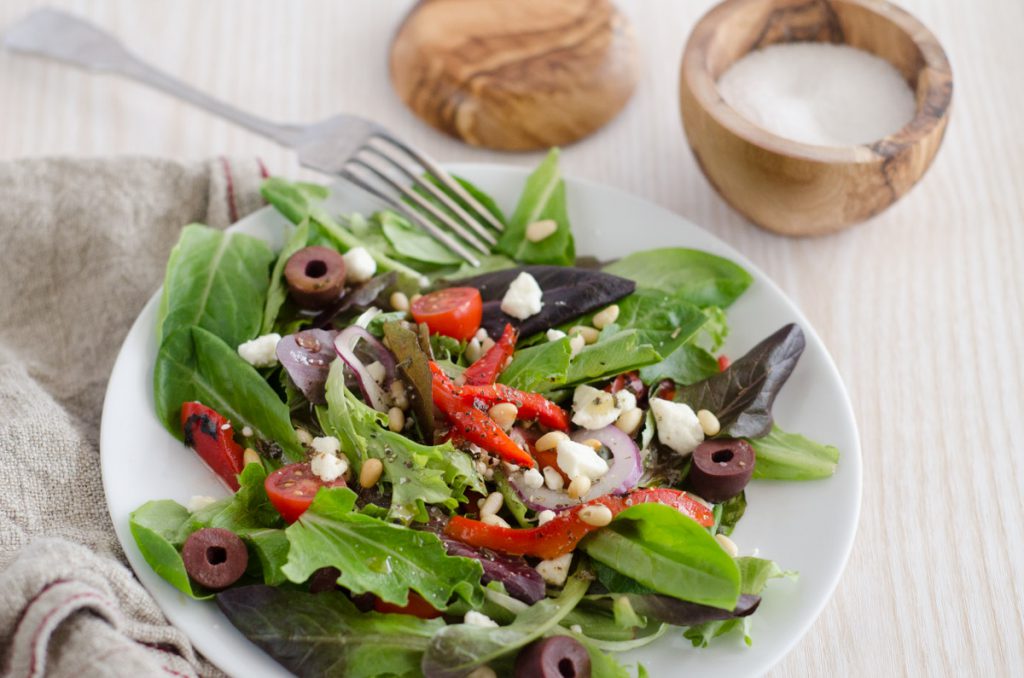 Is anything more exhilarating than watching the Earth come back to life in the spring? No matter how challenging things are in the rest of the world, a walk around the block can have me whistling a tune in no time. Daffodils and tulips are popping up from the ground, forsythia bushes burst out their bright yellow flowers, and one of my favorite ingredients, spring mix salad greens, make an appearance in my garden. One of my favorite ways to serve spring mix salad is to combine it with Mediterranean flavors of roasted red peppers, olives, pine nuts, and feta.
Spring Mix Salad
Spring Mix Salad is typically a combination the following lettuce types: romaine, oak, leaf, butter, chard, spinach, and arugula. The greens are small and tender. They are also quite delicate so you will want to handle and dress them with care. I like to make a light vinaigrette and sparingly drizzle it over the greens.  A spring mix salad is not the salad to pour a glumpy ranch-style dressing over. You will want a hearty romaine or iceberg to stand up to the weight of those types of dressings.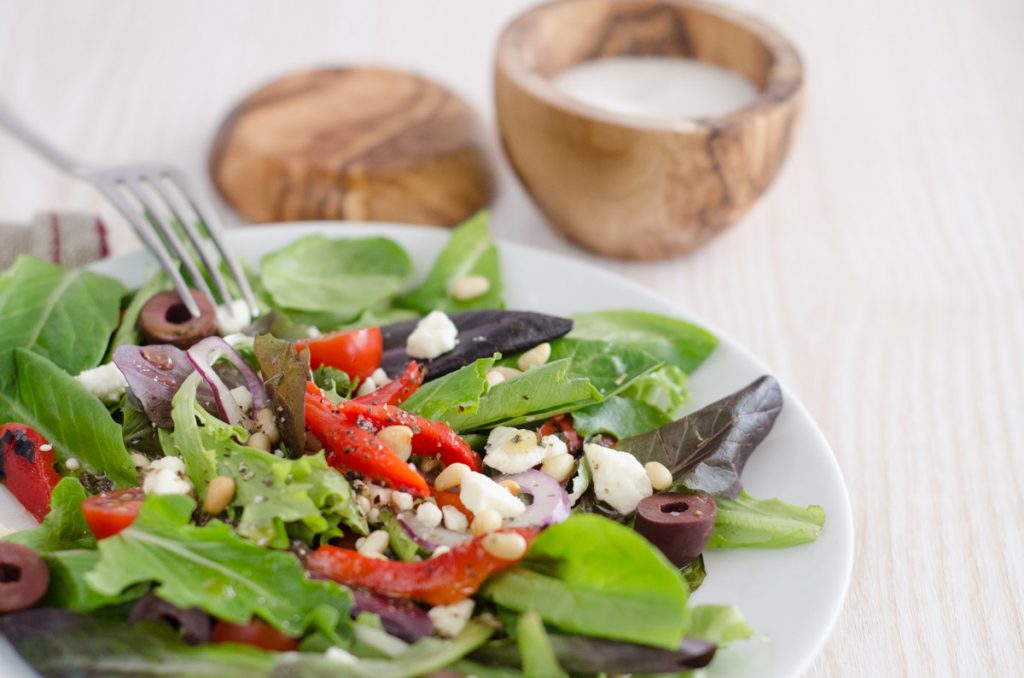 Put the ingredients for the simple Mediterranean-inspired vinaigrette into a Mason jar and shake vigorously to combine. You can make the dressing ahead of time and then shake it up again just before serving. P.S. Some of you have asked about the olive wood Salt Cellar
seen in these photos. I have included the link to it. 
You can either use jarred roasted red peppers for this recipe or roast your own. If I am not in a mad rush I usually roast them myself over one of my gas burners. You can also roast the red pepper under the broiler or on your BBQ. The key is to let the skin of the red pepper get nice and charred. Then, you place the pepper in a brown paper bag or in a bowl with a cover to steam for 10 minutes. The skin will peel right off.
The salad comes together quickly and makes a great accompaniment for dinner or I love to take it to work for lunch. Just tote your dressing along separately and pour on just before serving. The spring mix salad greens will wilt rather quickly after being dressing so plan accordingly.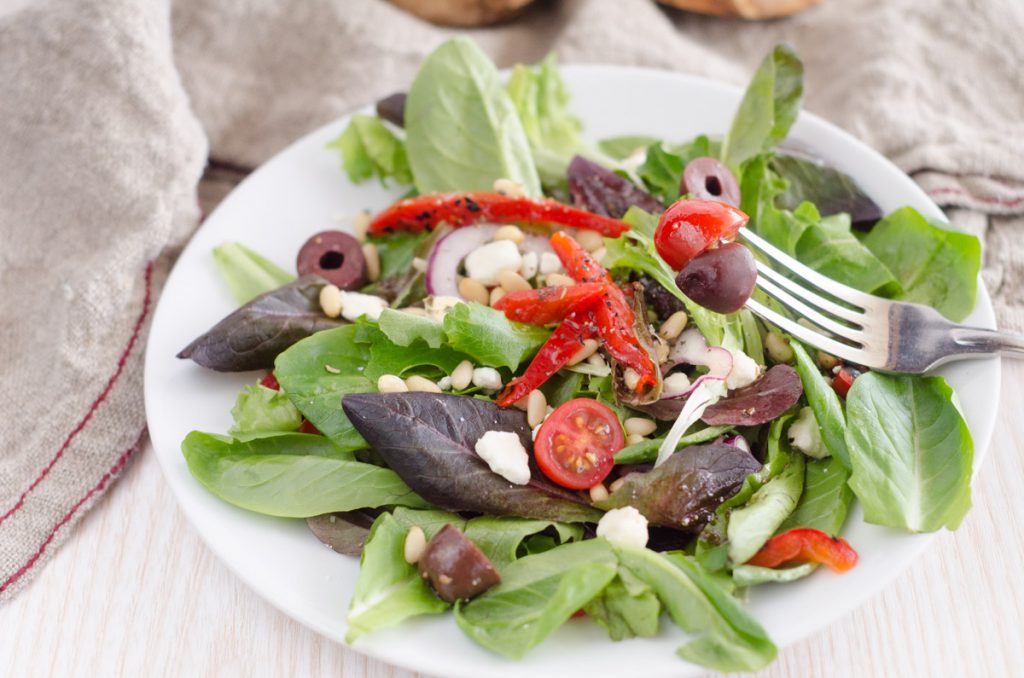 How to Make Mediterranean Spring Mix Salad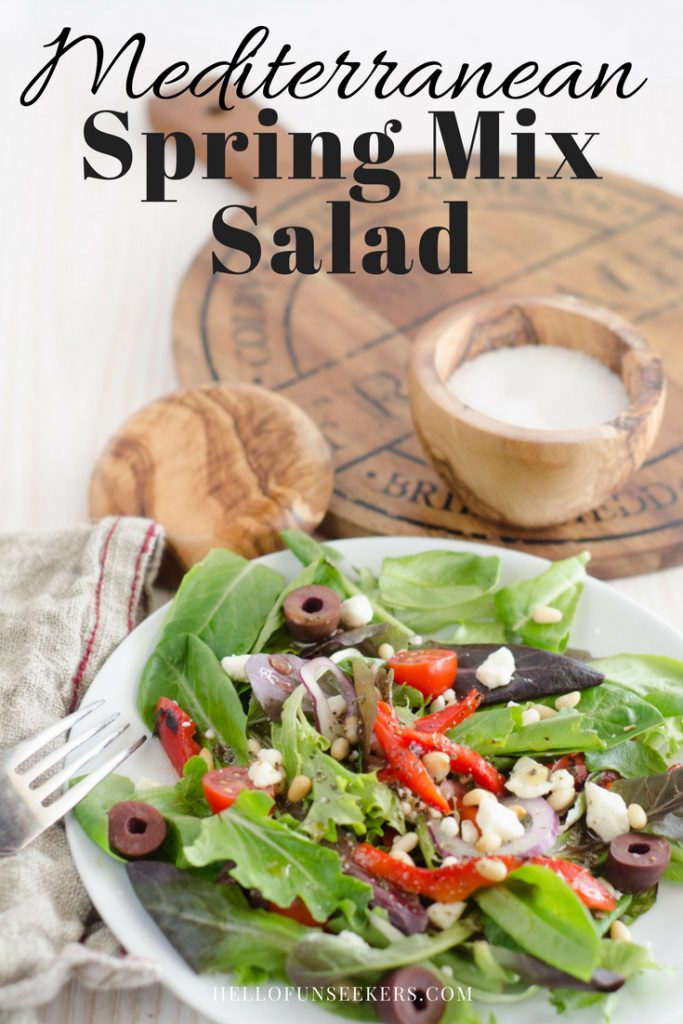 This post contains affiliate links